Taliban Pledge to Protect Infrastructure Projects
The Taliban say they are "committed to safeguarding" national infrastructure projects like CASA-1000 and TAPI.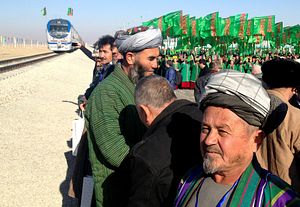 One of the sharpest and simplest criticisms lobbied at the host of big-ticket infrastructure projects spanning Central and South Asia is the risk of disruption by militant groups. The CASA-1000 and TAPI pipeline are both designed to cross the breadth of Afghanistan — routing through both new and old hotspots for violence — as will other initiatives, like the Turkmenistan-Afghanistan-Tajikistan railway.
Security concerns are cited by critics (myself included) to pour a little cold water on the enthusiastic rhetoric surrounding the projects. To be fair, there are other concerns: funding and feasibility are also areas of serious debate between positive governments and development institutions and more skeptical regional analysts.
In December 2015, Turkmenistan made a big show of beginning construction of the TAPI pipeline (there was another groundbreaking celebration in May because… reasons). At that point, Afghanistan pledged to raise a 7,000-man security force just to guard the construction. Kabul simultaneously needed to make the argument that there was enough security for the project to move ahead while also still railing against the Taliban for attacks and disruptions to existing infrastructure and ongoing projects. In January, the Taliban were blamed for blowing up an electricity transmission pylon near the Baghlan-Kunduz highway.
But now the Taliban have stated categorically that they are committed to safeguarding "national projects" like TAPI and CASA-1000. In a statement this week, the Taliban said they "not only backs all national projects which are in the interest of the people and result in the development and prosperity of the nation but are also committed to safeguarding them." The group urged, "all its Mujahideen to help in the security of all national projects that are in the higher interest of Islam and the country."
The statement was met with requisite skepticism by Afghan government officials and others. A deputy presidential spokesman, Shah Hussain Murtazawi, told VOA's Afghan service. "Over the past few months, they [Taliban] have inflicted more than two billion Afghanis [about $300 million] of damage to infrastructure and public properties in 11 provinces."
"They have to prove their promises in action," he said.
The deputy director of Human Rights Watch's Asia division, Phelim Kine, wrote that the Taliban's announcement was an "ironic about-face for the insurgent group synonymous with years of atrocity, mayhem, and destruction, including attacks on the country's electrical power grid." He went on to say that while the statement was a "hopeful signal," past statements committing to limiting targets for attack have not been reflected in casualty reports that peg the Taliban as responsible for most civilian casualties in the country.
The Taliban — which controlled Afghanistan's government from roughly 1996 to 2001 — seeks to be taken seriously as a political power in the country on par with the present central government. An aspect of that battle is winning over popular support both within Afghanistan and in neighboring countries, like Turkmenistan. Wahid Muzhda, a Kabul-based Taliban analyst, told VOA that a delegation was dispatched to Turkmenistan recently from the Taliban political office in Qatar. According to Muzhda, "They not only did not oppose the project, but also promised not to attack Afghan security personnel assigned to the security of the railway line project."
Only time will tell whether the Taliban is serious about protecting nationally important infrastructure projects. The statement provides political cover for the Taliban in the event such projects are attacked, but may not actually impact the tactics of the group. Taliban may blow up pylons in the future, but their leadership will not point to a statement and say, "it wasn't us."