The Turkmenistan-Afghanistan-Tajikistan Railway
The largely-unheralded railroad could be the key to restoring Afghanistan's role as a regional hub.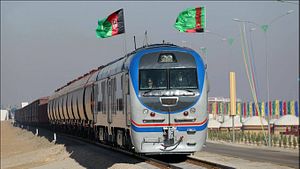 The father of modern economics, Adam Smith, stated that connectivity leads to productivity. That's an apt summary of the latent potential in Afghanistan's geostrategic location.
The landlocked country shares borders with three of the five landlocked Central Asian states. Since becoming independent in 1991, the Central Asian states have not been able to fully benefit from their natural resources, particularly oil and gas. The supply pipelines for these resources remained reliant on Russia, a fact which Moscow monopolized to export its own resources. Afghanistan, on the other side, was embroiled in conflict and could not serve as a bridge between Central Asian countries and global markets, resulting in their isolation. However, in post-2001 Afghanistan, efforts have begun to reintegrate the region with global markets along the lines of ancient Silk Road. As such, the time has arrived for Afghanistan to revive its role as a trade, transit, and business hub by linking markets of Central Asia, South Asia, the Middle East, and China.
The construction of tri-nation Turkmenistan-Afghanistan-Tajikistan (TAT) railway was inaugurated in June 2013 with an overall objective to develop a rail corridor linking Central Asia with global markets by providing them easy and efficient access to Indian Ocean. The 635 kilometer railroad runs through Attamurad and Imamnazar in Turkmenistan; Aqina, Andkhoy, Sheberghan, Mazar e Sharif, Khulm, and Kunduz in Afghanistan Section; and finally Panjpayan and Kolkhozabad in Tajikistan, with a total estimated cost of around $2 billion.  Turkmenistan opened its completed railway link with Afghanistan on November 28, 2016 in a ceremony attended by Turkmen President Gurbanguly Berdymukhamedov and Afghan President Ashraf Ghani.
The project has important implication for all three countries. The Afghan and Tajik economies are suffering a great deal due to their isolated, landlocked status, poor infrastructure, and slow economic growth. Afghanistan's transport infrastructure was destroyed over the course of decades of war. There is a need to rebuild this infrastructure to benefit from the country's trade and transit potential. Afghanistan shares borders of 744 and 1,206 kilometers with Turkmenistan and Tajikistan, respectively. However, trade among three countries has remained very low due to poor transport infrastructure. The construction of railway tracks would play a major role in increasing trade and could enable Afghanistan to play the role of a bridge integrating the Central Asian region with global markets.
On the other hand, Tajikistan currently relies on Uzbekistan as a transit route for trade with rest of the world. However, relations between the two countries are tense due to border and water resource issues. Uzbekistan disrupts the transit of goods to and from Tajikistan whenever tensions flare. These restrictions have prevented Tajikistan from freely exporting its main products, such as aluminum and cotton. Further, in order to utilize its water resources to the maximum, Tajikistan plans to build hydropower plants at Rogun and Sangtuda, but has not been able to complete them due to restrictions on the supply of machinery (Uzbekistan has made no secret of its opposition to the projects). The TAT railway project would provide an alternative route for Tajikistan's trade and transit, bypassing Uzbekistan.
Despite these benefits, Tajikistan has said it will not begin work on its section of railroad as Afghanistan has not yet started the construction of its own section, due to a deteriorating security situation in the north. The statement from Tajikistan does not come as a surprise. The announcement to join the project was seen as largely a political move by President Emomali Rahmon; it will face practical hurdles. The railroad will pass through the high mountains in the southern areas of Tajikistan, where completion of a railway track is both expensive and challenging.
Despite the lack of interest to complete Tajikistan's section, the lucrative benefits and relevance of the project remain. Turkmenistan has  been very active in building its transport infrastructure and increasing trade through increased connectivity. The country has rail infrastructure in the western and northern parts, which facilitate trade through the Caspian Sea. The recent completion of the Turkmenistan section of the TAT railway has linked the southern region with rest of the country through a rail network, providing alternative access to new markets.
In the same way, the Turkmenistan leg has linked Afghanistan with an international railway network, which will ease and boost bilateral trade in the short term. In the long term, if Afghanistan is able to complete its section, it would be a great breakthrough in transport infrastructure development in the country with implications for entire region. First of all, it would pave the way for other countries like Iran, Kazakhstan, and China to join the project, resulting in increased trade and regional integration. Second, Afghanistan is located at the crossroads of several remarkable international corridors and completion of such projects would supplement and/or complement them.
The Asian Development Bank (ADB) estimates that if basic improvements were to be made to the transportation infrastructure connecting Central Asia to Afghanistan, the overall trade would increase by up to $12 billion, a growth of 80 percent. Another study by ADB reveals that completing new roads would boost total trade among Afghanistan's neighbors by 160 percent, increasing the transit trade through Afghanistan by 113 percent.
The broader political aspect of such regional projects can never be ignored given their significant impact on different countries. The TAT railway project coincides with the New Silk Road strategy of the United States, which focuses on Afghanistan as a hub for regional economic integration and transportation and aims for strong and economically viable Central Asian states by assisting them in building infrastructure and connectivity necessary for regional economic development. On the other hand, China has showed its willingness to join the TAT project at later stage, part of its strategy to reach European markets via Central Asia under its "One Belt, One Road" initiative. In the same way, while Russia would certainly be skeptical of U.S. moves in the region, the development and completion of new regional corridors have great potential to offer Moscow new prospects for trade and investment.
Shoaib Ahmad Rahim is a development practitioner and analyst on national and regional political economy. Rahim holds an MSc. Degree in Development Economics from University of Sussex, England.