Time for a Constitutional Change in South Korea?
In the wake of Park Geun-hye's downfall, some argue the time is right to change the role of the presidency.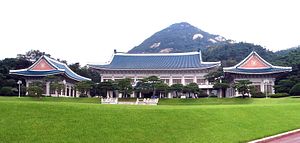 When President Park Geun-hye proposed constitutional reform in October, the move was criticized by the opposition as a distraction from the political scandal that has been her undoing.
The now-impeached president campaigned to amend the constitution and later rejected discussions to focus, as she said, on the economy. Her intentions in her latest proposal to change the president's tenure are unclear, but politicians across the political spectrum agree South Korea's five-year, single term presidency is ineffective and reform must happen.
However, as the country prepares for a potential special election to replace Park or a presidential election next winter, the biting question is when it's the right time to amend the constitution.
Lim Jong-hoon, a professor of constitutional law at Hongik University, said now is an unattractive time to discuss a revision because the South Korean political situation is changing "very quickly and rapidly."
But he agrees the system needs to be changed.
"It has not worked successfully," said Lim. "We elected six presidents under the current system, and no one has succeeded so far."
He believes that's largely because the "imperial" presidency, as he called it, grants far-flung powers to the nation's leader that are difficult to check, including the appointment and dismissal of cabinet members.
Critics also say the single five-year term hurts chances of long-term policy continuity and leaves presidents as lame ducks long before their terms run out.
One critic, Saenuri Party lawmaker Cho Hae-jin, put it this way in a column to the Korea JoongAng Daily during Park's second year in office:
In our political system, the winner takes all and rules exclusively. Political parties, therefore, fight until their deaths to win the presidency. When there is no upcoming election, political parties treat every matter as a battle and fight to the top.
And as a result, some critics argue, the legislature struggles to get work done.
One of the most outspoken proponents for change ahead of the election is former Saenuri Party Chairman Kim Moo-sung, now the leader of anti-Park group of lawmakers breaking off from the ruling party.
"Whoever seizes power, he or she is doomed to fail as long as the system malfunctions. I hope we can elect the next leader under a new system," Kim told the Korea Times.
Lim said Kim Moo-sung knows he has little chance to win the presidential election, and that's why he's arguing for reform.
"Regardless of the timing, Mr. Kim will advocate constitutional reform, so that he could be a kind of prime minister under a semi-presidential system," said Lim.
A semi-presidential system, as used in France, would entail sharing of powers between a president and a prime minister. Analysts in South Korea, though, say the most popular option now is a four-year, two-term system like the United States. Lawmakers may also consider a parliamentary system, like in the U.K.
Lim said hashing out which system to use would be no small task, and if there was a special election in three to five months, it wouldn't be enough time to "carefully" discuss reform.
One of the main voices against pursuing reform now is Moon Jae-in, the former head of the Democratic Party of Korea and the frontrunner in polls of possible presidential candidates. Moon told the Korea Times the government must "first meet the needs of the people" following the weeks of massive demonstrations against the president and resulting political upheaval.
"After mending the situation, presidential runners should present their ideas on the constitutional revision as their electoral pledges and the next government should carry out the task," said Moon.
That suits Moon quite well, according to Chang Young-soo, a professor of constitutional law at Korea University.
"If the constitution was revised, the president's power would be decentralized. And Moon wants the full authority if he wins," said Chang.
He said if Moon were to win, it would be hard to deny reform against the will of the people.
It's the people who forced Park to the sidelines, where she now awaits the possibility of going to jail. And Chang said it's also the citizens who want to "abolish the imperial presidency."
They demand change in the system, he added, so why not at least start talks now, regardless if reform comes before or after an election?
Michael Breen, an author and columnist in Seoul, said there's a history of opposition leaders backing away from talk on reforming government when they begin to feel they're in serious contention for the presidency.
Breen said he once asked former President Kim Dae-jung why. Kim, who died in 2009, told Breen the parliamentary system may be better for Koreans, but it should only be introduced after unification.
"You need a strong presidency because of the security threat from North Korea," Breen said, roughly recalling the late president's words. "You need that strong decision-making power and a very clear line of authority."
That may be Moon's argument, Breen suggested, despite "cynics" who say he's holding off reform talks because he wants greater power. Still, that doesn't mean a change couldn't come in the form of something more similar to a U.S. model.
If the next president takes office ahead of reform, it would mean another five-year presidency deemed bound to fail not just by politicians and analysts, but as Chang said, the people.
The system may be partly to blame for Park's dramatic fall. South Korea's Constitutional Court is now hearing her impeachment case, which centers on charges of abuse of power, bribery, and extortion.