Trump and Nazarbayev's 'Miracle' Chat
The next US president seems to have a predilection for praising autocrats.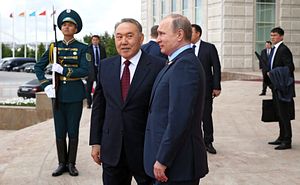 Nearly one month after the U.S. presidential election, President-elect Donald Trump has shown little sign of slowing his pre-election predilection for praising foreign strongmen. Not only did Trump, within the first few weeks of the election, speak with Russian President Vladimir Putin more than any other world leader, but, according to readouts from Manila, Trump spoke highly of Filipino President Rodrigo Duterte's campaign against drug dealers, which has thus far claimed thousands of lives in extrajudicial killings.
However, one of Trump's recent rounds of praise for a foreign autocrat slipped largely under the radar, drowned out by his laughable – and concerning – conversation with Pakistani officials. Toward the end of November, Trump finally connected with Kazakhstani President Nursultan Nazarbayev.
Per Astana's readout, the conversation between Trump and Nazarbayev – now the lone Soviet-era dictator remaining, with Uzbekistan's Islam Karimov having passed a few months ago – was relatively straightforward. Following Nazarbayev's congratulations, the pair discussed regional stability, and Trump reportedly "showed complete solidarity" with Kazakhstan's "struggle for a nuclear-free world," a position at odds with Trump's earlier calls for nuclear expansion in countries like Japan and Saudi Arabia. On the president-elect's end, Trump reportedly expressed optimism about future relations between Washington and Moscow – a move which, from Kazakhstan's vantage, would bring nothing but relief to Astana.
Beyond the perfunctory introductions, however, Astana's readout noted that Trump described Kazakhstan's post-Soviet progress as a "fantastic success that can be called a 'miracle.'" Interestingly, such a description didn't make it into the Trump camp's readout, although his team hasn't pushed back against Astana's characterization of the phone call. Trump's descriptors of Nazarbayev's leadership quickly trickled into Kazakhstani press.
To be sure – and especially in comparison to the surrounding environs – Kazakhstan, over the past 15 years, can point to both a swelling GDP per capita and (relative) stability on the political front as something of a success. Nazarbayev has, at least until recently, managed a deft touch within the country's inter-ethnic relations.
But the state of Kazakhstan's domestic affairs, for anyone reading beyond the puff pieces about Kazakhstan injected into Western press, is far from miraculous. Not only did 2016 bring Kazakhstan's its most substantial terrorist attack and largest anti-government protests to date, but the country's economic exhaustion – much like in Russia or Azerbaijan – shows little sign of ending. Moreover, Nazarbayev is no closer to handing off the presidency in the near future, pushing ahead to his fourth decade at Kazakhstan's helm. (As the New York Times recently noted, the Kazakhstani president is "one of the world's most durable despots.")
Nazarbayev, it appears, recognizes in Trump someone with whom he can deal, without concerns of human rights or democratization entering the conversation. As Nazarbayev recently told Bloomberg, Trump's decision "not to spread American values across the whole globe" is a "very important thing." Moreover, the kleptocratic model refined in Astana shows swelling signs of coming to Washington – especially as it pertains to the incoming president.
All told, Trump's views on Astana are of a piece with his praise for Putin, Duterte, and other strongmen focused on domestic repressions. Trump's decision to tab Kazakhstan's progress under Nazarbayev as a "miracle" may be bizarre, but it bodes ill for his grasp on post-Soviet realities – and the state of domestic affairs set to come in the United States.