Where Are China and Japan on Maritime Talks?
As Beijing and Tokyo kick off yet another round of maritime consultations, it is worth looking at where things stand.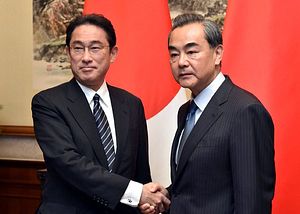 This week, China and Japan are holding another round of maritime consultations. The sixth round of the so-called Japan-China High-Level Consultation on Maritime Affairs, initially set up in 2012, will be held in Haikou, the capital of China's Hainan province, from Wednesday to Friday. But as Beijing and Tokyo move forward with yet another interaction in the maritime realm, where do things stand today?
Though Japan and China have long had disagreements on the East China Sea, most notably over the Senkaku/Diaoyu Islands, tensions have risen in recent years. The arrest of a Chinese fishing boat captain following his ramming of a Japanese boat near the Senkaku/Diaoyu Islands in September 2010 in particular was a notable turning point, sparking violent protests in Chinese cities and resulting in the suspension of Chinese rare earth exports to Japan.
The two sides have since been looking to better manage their relations in the maritime domain even as they build up their respective capabilities and maintain testy ties on the water. In response, a series of maritime confidence-building arrangements have been built up, including the acceleration of talks regarding the Japan-China Maritime Communications Mechanism (JCMCM), involving defense officials, which had already begun back in 2008, as well as a new understanding on the High Level Consultation, a broader, multi-agency engagement which was agreed upon by both sides back in December 2011.
Talks on the JCMCM itself – agreed in 2012 to include a crisis hotline as well as annual meetings and communication procedures between ships – have been progressing in fits and starts amid ongoing tensions, with incidents such as the Japanese government's purchase of three disputed islands in September 2012 and China's declaration of an air defense identification zone (ADIZ) over the East China Sea in November 2013. There continue to be disagreements, including on what areas the JCMCM should cover, that are linked to more general, unresolved Sino-Japanese tensions. But in January 2015, the maritime communication mechanism was expanded to include an aerial aspect as well.
As for the High Level Consultation, now in its sixth round which kicks off this week, both sides have been continuing and further developing it since the first iteration was held in China back in May 2012. Meetings are now held with a plenary session followed by meetings of the four established working groups – politics and law; maritime defense; maritime law enforcement and security; and marine economy. The presence of up to nine key agencies from both sides gives them a better opportunity to understand the full range of actors involved in the maritime realm as well as to discuss a wide variety of issues.
At the fifth round of talks held in Hiroshima in September, the two sides discussed accelerating consultations to begin implementing the maritime and aerial communication mechanism as well as other agreements such as the Japan-China Maritime Search and Rescue (SAR) agreement and an agreement on East China Sea resource development inked back in 2008. But they also discussed other measures as well, including a dialogue platform of experts on Sino-Japanese cooperation on ocean debris with a view to conduct a joint study in 2017. Separately, on November 28, the two countries also held the Japan-China Security Dialogue involving their foreign affairs and defense ministries, during which maritime issues were addressed.
The sixth round of the High Level Consultation is taking place amid uncertainty over the holding of a trilateral summit meeting between China, Japan, and South Korea later this month given the domestic difficulties being experienced by Seoul's scandal-hit president, Park Geun-hye. The talks, which would be held in Japan, would have seen both Park as well as Chinese Premier Li Keqiang make their first ever visits to the country since the assumption of their respective positions. The summit was held in Seoul in November 2015 for the first time in three years following a suspension in 2012 after tensions between South Korea and Japan as well as China and Japan.
This round of the High Level Consultation also comes as both China and Japan prepare to commemorate the 45th anniversary of the establishment of their diplomatic ties in 2017. Both sides sent generally positive vibes about the meeting but remained vague on specifics. In a foreign ministry press briefing on Wednesday, spokesman Lu Kang issued a standard statement about how China is willing to exchange views with Japan on issues of common concern to enhance mutual trust and understanding. That was boilerplate, to be sure. But given the worrying military buildups by both Northeast Asian giants as well as tensions in the maritime realm, even incremental efforts to reduce the risk of accidents and increase understanding ought to be welcomed.