China's GDP Growth: Slow and Slower?
China's official figures show slowing growth – and the real picture may be worse.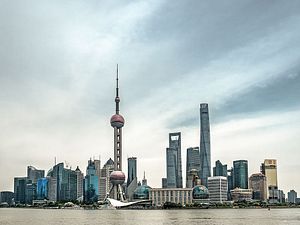 China has slumped to its slowest annual growth rate since 1990. With the yuan diving and a new Trump administration to contend with, Beijing has its hands full keeping Asia's biggest economy on track in 2017.
On Friday, Beijing reported a 6.8 percent rise in gross domestic product (GDP) for the December quarter, slightly higher than the 6.7 percent median estimate predicted by a Bloomberg survey. For 2016, the world's second-largest economy reported GDP growth of 6.7 percent, right in the middle of the official target of 6.5 to 7 percent and virtually in line with Chinese President Xi Jinping's recent forecast.
The official data pointed to stronger retail sales, rising by 10.9 percent in December, while industrial production weakened to 6 percent growth. Fixed asset investment grew by 8.1 percent over the year, weaker than the 10.7 percent reported in the first three months of the year, although the services sector picked up speed, posting a 7.8 percent rise compared to manufacturing's 6.1 percent.
For the year, consumption contributed nearly 65 percent of growth, indicating the much-touted switch to consumption-driven growth may be building momentum.
Nevertheless, Bloomberg economist surveys are tipping only 6.4 percent GDP growth in 2017, compared to the 6.5 percent expansion forecast by both the International Monetary Fund and the World Bank. Both figures would represent a further slowing in the growth rate from the double-digit pace seen just a few years ago.
"Once the impact of past policy easing wanes, we think the economy will likely slow again," Capital Economics' China economist Liu Chang told the Australian Financial Review.
"There are already signs that the property market is starting to cool. Credit growth has peaked. A sharp drop-off in activity is not likely. But growth is likely to slow in 2017."
Among the difficulties for policymakers are the recent slump in the currency, with the yuan posting its biggest annual fall in two decades of 7 percent, and increasing capital flight pressures amid a rising U.S. dollar.
Beijing sold some $66 billion worth of U.S. Treasuries in November, its largest monthly fall since 2011, and while it still holds more than $1 trillion worth of U.S. government debt it is now the second-largest holder behind Japan.
Meanwhile, policymakers face the growing prospects of a trade war with the United States. U.S. Treasury Secretary nominee Steven Mnuchin said during a confirmation hearing he was ready to label Beijing a currency manipulator, while Commerce nominee Wilbur Ross has called China the "most protectionist" nation among the major economies.
China's seemingly stable expansion in 2016 came on the back of 15 percent loan growth, with outstanding credit rising to an estimated 264 percent of GDP. This helped fuel a rally in property prices, adding to concerns of a new asset bubble.
"China's economy ended 2016 with short-term growth firmly on track, but long-term sustainability veering further off it," Bloomberg Intelligence economists Tom Orlik and Fielding Chen said.
'Fake GDP'
Adding to concerns over the state of China's economy are reports of exaggerated economic data from the provinces. In 2012, the sum of all provincial GDP was 5.76 trillion yuan ($837 billion) more than the national figure, sparking speculation that the regions have been over-inflating numbers to gain Beijing's favor.
According to the Australian Financial Review, Liaoning Governor Chen Quifa recently admitted to the local legislature that the province faked growth data between 2011 and 2014, with fiscal revenue overhyped by as much as 20 percent in some years.
With China's GDP reportedly growing by exactly 6.7 percent in the first three quarters of 2016, and 6.8 percent in the last quarter, China bears have had plenty of reasons to be suspicious amid slumping global trade, fluctuating oil prices, and sharemarket volatility that impacted every other major economy.
Capital Economics' "China Activity Proxy" based on credit demand, domestic freight, electricity production, floor space under construction, passenger traffic, and seaborne cargo presents a different view of the official data.
The London-based consultancy's survey showed China's GDP slumping from 6 percent at the end of 2014 to around 4 percent, only rising back up toward 6 percent following last year's massive credit stimulus. It believes GDP will fluctuate between 4.5 and 5 percent in 2017.
"If the data is not credible, it affects how investors look at China's policies in general. The lack of credibility also makes it much harder for China's policymakers to do their job," Capital Economics' Mark Williams told the Australian financial daily.
Is China faking it until it makes it? Asia will be hoping that Beijing can get a better grip on its economy in 2017, amid growing challenges to its ambitions, both internal and external.