Golden Temple, Grey Air: Pollution in Amritsar
Pollution is threatening the world's holiest Sikh shrine.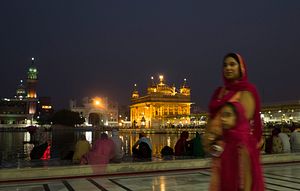 Golden Temple (Sri Harmandir Sahib), the world's holiest shrine for Sikhs, in Amritsar, India attracts approximately seven million tourists in a month.
However the increasing number of tourists, mushrooming hotels around the temple, and poor waste management have become a serious threat to the gold-plated temple, which is almost 430 years old. After several years of negligence, Amritsar has now been ranked among the 30 most polluted cities in the world in terms of fine particulate matter (PM 2.5) levels in the air, as per reports by the World Health Organization.
The Management Committee Golden Temple (SGPC) has taken appropriate action to control the pollution generated from the kitchen and has switched from burning wood or coal to cooking with gas and electric machines. However little is being done by government to control the pollution caused by open construction or the burning of garbage on the narrow streets, which affects the temple as well as the health of residents within the walled city.
But the greatest irony is to see mixed waste from across the city being transported every day in garbage-lifting trolleys to Bhagtanwala, the largest dumpsite of Amritsar, which is just a kilometer away from the Golden Temple. The population of around 1.1 million generates more than 600 metric tonnes of garbage every day, which is never segregated into wet and dry categories as per the Municipal Solid Waste (MSW) Rules. While the Municipal Corporation denies that garbage is still being dumped in Bhagtanwala, one can always spot it happening.
Bhgatanwala dump, spread across 8 hectares, affects a population of 50,000-60,000 in its neighborhood; residents complain about the foul smell and diseases. Alternatives — sifting the dumping site or building a waste plant — have been caught up among various political issues for more than five years now.
Meanwhile, the gas and dust affects the Golden Temple, taking its sheen away. Still no action has been taken. Gunbir Singh, an environmental activist who heads a group called "Eco Amritsar," points out more such dumping sites right next to his office and even near the schools and colleges, which affects the children as well.
Many across the country remain unaware of the risks in breathing unhealthy air, even as scientists warn it is affecting countless Indians every year. About 1.4 million Indians were killed by illnesses related to air pollution in 2013, according to a recent study University of British Colombia in Vancouver.
Deepti Asthana is a freelance photographer based in Mumbai.