Hong Kong's Green Finance Bonanza
Green finance could be the next foundation for Hong Kong's economy.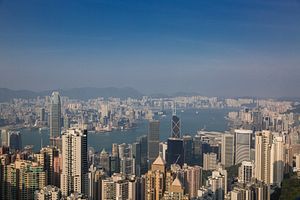 History will remember the 2016 G20 Hangzhou Summit for signaling a new phase in China's aspiration to take on a leadership role on climate issues. Beijing's keen interest in promoting green finance as a cornerstone of the Chinese environmental strategy has been creating lucrative business opportunities for Hong Kong companies, which are profiting from the Chinese green investment bonanza.
The term "green finance" refers to investments in projects or assets which bring positive climate or other environmental benefits such as renewable energy, energy-efficient infrastructure, etc. Green finance can take various forms such as green bonds, green funds, or climate finance. The G20 Summit embraced green finance and it established the Green Finance Study Group (GFSG), co-chaired by China and the U.K., which is mandated to examine policies designed to mobilize private capital for green investments. This is the first time that world leaders have emphatically underscored the importance of green finance and it reflects the China's environmental strategy as announced in the 13th Five-Year Plan (2016-2020).
Recent apocalyptic photos showing the severity China's air pollution have gone viral as PM2.5 air quality indexes have skyrocketed across the country. According to the head of the People's Bank of China, Zhou Xiaochuan, China will need $600 billion annually to invest in "green" sectors over the coming five years – twice the current amount being spent on environmental technologies. At least 85 percent of these investments will have to be funded by the private sector — something that might give headaches to the Chinese leadership, but appears as a lucrative opportunity for the Hong Kong banking and capital markets industry.
Hong Kong has for many years served as a bridge between mainland China and overseas investors, facilitating mutual trade and investments flows. That position is due to the many benefits that Hong Kong provides, such as low taxes, geographical proximity to mainland, experts on many sectors, and a strong and well-regulated financial sector. Now, an increasing number of voices among Hong Kong's political and economic elites have been pushing for the city to tap into the emerging global green finance market. In fact, starting from 2016, there has been an impressive increase in green finance-related events taking place in Hong Kong, organized by banks and institutions.
Furthermore, the Financial Services Development Council's report on May 2016 released recommendations as to how Hong Kong can become a regional green finance hub. According to the report, Hong Kong should issue benchmark green bonds as soon as possible with the financial support of Chinese banks. Moreover, the report recommended that Hong Kong draw household investors' attention to green finance by organizing conferences and seminars; towards this end it recommends the government specifically nurture the development of green finance professionals.
This should come as no surprise given the dynamics of the market. The green bond market is evolving into a fruitful and prominent sector, increasing its influence and its power. From 2012 to 2015, the value of the global green bond market increased by 1,500 percent, from $2.6 billion to $41.8 billion
The green finance policy declared by China requires a transition to a bond financial system and here Hong Kong can take the lead. Link Reit, a property investment enterprise, was at the vanguard of issuing green bonds in Hong Kong. Link Reit announced on July 15, 2016 that it would fund enterprises that will protect the environment through the issuance of $500 million bonds.
However, despite Hong Kong's keen interest in becoming a green finance hub, it has yet to meet such expectations amidst fierce competition from rival financial markets. For example, Chinese carmaker Geely chose Singapore for a $400 million bond while the Agricultural Bank of China went to London. Ironically, even Hong Kong-based utility CLP issued a green bond in India. In addition to the steep competition, becoming a green finance hub means Hong Kong will need to address important regulatory and compliance challenges, such as defining what is "green" and ensuring adequate investor information in order to avoid "greenwashing."
If Hong Kong becomes a leader in the green finance sector, this will be a valuable boost for its economy. Challenges have been looming large and economists have warned of a challenging year ahead.  Still, the Hong Kong banking and capital industry has the capacity and the know-how to turn the city into a green finance harbor.
Magda Tsakalidou is a law graduate from Aristotle University of Thessaloniki and a researcher on EU-China relations, focusing on investment law.