India's International Child Abduction Dilemma
New Delhi faces pressure to ratify a convention that activists fear would ultimately harm Indian women and children.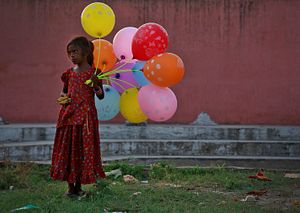 India has found itself in the eye of an international storm by refusing to ratify the Hague Convention on the Civil Aspects of International Child Abduction (1980). The convention, which has 90 member countries, protects children under the age of 16 from "wrongful removal or retention" by a parent and ensures "their prompt return to the state of their habitual residence."
India's non-compliance is garnering increasing attention from the global community as more and more Indians go abroad to study or seek better employment opportunities. This migration has also created a surge in children's abductions by divorced or estranged Indian parents who bring their offspring back to India with them. Caught in the maelstrom of feuding parents, the children are forced to return by one of their parents, usually the mother, in the interest of their safety and security.
Part of the reason for these spiraling abductions has also been a surge in divorces among Indian couples, say sociologists. Though no official census has been done on divorce rates in India, lawyers and marriage counselors say divorce petitions have gone up "manifold" across the country over the last 10 years. "More than 100 divorce applications are being filed in Delhi's courts alone every day," elaborates Parthav Banerjee, a Delhi-based relationship counselor.
The growing psychological and financial independence of Indian women and late marriages are cited as the common reasons for breakup of marriages. "Very often, within months or weeks of their marriage couples seek separation. Some couples head directly to their respective lawyers after returning from [their] honeymoon!" says Banerjee.
Experts add that with better education, Indian women are becoming increasingly self-assertive and confident, which eliminates the need for them to depend on their spouses for sustenance. "This is mainly why they are also able to stand up to mental or physical abuse and seek separation if required," says a member of Delhi Police's Special Police Unit for Women and Children.
The Indian government's refusal to ratify the Hague convention centers on the argument that in most cases, it is the mother — often a victim of domestic abuse — who returns to India with the child (considered an act of "abduction" under the convention). And so adhering to the treaty would be tantamount to victimizing women who are trying to escape a bad marriage. A report by India's  Law Commission shows that 68 percent of the parents who took their child away were mothers, where 85 percent of these mothers are the primary caregivers of their children across the globe.
In the United States and Europe, parental child abduction is a serious offense, punishable with jail time. 2014 legislation authorizes the State Department to take forceful measures against any country that fails to help return an American child illegally taken abroad. But India currently has no guidelines to deter such abductions. Mostly, judges who determine such cases on an ad-hoc basis, without consistency in determining custody issues and visitation rights.
According to the U.S. State Department, India leads the tally for international parental child abductions in America. From 2010 to 2014, 173 such cases were registered, but only 22 cases were resolved with the kids returning home to the United States. Roughly over 1,000 Indian kids have been moved from their homes across international borders, of which barely half return home, says a U.S. State Department report. This assumes significance considering the United States hosts the world's largest Indian diaspora at over two million.
With rights activists and governments highlighting an increasing number of abduction cases from India, the country is under pressure to ratify the Hague treaty. Members of Congress, led by Chris Smith, a Republican from New Jersey and author of the Goldman Act – also known as the International Child Abduction and Prevention Act – stated, "International child abduction rips children from their homes and lives, taking them to a foreign land and alienating them from a left-behind parent who loves them and who they have a right to know."
The Indian-American organization Bring Our Kids Home has urged the State Department to liaise with the Indian government to help bring home children who have been abducted to India by their parents. New Delhi's refusal to toe the American line may even lead to a future bilateral diplomatic kerfuffle, say experts.
The American case to get India to be a signatory to the treaty is rooted in tenets of gender equality and the idea that both parents should have equal rights to nurture the child. There is a belief that because India is a modern country, and the Indian diaspora has increased quantitatively over the years, the country needs to be in sync with international norms. Be that as it may, Indian activists opine that given the reality of Indian marriages — where women play a subservient role to their husbands and in-laws under patriarchal family set-ups — defies this logic.
"Parental child abduction is not recognized as a crime in India," explains High Court lawyer Aditi Parekh. "If we ratify the convention, we will have to send the woman and the child back immediately as the act of escaping with the child would be treated as abduction."
"This makes women and their kids vulnerable to abuse and deprives them of the chance to seek succor from potentially life-threatening consequences," adds the lawyer. "In some cases, husbands have even procured orders from U.S. courts to arrest the mother the minute she goes back to the foreign country."
According to activist Pratibha Kakkar, India becoming a signatory to the Hague Convention would never benefit Indian women and children, because there are very few instances of Indian children being taken away from India to a foreign country by either one of the child's parents. Besides, adds Kakkar, in India, "a child who is in the custody of either one of its parents, is not considered 'abducted' either according to existing Indian laws or as per Indian culture and value systems."
However, with mounting international pressure, India is being forced to re-examine its stance.
India's Law Commission had also advised that the Union government should be a signatory to the treaty in its report titled "Need to accede to the Hague Convention on the Civil Aspects of International Child Abduction 2009."
Last week, India agreed to reconsider its refusal to join the Hague convention, with Women and Child Development (WCD) Minister Maneka Gandhi calling for a meeting of all stakeholders, including officials from the Home and External Affairs Ministries, on February 3. The meeting will discuss the civil aspects of international child abduction.
But, as legal eagles point out, for India to be part of the convention, the country will first need to frame a law at home that makes such abductions a criminal offense. Toward this end, last year, the WCD Ministry had drafted the civil aspects of international child abduction bill, which makes the offense punishable by a one-year jail term. But the bill is yet to get the cabinet nod. Once approved, the law will allow the "abducted" child to be sent back to the country from which he or she was forcibly taken away from a parent.
However, given the complexities of the issue, and the sensitivities of the various stakeholders involved, it might be some time before any conclusion is reached on this matter, which has found great global resonance.
Neeta Lal is a Delhi-based editor and senior journalist.