Indonesia Gets First SIGMA 10514 Warship
Delivery of first of two vessels proceeds as scheduled.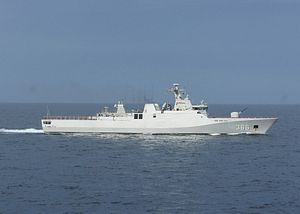 Indonesia's Navy (TNI-AL) has taken delivery of its first SIGMA 101514 guided-missile frigate.
The vessel, which will be named the KRI Raden Eddy Martadinata with penant number 331, is one of two SIGMA 10514 frigates constructed by both Damen Schelde Naval Shipbuilding (DSNS) in the Netherlands and Indonesian state-owned shipbuilder PT PAL starting in 2014. As I have noted previously, the ships are being built using a collaborative modular process simultaneously operating at both shipyards.
The future KRI Raden Eddy Martadinata had completed sea trials back in September 2016, as I have written before for The Diplomat (See: "Indonesia's First SIGMA 10514 Warship Completes Sea Trials"). And according to IHS Jane's, the vessel was handed over by state-owned shipbuilder PT-PAL on January 23 in Surabaya.
The delivery is right on schedule. Back in September, Damen had said that delivery would happen towards the end of January 2017 after the completion of around three months of crew training. The future Raden Eddy Martadinata is expected to join the TNI-AL's Eastern Fleet once it is inducted into service.
The 105-meter, 2,365 ton SIGMA 10514 frigates can accommodate a crew of 120, with a top speed of 28 knots and a maximum range of 5,000 nautical miles, according to IHS Jane's. They are equipped for a wide range of missions around Indonesian waters, from anti-air, anti-surface, and anti-submarine warfare to maritime security, search and rescue, and humanitarian support.
The platform has also been equipped with mission systems supplied by Thales Nederland, including the TACTICOS combat management system, SMART-S Mk 2 surveillance radar, and STIR 1.2 EO Mk 2 radar/electro-optical tracking system.