Rasheed Kidwai on the Pitfalls of the Gandhi Dynasty
Rahul Gandhi is set to fill in his mother's shoes as head of India's main opposition party. But should he?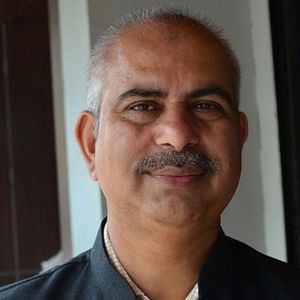 Five states in India are headed for elections in the next two months. The outcome of the regional elections is crucial in that it will decide how national politics will play out in the coming days, and years, leading up to national elections in 2019. For the 131-year old Indian National Congress, the principal opposition party, it holds a special significance. Rahul Gandhi, the "crown prince," may finally be anointed the "king" of the Grand Old Party of India.
Gandhi is the 46-year-old scion of the Nehru-Gandhi clan, the longest running political dynasty in post-independent India. Currently the party's vice-president, he is very soon expected to fill in the shoes of his mother, Sonia Gandhi, the current president. Mother Gandhi, who is ailing, has been staying out of crucial party affairs, even in the poll-bound states. Reportedly, matters are now mostly being handled by Rahul, who has few political achievements of his own to showcase so far. Not taken seriously by the political class, he is possibly also the most-trolled Indian politician.
Rasheed Kidwai is the Associate Editor with The Telegraph, the largest-selling English daily in eastern India. His book, Sonia, a Biography (Penguin, 2003, 2004 and 2011) offered the first close look at the Italy-born Sonia Gandhi, the widow of former Prime Minister Rajiv Gandhi, who as the president of the Congress Party is the most powerful leader in India's opposition. Kidwai's 24, Akbar Road (Hachette, 2011) is a comprehensive take on the leaders who made and broke the Indian National Congress.
He speaks to The Diplomat on the goings on inside India's principal opposition party and the possible elevation of Rahul Gandhi to the party's top post.
Rahul Gandhi seems to be well on the way to take up the top job in the Congress Party. Is he emerging from the shadow of his mother, Sonia Gandhi?  
Rahul is all set to take over as Congress president, perhaps shortly after state elections in India. Sonia Gandhi, who has been ailing, has stopped electoral campaigns for the Congress. She has also skipped all major meetings of the party. According to those senior Congress leaders who meet her, Sonia constantly asks them to stay in touch with Rahul and seek his guidance. In my assessment, Rahul wants to step into Sonia's shoes after crediting himself with some electoral victory [to showcase them as his achievements, making himself more deserving of the top job] in these five state polls, the verdict of which will be out on March 11, 2017.
What do you have to say about the manner in which it is happening? If Sonia Gandhi is indeed handing over the reins to her son, should she not be making a formal announcement?
As a seasoned politician, Sonia Gandhi is acutely aware of the reluctance of Congress leaders to wholeheartedly accept Rahul as the party's supreme leader. She does not want to "impose" her son on them. There are 150 important leaders in the party, holding important posts and positions at various levels. She is trying to strike a balance so that the power transfer is a smooth affair. She also has an eye on how history would judge her. She does not want Rahul's elevation to affect her otherwise reasonably good record of leading the Congress to power in 2004 and again in 2009.
How do they compare with each other in their style of politics?
Rahul is an unconventional politician and drastically different from his mother. Sonia Gandhi inherited a fragmented Congress in 1998 after a lot of thinking and deliberations. She was acutely conscious of her foreign origins and drew satisfaction from uniting them [Congress leaders] and arresting the exodus that was taking place. She ran the party [beginning in 1998] like a matriarch with a Japanese method of maximum consultation, minimum disciplinary action. Sonia gave a lot of importance to the perceived hierarchy structure of the Congress.
Rahul is more pragmatic. He does not care much for traditional power structures and hierarchies. The way he joined hands with Mamata Banerjee [the chief minister of West Bengal state] over demonetization in November last year, not long after a disastrous Congress alliance with the Left [which is opposed to Banerjee's party in the state] in May 2016 polls, shows Rahul is very pragmatic. His reliance on Prashant Kishore, a poll strategist [who had helped Prime Minister Narendra Modi win the elections to the post of the chief minister of Gujarat state in 2012], is another pointer. Rahul has now worked an electoral alliance with a regional political party, Samajwadi Party, in India's most populous and politically significant state of Uttar Pradesh in order to checkmate Prime Minister Modi's Bharatiya Janata Party. If his gamble pays off, Rahul hopes to reap dividends.
Rahul Gandhi, who has always been a subject of much ridicule, especially in social media, seems to be speaking with new vigor, a new kind of confidence, firing salvo after another on the prime minister, especially since demonetization. Are we witnessing a new Rahul Gandhi? Has he matured politically, or become more serious about his role in the party?
I think the "real" Rahul Gandhi is yet to emerge. We will get to see once he takes over formally as party president. Rahul has had a scandal-free record during the ten years of the Congress-led United Progressive Alliance [2004-16]. Until 2011, he was considered as a future leader. His stubbornness, inability to assess social media, wrong set of advisers, and constant checks from mother and sister, have diminished the role he would have acquired otherwise.
However, Rahul has himself to blame. He had a perfect mentor in Dr. Manmohan Singh [the former prime minister] but he ignored the good doctor's advice to join the government. If he had served as a minister of state in the Prime Minister's Office and later moved to foreign affairs, or the infrastructure ministry, today he would have had a different standing in public life. But he bought the durbari [royal court-style] argument that as a Gandhi family member, he should always be on top.
Rahul Gandhi has said India will get its "achhe din" (good days; one of Modi's catchphrases) once the Congress comes to power in 2019. Is that possible at all? Will the Congress be able to make a comeback anytime soon? Will Rahul Gandhi be able to revive the Congress?
Rahul has a pan-Indian identity and age is on his side. He has to sell a dream and keep the organization on his side. But, realistically speaking, returning to power in 2019 is easier said than done. I think he will ensure that the Congress shares power in any anti-Narendra Modi umbrella. Rahul is flexible, pragmatic and not hungry for power, which has both advantages and disadvantages. The root problem is that both Rahul Gandhi and Sonia Gndhi see themselves as trustees of the party, and not wielders of power. This delusion is destroying the Congress, but the party leaders seem to be ignoring this crucial aspect.
But why?
In India's 69 years of post-independence history, the Gandhis have led the Congress for 58 years. This has created a dependence model of sorts. Congressmen look up to the Gandhi family members as unquestionable leaders and in return, expect electoral success, power etc. From Jawaharlal Nehru to Indira Gandhi, Rajiv Gandhi and Sonia Gandhi, no Gandhi membership has failed or abruptly opted out of politics. As a result, Congress leaders blindly follow them and do not wish to look beyond the Gandhis. The Gandhis, such as Rahul, love to live with this illusion of grandeur.
Is it possible to imagine the Congress party without the Gandhi dynasty at the helm?
It is said that once conqueror Timur the Lame held discourse with the famous historian and sociologist Ibn Khaldun about the fate of dynasties. Khaldun propounded that the glory of a dynasty seldom lasted beyond four generations. The first generation is inclined toward conquest, the second toward administration. The third generation, being free from the necessity to conquer or administer, is left with the pleasurable task of spending the wealth of its ancestors on cultural pursuits. Consequently, by the fourth generation, a dynasty has usually spent its wealth as well as human energy. Hence, the downfall of each royal house is embedded in the very process of its rising. According to Khaldun, it was a natural phenomenon and couldn't be avoided.
Set in a democratic world of contemporary Indian history, the rise and fall of the great Nehru-Gandhi family seems to be indicating at the soundness of the Ibn Khaldun formulation. Jawaharlal Nehru (1889-1964) who fought for country's independence from British imperialism as Mahatma Gandhi's closest associate, was the architect; his daughter Indira Gandhi (1917-1984) expanded, winning a war (against Pakistan and creating Bangladesh in the Indian subcontinent) and emerging as one of the 20th century's most powerful personalities. Indira's son, Rajiv (1944-1991), too became the prime minister of India, experimented a lot and paid heavily. Rahul Gandhi, who represents the fourth generation of the Nehru-Gandhi family, perhaps has all the good intentions, but things are not clicking for him at all. The sooner the Congress members wake up to the idea of a non-Gandhi-led Congress, the better. But nobody wants to think about it at all at present.