Security Sector Reform: Long Overdue in Afghanistan
Afghanistan's failure to bring reform to its security apparatus is long overdue for a fix.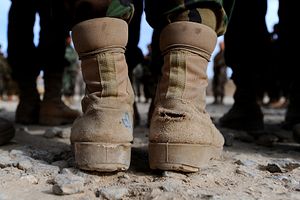 Afghanistan started 2017 with a blood bath.
More than 38 people were killed in twin bombings in Kabul. Another blast in Kandahar claimed at least seven lives and injured over a dozen, including the United Arab Emirates' ambassador, who was visiting the city to inaugurate multiple projects.
Afghanistan's failure to bring reform to its security apparatus has been central to the continuation of unabated and enduring violence in the country. In 2016 alone, Afghan security forces lost more than 15,000 personnel in battle and more than 1,600 Afghan civilians were killed.
At the leadership positions from the beginning of the new government, commanders have often integrated their ethnic militias into the Afghan National Army (ANA), Afghan National Police (ANP), and National Directorate of Security (NDS). An overwhelming number of ANA and ANP officers are ethnic Tajik former Jamiat-e-Islami militias and represented disproportionately.
Even though there is a policy in place to represent all ethnicities proportionately, the criteria is fulfilled by the rank and file. Men lacking even high school degrees rose to the highest military ranks overnight. Afghanistan today has nearly 1,000 generals, more than the U.S. active duty military — the strongest military in the world. A staggering number of those generals have acquired these ranks through ethnic or family patronage. Each one of these generals has dozens of bodyguards and great compensation and logistical needs, sucking a great sum of resources from the national budget.
Since its invasion in 2001, the United States alone has spent more than $64 billion in building up Afghanistan, including its police and military. Yet all of that has not bought the Afghans sustainable security institutions. The Afghan Air Force still runs on a few dysfunctional helicopters. Afghan security forces are struggling on, all owing to a lack of good leadership, coordination, and widespread corruption.
Leaders of the security forces, former Northern Alliance militia, have never received proper military training. They have terribly mismanaged the 350,000 standing Afghan forces, which has resulted in immense casualties to the rank and file over the past decade.
In January 2016, Jabar Qahraman, a former army general and current MP, was assigned as a special operative to Helmand by President Ashraf Ghani to prevent the Taliban's advancement in the province. After spending seven months there, Qahraman diagnosed severe maladies within the security forces.
He reported the issues to the president, but no action was taken due to warlords' influence within the ANSF. In an interview, he brought forth issues that seem possible to tackle with the current leadership.
According to him, a lack of coordination among security institutions, a waste of military resources, ghost soldiers, corrupt and incapable leadership, and a highly centralized chain of command have failed 33,000 organized troops against roughly around 200 militant fighters in Helmand. This is not just Helmand — the same applies to all other corps.
Furthermore, the ANSF have failed to foil the use of basic warfare tactics by Taliban. For example, Taliban usually detonate one bomb and successively another one once people, especially security forces, converge to the location of the first incident — causing countless casualties. This happened in Kabul's recent bombing and on numerous other occasions.
Another example is police and army recruits buses are attacked frequently; these incidents could easily be avoided.
The Kandahar attack, which killed several officials and foreign dignitaries, targeted the governor's guesthouse. The entire Kandahar police force failed to secure a high-level diplomatic delegation.
The ANSF is in need of reform at all levels immediately.
First and foremost, ethnic militias should be eradicated from the ANSF. They function as a roadblock to any reform.
Second, officers who are recently trained in and out of Afghanistan and have no political affiliation should get elevated to leadership positions.
Third, a sophisticated strategy of coordination between security institutions should be developed.
Fourth, a rigorous criteria should be put in place for promotions.
Fifth, a joint squad should be formed to address warlords' infractions in provinces.
Finally, the lack of an effective rotation policy and a defensive approach in the line of fire of the Taliban within ANSF has put immense strain on the rank and file. Those need to be addressed.
There is no lack of bravery in the rank and file in Afghanistan, but that fighting spirit is weakened by corrupt leadership. Commanders sell fuel and arms to Taliban, and pocket the salaries of ghost soldiers — tens of thousands of them.
Since the Taliban look nowhere near close to cutting a peace deal, President Ashraf Ghani needs to design a security sector reform strategy and bring about radical changes in ANSF. The government cannot buy its people's loyalty and neither can it win the war with the current state of Afghanistan's security forces.
Samim Arif is a Fulbright scholar and researcher. He tweets @samimarif.