The China-Pakistan Economic Corridor: A Game Changer for Gilgit-Baltistan
Under the guise of CPEC, Pakistan is pushing nationalist sentiments in a long-neglected region.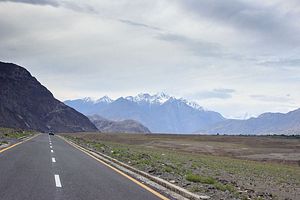 Since it was formally launched in 2015, the China-Pakistan Economic Corridor (CPEC) has dominated Pakistan's economic and national security discourse. Many hope will prove CPEC a "game changer" for the Pakistani economy by providing a smooth highway through Pakistan facilitating seamless connectivity between China's western hinterland and the Arabian Sea, expanded infrastructure, large scale power projects, and even a possible transnational rail system. But in Pakistan, CPEC is not just being used as an economic game changer – it is also being used as a new tool for promoting nationalism.
Despite widespread consensus supporting CPEC, there is significant disagreement over the details of where the money will be spent. Provincial leaders in Punjab and Khyber Pakhtunkhwa (KP) have publicly clashed over the route. It is widely perceived that Punjab, the country's second largest province and home of Prime Minister Nawaz Sharif, will extract the maximum benefits out of these projects by prioritizing the eastern route over western route through KP.
Gilgit-Baltistan (GB), by contrast, is expected to receive little from the estimated $54 billion worth of projects as the region's economic aspirations have failed to capture the attention of Pakistan's strategic as well as media communities. Perched high up in the lofty Karakoram mountains, GB has had an uneasy relationship with mainland Pakistan ever since the military coup in Gilgit in 1947 by British officers stationed there passed on the region's control to Pakistan. Following the Sino-Indian war of 1962, in which China occupied Aksai Chin (claimed by India as its own territory), Pakistan moved to improve ties with China, which had hitherto been lukewarm due to their own boundary dispute. A boundary agreement was signed in 1963.
In 1978, Pakistan and China further cemented their relationship with the opening of the Karakoram Highway. For the conditions in which it was constructed and the exceedingly high altitude it traverses, the nearly impossible engineering feat earned it the sobriquet, "Eighth Wonder of the World." The Karakoram Highway has also been used to transport nuclear missiles and other weapons covertly to Pakistan.
Despite its geopolitical importance vis-à-vis China and India, Pakistan is yet to integrate Gilgit-Baltistan fully. Instead, it has been governed under varying forms of direct administration by Islamabad. An order introduced by the Pakistani government in 2009 cleared way for a legislative assembly headed by an elected chief minister, albeit with limited powers, but it was not until last year that Islamabad began considering steps to amend the constitution to include Gilgit-Baltistan as a full-fledged province.
Sectarianism
Although Gilgit-Baltistan is known for its cultural diversity, episodes of sectarian conflict have paralyzed the region time and again. GB is Pakistan's only Shia majority region and the nation's powerful Sunni clerical establishment has made strong attempts at undermining the region's vibrant culture and demography.
Activists in Gilgit-Baltistan have resisted the introduction of sectarianism and Islamist nationalism. In 2004, the region descended into a sectarian conflict due to the controversial Islamiyat curriculum that had been made mandatory in GB's school texts since 2000. Since some of the instructions mentioned in those books were considered to be objectionable by the region's majority Shia community, sectarian tensions broke out and the conflict that ensued led to the assassination of Agha Ziauddin Rizvi, the imam of Gilgit's Imamiya mosque and also the key figure who spearheaded the protests against the curriculum.
In light of the delicate situation, the curriculum had to be rolled back in 2005. Besides curbing its interference in the region's religious affairs, Islamabad also redressed the long standing grievance for greater representation by introducing the Gilgit-Baltistan (Empowerment and Self Governance) order (to set up a legislative assembly) in 2009 though it still fell short of empowering the residents in many instances.
Threat-Induced Nationalism
CPEC has been portrayed as a one-stop solution for all of Pakistan's ills, primarily from an economic approach. Hopes are that as more economic projects are set up and as more freight movement takes place, Pakistan's revamped highways and logistics facilities would eventually benefit Gilgit-Baltistan and set into motion the multiplier effects of economic growth. Lately, some key projects have been announced for GB as well, which include the revamp of the Gilgit-Skardu road (which links Gilgit with Baltistan), setting of an institutional body to expedite economic projects, and an announcement on setting up a Special Economic Zone in the region.
While CPEC has been presented as an economic panacea, the development project is also used to reinforce Pakistani nationalism in Gilgit Baltistan – a region that has resisted previous attempts to inculcate a patriotism based on religious lines. To this end, Pakistan's political and military establishments have been promoting anti-India sentiment along with CPEC in the region. Addressing a seminar on CPEC in Gilgit-Baltistan, outgoing Army Chief General Raheel Sharif made a point to warn of India's "nefarious designs." Earlier this month, law enforcement agencies arrested a dozen members of the nationalist Balawaristan National Front (BNF), accusing them of working against CPEC at the behest of Indian intelligence.
At the same time, cultural activities have received a substantial boost with residents getting greater opportunities to showcase their traditional music and dance to an international audience. Last April, the region's government announced the celebration of a "traditional cap day" to support efforts toward a cultural revival in the region. More recently, the GB Police uniform received a traditional makeover. While such initiatives are welcome steps to keeping the people connected to their roots, a shift of policy from promoting sectarianism to constructing the Indian threat may reveal a new strategy to integrate the people of GB into broader Pakistani nationalism.
Seth Oldmixon is president of Oldmixon Group, a Washington, D.C. public affairs firm, and the founder of Liberty South Asia, a privately funded campaign dedicated to religious freedom and political pluralism in South Asia.
Prateek Joshi is a postgraduate from South Asian University (a SAARC Nations project) and an independent researcher on South Asia's geostrategic issues. His writings have featured in The National Interest, CSIS, and the Stimson Center's South Asian Voices.