The World of Cambodia's Construction Site Children
The children who live, play, and sometimes work at construction sites in Phnom Penh.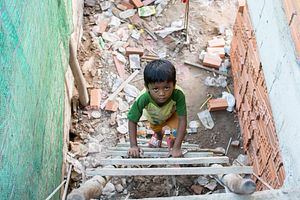 For children, the construction sites are an unlimited playground, a labyrinth of dark corridors, stairwells, and material that can be repurposed as toys.
But in reality, the countless high-rise construction sites in Cambodia's capital of Phnom Penh are dangerous, unregulated work environments where general laborers risk their lives for a few dollars per day.
These workers often move to the capital from their home provinces, living on the construction sites – future condominiums, apartments, and office buildings – until their completion.
They bring their families with them, kids of all ages in tow. Young teenagers are often set to work, while the younger children find ways to entertain themselves. Some, but not all, make it to school.
Those on the sites all day eventually shadow their parents, learning in their footsteps as they lay bricks or smooth cement. When the shadow game gets boring, mounds of sand to be used for concrete mixing become their sandboxes.
In a 2016 report, real estate firm CBRE estimates that Phnom Penh's supply of condo units will see a massive jump of 806 percent by 2018 as the booming high-rise construction sector continues to grow.
But the International Labor Organization says occupational health and safety (OSH) standards on the sites are not keeping pace with the boom.
"Particularly serious weaknesses exist in the OSH framework for the construction sector," the ILO notes in its 2016 to 2018 Decent Work Country Program for Cambodia. "No comprehensive prakas (ministerial regulations) cover typically dangerous work on high places."
The report goes on to note that limited cooperation between relevant authorities, a lack of construction site inspections, and limited levels of comprehensive skills on the part of hired workers, exacerbate the problem.
"Reporting of accidents is irregular," the report concludes. "Lack of support or opposition from [the] construction industry deters action."
As I visited dozens of sites for this project, I saw kids playing on scaffolding, others crying after sharp debris lodged in their bare feet, and some holding their parent's tools between use.
But most often, I found resilient children making the most of their surroundings and imaginations to keep smiles on their faces.
Alex Consiglio is a journalist based in Cambodia.