Trump and Afghanistan: The Unwelcome Obligation
When Donald Trump takes office on January 20, he will inherit an immensely problematic country and region.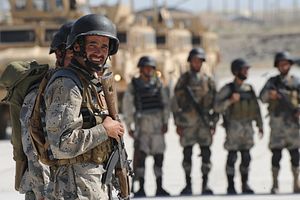 President-elect Donald Trump has so far been ambiguous regarding how he plans to deal with the volatile security situation in Afghanistan and the sensitive geopolitical balance in the region.
In an interview in 2012, Trump argued the United States should withdraw its troops from Afghanistan and use aid dollars to rebuild the U.S. instead. Recently, mounting costs have led analysts to question whether Trump would withdraw the remaining 8,400 American security forces. Nevertheless, Trump called Afghan President Ashraf Ghani on December 2, reportedly reaffirming the U.S. commitment to Afghanistan. This apparent shift in Trump's position, along with the recent deployment by the current administration of 300 U.S. Marines to Afghanistan's Helmand province, is a positive indication that Washington is set to sustain its commitment to see through the stabilization of the country.
There remains a great deal at stake and when Trump takes office on January 20, he will inherit an immensely problematic country and region, which he will have little choice but deal with effectively if he is to stay true to his word and continue the war on terror.
Assessing Current Factor Conditions
Over a decade and a half of efforts to stabilize Afghanistan, with seemingly little reward, has induced a sense of weariness. Conservative estimates in 2014 placed the cost of U.S. military involvement at $1 trillion alone, while nearly 7,000 coalition forces, 23,000 Afghan military, and 26,000 civilians have lost their lives since 2001. In its latest report, the United Nations Office for the Coordination of Humanitarian Affairs (OCHA) stated, "Afghanistan remains one of the most dangerous, and most violent, crisis ridden countries in the world." It further reported the conflict has led to "unprecedented levels of displacement," with half a million cases recorded in November 2016 alone.
To inject fresh impetus into current stabilization efforts, the political and security interests of other major stakeholders and regional powers should be given serious consideration. Important regional players such as Russia, Iran, and India are currently excluded from the formal peace process (such as the U.S.-China led Quadrilateral Coordination Group of Afghanistan as well as the emerging possibility of additional Saudi-hosted talks). Each of the aforementioned actors has its own, often unacknowledged interests and influences in the region, which could stand to make or break the precarious security situation.
Despite being the primary international actor in the country, the U.S. represents only a portion of the geopolitical interests tied to Afghanistan's future security. The engagement of other concerned actors—notably immediate neighbors and regional and global powers, both emerging and established—could potentially mitigate Western costs and open up new opportunities and perspectives. In contrast, failure to incorporate these actors into the peace process could prove short-sighted and lead to potentially over-looking key strategic issues, interests and relationships.
This complex myriad of bilateral, regional, and international relations must be assessed in order to effectively solve the Afghan security puzzle. As the human and financial costs of Afghanistan continue to soar, it is little wonder the initial enthusiasm behind the securitization effort in 2001 is beginning to fade. Yet, Washington has little choice but to continue its commitment to Afghanistan. With the Taliban controlling more territory than it has at any time since 2001, it remains imperative that new avenues for peace be explored, otherwise violence and instability are poised to spill over and destabilize the wider region.
It goes without saying that incorporating various actors into formal proceedings is easier said than done considering, among many other things, the complicated relationships between the United States and Iran, Pakistan and India, as well as Russia's cautious "once bitten, twice shy" approach to Afghanistan. The reality is that the future of Afghanistan holds special significance for many beyond just the United States and its Western allies. Others with a stake in the future of the country must be taken on board in order to build on the uneasy progress made to date and break the current deadlock. The challenge for U.S. diplomacy is to form a true coalition of those who want to see Afghanistan emerge as a secure, stabilized state, capable of defending and governing itself.
Ambassador Martin Fleischer is EWI's Vice President for Regional Security and head of its Brussels Center. Charles Elkins is an intern with the Regional Security team. This article has previously been published on the EastWest Institute Policy Innovation Blog.