What Demonetization Means for Indian States
The controversial policy has sparked both criticism and a competition to lead the new, digital economy.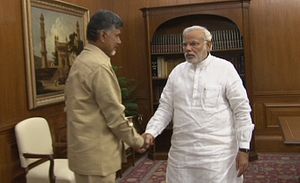 Demonetization has had a mixed impact on Modi's efforts to have cordial ties with opposition chief ministers, what had been dubbed as "cooperative federalism." He has found both support and opposition from unexpected places.
One of the chief ministers most vociferously opposed to demonetization has been West Bengal CM Mamata Banerjee of the Trinamool Congress (TMC). Interestingly, Banerjee's TMC played a constructive role in backing the Modi government's efforts to push the Goods and Services Tax (GST). However, post-demonetization, the party was among the first to oppose the April 1 deadline to implement GST, with Finance Minister Amit Mitra stating that as a consequence of demonetization, GST would be a "double whammy" for states. Mitra is part of the GST council. A number of other states too have developed cold feet with regard to the April 2017 deadline, post demonetization.
While Banerjee has opposed demonetization, a number of other CMs who are not part of the BJP-led NDA alliance, like Biju Janata Dal head and Odisha CM Naveen Patnaik and Bihar CM Nitish Kumar, have supported demonetization in principle. The Bihar CMs unequivocal support of demonetization has stumped not only members of his party and allies, but also the central government, given that Kumar has not been on cordial terms with Modi. In 2013, once Modi was declared the prime ministerial candidate, Kumar walked out of the NDA alliance. Modi has since returned the favor of unexpected support. At the 350th birth anniversary celebrations of the 10th Guru of the Sikhs, Guru Gobind Singh, in Patna, the prime minister praised Kumar for his imposition of a prohibition on alcohol in the state.
The Race to Digitalization
Politics aside, demonetization has compelled a number of states to take to digitalization, and the central government is welcoming such initiatives. Two states which are competing with each other for faster digitalization are the Telugu-speaking states of Andhra Pradesh and Telangana.
Modi has spoken repeatedly about the need for better coordination between the center and the states ("cooperative federalism") to boost economic growth. At the same time, though, he has also encouraged a greater competitive spirit among the states, particularly in the context of drawing foreign direct investment and adopting progressive policy programs. This has been dubbed "competitive federalism."
Both Andhra Pradesh and Telangana have been competing with each other for foreign investment, with the chief ministers of both states leading delegations abroad. Andhra Pradesh CM Nara Chandrababu Naidu has been hardselling Andhra Pradesh's geographical location, especially the fact that it has such a wide coastline. While in the 1990s Naidu focused on reaching out to the United States, in his current term he is focusing on Southeast and East Asia.
In the case of Telangana, a foreign ministry has been set up to reach out to both the Indian diaspora and foreign investors. CM K. Chandrashekhar Rao's son, K.T. Rama Rao, who handles a number of porfolios including Industries and Commerce  has been appointed to head a Foreign Ministry for the state.
Interestingly, post-demonetization, both Telangana and Andhra Pradesh have also been competing with each other to promote digital transactions. The Andhra Pradesh CM was in fact among the earliest to recommend demonetization, though in the aftermath he did not hesitate to point out the difficulties his state faced in dealing with demonetization.
Both states are taking steps to educate their citizens, especially farmers, about the advantages of digital transactions. Both states have introduced e-wallets: AndhraPurse and Telangana E-Wallet. The Andhra CM has also set up state fiber services, which offers cable and internet services at a reasonable price. The internet services also provide useful training in daily marketing to farmers. Some villages like Ibrahimpur in Telangana have gone for digital transactions in a big way, and have gone virtually cashless.
There is no doubt that achieving a cashless society or even a "less cash" society in the short run is nothing but a utopian dream, even in reasonably developed states like Andhra Pradesh and Telangana. Both states, however, deserve credit for taking up the challenge.
Predicting the overall impact of demonetization is virtually impossible, but these two south Indian states are vying to take the lead in digitalization and move toward "less cash" economies.
Tridivesh Singh Maini is a New Delhi-based Policy Analyst with The Jindal School of International Affairs, Sonipat.