What Would a President Ban Ki-moon Do in Office?
Ban Ki-moon is well-known, but his policy preferences are largely a mystery.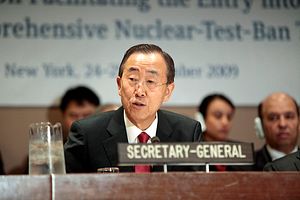 Ban Ki-moon's return to his native South Korea after a decade leading the United Nations thrusts him headlong into the race to become the country's next president.
The former UN Secretary-General arrived home Thursday to a nation consumed with anger at the political establishment and a vacuum of leadership following the impeachment of President Park Geun-hye.
Park, who has been implicated in a massive corruption scandal involving a mysterious confidante, will be either formally removed from office, triggering an early election, or reinstated by the Constitutional Court within months. Even if the court clears Park of culpability, the country will go to the polls by December at the latest as the incumbent is nearing the end of her five-year term.
Ban, who was a career diplomat in South Korea before becoming foreign minister, has yet to formally announce his candidacy, but has said he intends to serve his country in some capacity.
"I have met with people close to me individually and anguished about how to do the best by the country and the people," he told Korean media before boarding his flight at New York's JFK International Airport on Wednesday.
Ban, who has no party affiliation but is seen as likely to run a center-right candidacy, has ranked well in opinion polls, although the former diplomat has recently placed second in match-ups with Moon Jae-in, the center-left frontrunner who served as chief of staff to former liberal President Roh Moo-hyun.
In an poll released by Realmeter last week, Ban trailed Moon 21.5 percent to 26.8 percent, having lost two points and his first-place spot from the month before. Pollster R&Search painted a far more concerning picture for Ban, reporting a 12 percentage point gap in favor of Moon, a dramatic deterioration from November when the rivals were just 4 percent points apart.
In what is likely to be a further blow to his standing, Ban's brother and his nephew were on Tuesday charged by U.S. authorities with attempting to bribe a Middle Eastern official. Ahead of his arrival in South Korea, where the family members of politicians are routinely implicated in corruption, Ban expressed shock and embarrassment over the charges, but insisted he had no knowledge of wrongdoing.
While he remains generally well-liked at home for raising South Korea's stature on the international stage, Ban's policy preferences are largely a mystery.
"He was never a politician in his life. He was always a diplomat," Stephen Kim, a policy advisor for Transparency International Korea, told The Diplomat.
Seen as more inclined to conservative politics, he nonetheless served as a foreign minister under liberal President Roh, who touted egalitarian policies at home and a dovish stance toward North Korea known as the "Sunshine Policy."
As the standard bearer of the breakaway New Conservatives, formed by defectors from the ruling Saenuri Party, or the more centrist People's Party, Ban would be expected to take a more pro-business stance and harder line against North Korea than Moon.
"Basically he is a very conservative man and an opportunist," said Kim. "Obviously he has more common sense than Park, but is extremely pro-American. But he does not have any guts to bring about any change in Korean politics and society."
Robert Kelly, a political science professor at Busan National University, said Ban seemed to represent the status quo.
"He's something of a blank slate. Conservative in the most basic manner, I suppose, meaning that he broadly supports the institutional status quo of Korea – most importantly as developmentalist state guidance of the economy," Kelly said.
"He won't push chaebol reform, and he'll likely be a moderate hawk on North Korea. But that's it. He doesn't strike me as ideologically conservative in the way we would understand that in the West, and as [former President] Lee Myung-bak was pushing the conservative party here."
Kelly concluded that Ban would "just prop up the status quo, which is all Park Geun-hye did too."