Why the New Japan-Australia Military Pact Matters
A closer look at the significance of the signing of a new defense pact.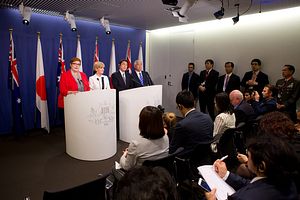 This week, Japan and Australia inked a new agreement to boost bilateral defense ties between the two nations. While the pact did not make many headlines, it is worth noting its significance.
Tokyo and Canberra inked a new Acquisition and Cross-Servicing Agreement (ACSA), which was witnessed by visiting Japanese Prime Minister Shinzo Abe and his Australian counterpart Malcolm Turnbull. ACSAs are negotiated between partnering countries to facilitate the exchange of support, including food, fuel, transportation, equipment and ammunition.
The pact was covered in the media as part of a broader story of expanding relations between the two countries, and that is unquestionably the case. Ahead of Abe's visit, Turnbull wrote an op-ed in The Australian where he reflected on the relationship, which was elevated to a "special strategic relationship" back in July 2014. On the defense side, despite the failure of Japan's bid to build Australian submarines, Turnbull was right to note that there is in fact a lot more going on between the two sides, including in fields like cybersecurity and counterterrorism (See: "Australia-Japan Defense Relations Are Deeper Than A Sunken Submarine Bid").
He also stated that apart from the new ACSA, there was also room for the security relationship to become "deeper and more sophisticated." The two sides are planning to ink another agreement by the end of this year that would facilitate greater collaboration between the Australian Defense Force (ADF) and Japan's Self Defense Force (SDF).
But apart from a strengthening of bilateral defense relations, the ACSA was also significant for two more specific reasons. First, it is testament to Japan's growing regional security role. Though Japan and Australia had already inked an ACSA back in 2013, the signing of a new agreement was catalyzed by new security legislation passed this March that expands the role of the SDF as part of Abe's drive for "proactive pacifism." With the passage of the new legislation, both sides could update the pact to include the sharing of ammunition during exercises, relief operations, and peacekeeping operations, rather than just food, fuel and other supplies.
As Australian Defense Minister Marise Payne noted, the ACSA "brings our defence logistics cooperation fully into line with Japan's landmark 2015 Legislation for Peace and Security."
Second, it also paves the way for greater cooperation between Japan, Australia and the United States. With this week's development, Japan has now signed new ACSAs with both Washington and Canberra following the passage of new security legislation. With Donald Trump set to assume office later this week, the two U.S. treaty allies will be looking to forge closer ties with Washington amid shared challenges which range from a nuclear North Korea to the Islamic State.
The two leaders said they would coordinate with the incoming Trump administration and continue to work with the United States as well as other like-minded countries including India to maintain the rules-based international order and support a peaceful and stable Indo-Pacific (See: "What Would Donald Trump's Asia Policy Look Like?"). Trump had raised doubts about U.S. commitment to its Asian alliances and has pledged to withdraw Washington from the Trans-Pacific Partnership (TPP) agreement which it had helped lead (See: "What Would US TPP Withdrawal Look Like?").