Cambodia's Prime Minister Is Wrong About Myanmar's Rohingya Issue
Sorry, Hun Sen: the Rohingya crisis can't be dismissed as Myanmar's internal affair.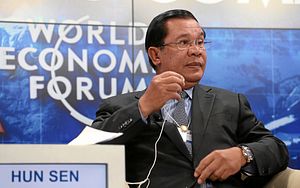 The ongoing Rohingya crisis in Myanmar has been a very sensitive and contentious issue and remains in the international focus. Some human right groups have even accused the Myanmar government of potentially committing genocide against the stateless ethnic group.
The UN Office for Human Rights  alleged in a report released last  Friday that members of Myanmar's army and  police have slaughtered hundreds of people and gang-raped women and girls, forcing up to 90,000 Rohingya Muslims from their homes. The UN also repeated calls for the international community to jointly urge Myanmar's civilian rulers to put an end to the ongoing military crack-down on this minority group.
The situation still remains perilous and devastating despite the Myanmar government asking the world to give it more "time and space" to address the crisis.  "The government does not condone rights abuses against innocent civilians. Legal action will be taken in response to any substantiated claim," the country's deputy defense chief, Rear Admiral Myint Nwe, said at a security forum in Singapore in late January.
PM Hun Sen: Don't Interfere in Rohingya Issue
Despite the international outcry, Cambodian Prime Minister Hun Sen made it clear while holding bilateral talks with Myanmar's President U Htin Kyaw last week that he didn't support any attempt to internationalize the Rohingya issue. Instead, Hun Sen categorized the Rohingya crisis as Myanmar's domestic affair, which, in accordance with the ASEAN charter, must not be interfered with by any outsiders.
"Samdech Techo Hun Sen said in the talks that Cambodia disagrees with the attempt to internationalize the Rohingya issue, considering it as an internal issue of Myanmar, and the ASEAN Charter prohibits the interference in the internal affairs of each Member State," Cambodia's Information Minister Khieu Kanharith was quoted as saying by state media agency Agence Kampuchea Press.
Cambodia's government should not take a stance against the internationalization of the Rohingya issue. This is obviously a regional humanitarian crisis that needs to be tackled multilaterally — something that Cambodia, as an ASEAN member, should not turn a blind eye to.
The deputy director of the Asia Division of Human Rights Watch, Phil Robertson, said via email that the Rohingya issue is no longer just a domestic affair in Myanmar, noting the effect it has had on some ASEAN countries in recent years.
"The Rohingya issue is clearly a regional one because of the thousands of refugees who fled on boats to other countries in 2015 and the potential for more boats to come out again in the future. Even Cambodia ended up with a handful of Rohingya refugees who are now still living in the country, trying to make a living," Robertson wrote.
"So it is frankly wrong for Hun Sen to say the Rohingya are a 'domestic issue' of Myanmar, when clearly what happens to them in Rakhine state affects a number of countries in ASEAN," he added.
Principle of Non-Interference and Cambodia's Reciprocal Politics
Pragmatically speaking, Cambodia's prime minister spoke out against internationalization of the Rohingya issue and cited the principle of non-interference — one of the six principles of ASEAN — in order to avoid infuriating the Myanmar government, since the Kingdom has enjoyed friendly and close relations with Myanmar for a number of years.
Robertson also argues that Hun Sen's defense of the non-interference principle with regards to the Rohingya issue is just a tactic to prevent other ASEAN countries and the international community from interfering in Cambodia's human right abuses in the future.
"Prime Minister Hun Sen is simply trying to protect himself and his rights abusing record in Cambodia from scrutiny by ASEAN neighbors and the international community," Robertson said. "That's really the only reason he preaches for 'non-interference' on the Rohingya issue."
Robertson added that Hun Sen apparently thought that if he supported Myanmar on the Rohingya issue this time, then the leaders of Myanmar would support him on some possible later occasion. "This is a classic trade-off arrangement, in which both sides get what they want – which is no outside interference or pressure as they abuse the human rights of their people," the human rights expert said.
Though Cambodia remains committed to upholding the non-interference principle, Gerard McCarthy, a Ph.D. candidate at the College of Asia and the Pacific at the Australian National University focusing on Myanmar, observes that the principle of non-interference is apparently no longer fundamental for ASEAN countries, and some have already abandoned it in order to speak up against the allegations of state-led violence against Rohingya.
"The issue isn't interference by ASEAN anymore. Muslim majority members of ASEAN have already clearly abandoned this principle as shown by Indonesia and Malaysia pushing very heavily for investigation about Rohingya abuses, proving aid flotillas, etc," said McCarthy.
In the ASEAN region, Muslim majority countries such as Malaysia and Indonesia have stood up and are trying to play a very active role in engaging with the Myanmar government in order to address the problem. However, Malaysia's harsh criticism of Myanmar has led to diplomatic confrontation and a war of words between Malaysian Prime Minister Najib Razak's government and the Myanmar government. The latter has rebutted Najib's comments about the treatment of the Rohingya, stating that the prime minister is likely trying to distract Malaysians from his ongoing corruption scandal and other domestic issues.
McCarthy suspects that Cambodia's position in line with Myanmar likely signals the possible division between Muslim majority countries and Buddhist majority countries.
"Clearly factions of Muslim majority vs Buddhist majority countries (Cambodia) are emerging," he said, adding that without a regional solution and a commitment in Myanmar to genuinely protect Rohingya rights, then the crisis would only worsen.
Indonesia's Proposal: Constructive Engagement
Instead of saying that Cambodia doesn't support the internationalization of the Rohinya issue, as a responsible member state of ASEAN, Cambodia should express its support for the grouping  by pursing an active role to work with the Myanmar government in seeking a solution to overcome this crisis. In particular, Cambodia should adopt a humanitarian and pro-unity stance by backing Indonesia's proposal for new constructive engagement with Myanmar, and persuade Myanmar to boost its effort to address such complex challenges.
Based on the current situation it is clear that Myanmar, without robust support and a proper solution proposed by the regional bloc, can't achieve anything domestically, let alone ending the continuing plight of Rohingya.
Indonesian Foreign Minister Retno Marsudi, in an interview with Channel News Asia after a meeting of Islamic leaders in Malaysia, recognized that openly criticizing and shaming Myanmar over the Rohingya crisis is not an effective solution. She proposed that this is a right time to push for constructive engagement toward the country.
"The way I see it is that the spirit of having the constructive engagement is bolder than before. So while addressing the issue, while expressing our concern, at the same time, we express also our readiness to engage constructively with Myanmar government," she said
The new constructive engagement policy envisioned by Indonesia means ASEAN has to go beyond basic economic concerns to tackle the sensitive political issues occurring in the region that need to be addressed. This requires a cohesive and collective position among individual ASEAN members; instead of blaming and denouncing each other, they must work together to ensure that Myanmar recognizes the Rohingya issue as a humanitarian crisis and be willing to address it. ASEAN also has to reiterate its commitment to assist Myanmar by recognizing the complex nature of the conflict itself and the intricate problems the civilian government in Myanmar has faced so far in respect to religious nationalism and political factions.
According to Fan Honwei, a Myanmar expert based at the School of Southeast Asian Studies in Xiamen University, such a focus on a "constructive engagement policy" is nothing new for Myanmar. ASEAN has been using this strategy since 1997. It is worth noting that this policy  has yielded fruitful outcomes in the past decades, when there was a collective stance taken by ASEAN on Myanmar issues and the policy of individual states toward Myanmar was convincing, heartening, and advising — not confrontational. The  positive outcomes include the admission of Myanmar into ASEAN and democratization in the country.
As mentioned earlier, Myanmar can't address this problem by itself, and a regional solution should be made in a timely manner to prevent a worsening humanitarian crisis in Rakhine state. ASEAN member states should take the opportunity of the upcoming ASEAN summit in the Philippines to forge a new favorable platform for more comprehensive discussion and consultation on the issue among the parties concerned, especially allowing other actors such as non-governmental organizations and international human rights groups to take part. This will be more helpful to cast a new light on how to end the Rohingya issue.
Sao Phal Niseiy is a Cambodian journalist who covers foreign affairs and international politics.