Mattis Pumps up THAAD, But China Likely to Keep 'Bullying' Korea
The U.S. defense secretary reaffirms the THAAD decision, which faces opposition in Beijing and in South Korea itself.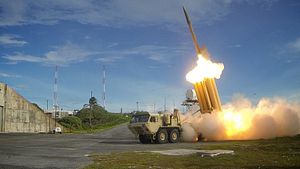 The new U.S. secretary of defense, retired Marine Corps Gen. James Mattis, arrived in South Korea Thursday where he recommitted Washington to deploying an advanced missile defense battery to the Korean Peninsula.
But amid South Korea's fractured politics, it's still very unclear if the deal brokered under the leadership of now-impeached President Park Geun-hye will hold up.
"Mattis sought to lock in the case, but he has little leverage over the political dynamics in Seoul," said Mark Fitzpatrick of the International Institute for Strategic Studies.
Mattis is the first member of President Donald Trump's Cabinet to make an overseas visit. Key Asian ally South Korea is his first stop; Japan is next on the itinerary.
After campaign threats of possibly drawing down military support for South Korea, Trump may be trying to soothe hurt feelings by sending Mattis to Seoul. He may also be attacking an early challenge to his administration: North Korea.
On his first day in Seoul, Mattis met with Prime Minister Hwang Kyo-ahn, South Korea's acting president since Park was impeached in December. The two reaffirmed the Park administration's decision to deploy the missile defense system and aim to have it in place by July. Hwang believes, as does Park, that its immediate deployment is necessary to deter North Korea's growing nuclear threat.
The U.S.-built missile battery, which comes with a powerful radar, is called Terminal High Altitude Area Defense, or THAAD for short.
It's the unit's radar, largely, that has neighbor China on edge. Beijing is worried the U.S. will use the device to spy on its military development. Washington and Seoul maintain THAAD is strictly to protect against North Korea.
According to Reuters, it's widely believed in South Korea that Beijing is retaliating over THAAD by discriminating against South Korean businesses and artists. Local media have reported a big hit to the sale of Korean cosmetics in China.
Fitzpatrick said China's actions "reflect a judgement that the THAAD deployment is not irrevocable."
"There's nothing to be gained for China to continue to insist that THAAD not be deployed once a decision has been made. If they think the decision is not final, however, then China probably will continue to press its case," Fitzpatrick told the Georgetown Journal of Asian Affairs.
Former UN Secretary General Ban Ki-moon's decision not to run for president in South Korea is the latest political development to "reinforce" China's judgement, according to Fitzpatrick. Ban was largely viewed as the conservatives' only hope to win the Blue House, and last month he threw his full support behind the missile defense system.
Meanwhile, the man leading leading opinion polls to win the presidency, Moon Jae-in, has been unclear about his position on THAAD.
More than 50 percent of South Koreans supported the deployment of THAAD last month, according to a Gallup Korea poll. The same survey also showed an increased number of people against the missile battery.
Outside the Government Complex in Seoul, a group of anti-THAAD protesters waited for General "Mad Dog" Mattis to arrive ahead of his meeting with Prime Minister Hwang.
Oh Mi-jeong, the general secretary of a movement called Solidarity for Peace and Reunification of Korea, said as an unelected president, Hwang doesn't have the right to advocate for THAAD.
She also questioned Trump's decision to send Mattis to discuss the missile defense system.
"If Trump is trying to erase [President] Obama's legacy, shouldn't his interest be to destroy policies pushed by the former president, such as zero communication with North Korea and the deployment of THAAD?" said Oh.
South Korea's harsh brand of politics, as evidenced by Ban Ki-moon's rapid withdrawal from the presidential race, may need to produce a new president before a decision is reached. An election could come as early as this spring if Park's impeachment is upheld by the Constitutional Court.