Pakistan's Census: A Baloch Perspective
Why many in Balochistan are not looking forward to Pakistan's first census in 19 years.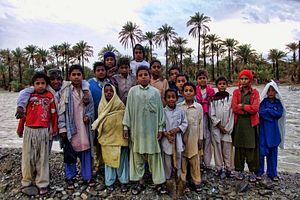 On March 15, 2017, Pakistan will hold its sixth nationwide population census, after a wide gap of almost 19 years. The census was only possible after Supreme Court intervention, and with the assent of the Pakistani army to deploy up to 200,000 troops, ensuring a smooth and peaceful nationwide count. The federal government fought tooth and nail to convince the court to delay. After finalization of the date by country's premier constitutional body – the Council of Common Interest (CCI) – lethargic state machinery has been activated and the race begun.
The national census has a profound impact, as it impacts policy formulation, socioeconomic promotion, and political outlook in the nation. Consequently, counting heads benefits businesses, governments, and societies by improving their physical and potential growth. In Pakistan's case, it has been discouraging that the government has delayed taking a census for almost 19 years, but Pakistan is a nation fond of applying Joghaads – common Urdu acronym for shortcuts – in pursuing our most vital national interests.
Amid the hue and cry for a national census, Balochistan, the country's insurgency-hit and marginalized province, has yet again convulsed with contradicting views on the upcoming census. The tug-of-war has surfaced between Pashtun and Baloch nationalist parties, with Baloch nationalist parties unanimously opposing the census, and Pashtun nationalist parties calling for whole-hearted support. The chief tenets of the Baloch nationalists' list of grievances are the case of Afghan refugees, internally displaced person (IDPs) and temporarily dislocated persons (TDPs); the migration of Afghan refugees into Baloch dominated areas; the migration of Baloch people amid the wave of insurgency and extremism; the provincial apparatus' capability (or lack thereof) to deal with counting in remote areas; the case of fake Computerized National Identity Cards (CNICs) in Pashtun-dominant areas; and lastly, the prevailing insecurity of the province.
According to available statistics, since the 1979 Soviet invasion of Afghanistan, around 3 million Afghan refugees have been living in Balochistan. A major portion of that community holds Pakistani National Identity cards. When Afghan Taliban head Mullah Mansour was killed last year, he had a fake Pakistani ID. This underscores the severity of the issue. Particularly, in Pashtun-dominated areas, malpractices in the issuance of fake CNICs are an open secret. In another case, in 2015 more than 88,000 CNICs were blocked only in Balochistan.
Mir Hasil Bizenjo, the chief of National Party and incumbent federal minister for Ports and shipping, in a recent press conference argued that a "census in Balochistan is unacceptable in the presence of refugees; it was the principled stand of his party that refugees, regardless of their ethnicity, should be sent back to their countries." He further said that "this view was shared by other nationalist parties." Likewise BNP(M) in its central committee meeting held in Karachi last year decided, "We will not accept the [holding of] a census in present circumstances… such an exercise is tantamount to turning the Baloch population into a minority in their own homeland."
Adding to this, the recent wave of insurgency, religious extremism, and frequent flooding has compelled the region's people to migrate to other provinces or even to other countries. It's believed that more than one million Baloch people have fled the province in the wake of terrorism. Reportedly people from Dera Bugti, Kohlu, Makran, Jalawan, Naseerabad, and Bolan have migrated mainly to the border areas of Sindh and Punjab. Likewise, the Baloch diaspora in Gulf States and even in Europe has witnessed a sharp rise. Given this exodus, a census would have negative consequences for Baloch people.
BNP (Mengal) in one of its party statement highlighted this concern, saying "our ancestors have sacrificed their lives to save our homeland for centuries. Holding a census is a matter of life and death for us. Hundreds of thousands of the families of Kohlu, Dera Bugti, Jhalawan, Makran, Awaran, and other districts have been displaced because of anti-Baloch policies."  Accordingly BNP (M) has also filed a review petition in the Balochistan High Court and Supreme Court against the census. National Party chief Bizenjo was also of the view that, "until 4 million Afghan refugees return to Afghanistan and all the Baloch who have gone into exile return, else the Baloch population will be under-report[ed]."
Moreover, the provincial government lacks the proficiency to deal with such a massive campaign amid insecurity. The recent example of the 2013 general elections would help in gauging provincial incompetency. The 2013 general elections reported a historically low voter turnout owing to the threat of insurgent and extremist attacks. Indisputably, dissident groups will boycott the census and will try their best to make it a failure. Ikramullah Kashani, a retired bureaucrat who acted as a presiding officer in the last general election, told The Diplomat that in general the 2013 elections were short on polling staff, particularly in remote areas. On the census, he said, "Look, Balochistan has a scattered geography, and people are still living in faraway areas where administrative reach is almost impossible. As [a] census is thoroughly a counting-based process, such areas would be neglected in every possible ways, as even the local people would not jeopardize their lives by going there." He further argued that "[the] government would face severe hardship, and requires ample time for training and then deploying a huge number of enumerators."
Meanwhile, the migration of Afghan refugees in Baloch-dominated areas – Noushki, Chaghi, Bolan, and Sibi – is another genuine concern. The federal government needs to formulate a transparent mechanism to permanently deal with Afghan refugees. However, given the present ground realities, if the census is held, it may end up solidifying and impairing divisions between the province's Pashtun and Baloch populations. Therefore, it's imperative for the federal government to delay the census only in Balochistan, for a period, until the concerns of both Pashtun and Baloch nationalists are addressed. All in all, it's also an opportunity for the PML(N)-led government to address the apprehensions of Baloch and Pashtun nationalists, and make the situation a win-win for all. Nevertheless, if neglected these apprehensions may further add fuel to the fire of insurgency. 
Hammal Kashani is a graduate of International Relations from National Defense University, Islamabad, and has an interest in national and international political affairs. He can be reached at @Hamalkashani