Pakistan's Jamaat-ud-Dawa: The Conundrum in Action
What's behind the house arrest of Hafiz Saeed, the head of Jamaat-ud-Dawa?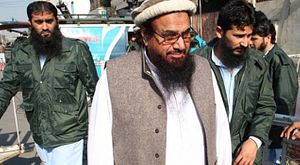 The Pakistani government has placed Hafiz Saeed, the head of Jamaat-ud-Dawa (JuD), the political arm of Lashkar-e-Taiba, which was banned and blamed for the 2008 Mumbai attacks, under house arrest in Lahore. However, this is not the first time that Saeed has been held under preventive detention: in 2001, immediately following an attack on India's parliament, Saeed was put under house arrest, and again in 2008 after the Mumbai attacks.
The two most common explanations that have emerged as the potential reasons for Saeed's house arrest concern United States and Chinese pressure on Pakistan. In this regard, Pakistan's action of restricting Saeed's movement is being considered an attempt to deter U.S. President Donald Trump from taking tougher measures against the country and to reassure and appease the Chinese leadership of Pakistan's commitment toward dealing with all sorts of internal security threats.
While addressing Saeed's arrest, the Pakistan military's media wing in a statement said that "This was a policy decision taken by the state in the national interest and several institutions will have to play their role." Moreover, the statement further noted that "Individuals are less important than the state. The national interest must prevail" while emphasizing that "no foreign pressure [was] behind this decision."
It's very rare that the Pakistan Army publicly comments on groups or individuals like Saeed that are known for having close relations with the country's security establishment. It's equally important to note that the Pakistan military's media wing termed the JuD's leader's house arrest as a matter of "national interest."
Saeed's previous detentions occurred due to his group's subversive actions across the border in India, which caused intense international pressure on Pakistan. However, in the present case, Saeed has been detained without any evident foreign pressure. Trump's threats don't provide a convincing explanation: "It's doubtful Trump actively pressured Pakistan to rein in Hafiz Saeed… The Trump administration has too much on its plate to be focusing laser-like on Pakistan," argues Michael Kugelman.
While the prospect of Chinese pressure sounds like a more credible rationale behind this action, it is difficult to make an analysis that justifies Beijing's sudden pressure, which might have indeed forced Pakistan into detaining Saeed. If there is one thing we have learned from Beijing's diplomatic maneuvering it is that unlike Washington, the former has relied upon on a "hands-off" approach regarding Pakistan's action against various militant groups rather than bullying its way into the country's counterterrorism policy choices and priorities.
Beijing's diplomatic approach in this regard has been more "surgical," one focused on making Pakistan realize the potential challenges that JuD-oriented state-friendly militant groups pose to the country's internal stability. This serves China's own commercial interests in Pakistan, which have increased significantly in recent years. Moreover, China has been extremely cautious in terms of pushing Pakistan for action against groups that have strategic significance for Islamabad in terms of its bilateral rivalry with India.
On Saeed's arrest, Ayesha Siddiqa, a Pakistan-based defense and security analyst, argues:
This may serve the purpose of signaling to the world the state's ability to control these elements but it is not a precursor to a strategic change especially at a time when the geo-political plate seems to be in flux. At this juncture, militant groups may be viewed as vital assets that could even be loaned to big but friendly players in the Great Game.
She further contends that "Arguing that a policy shift on militancy is necessary in Pakistan's interest is beyond doubt. But does the house arrest indicate barebones of a new policy? The answer is no. This may just be a tremor which also will pass." On the other hand, Wajahat Khan, an analyst on Pakistan's national security affairs, believes that Pakistan's most recent action against Saeed "signals a broader shift in the country's treatment of extremists."
It's probable that the current "tremor" of Saeed's detainment may not pass soon: JuD's rapid expansion as an organization domestically has probably gone beyond the point of what may have been tolerated by the state. The group's vast network, whose lower tier leadership is susceptible to further radicalization and defection, is a threat in itself that is waiting to explode.
The challenge in this regard doesn't come from the JuD's leadership; rather, it comes from the organization's grassroots-level organizing. This is particularly important as it grows weary of its leadership's inability to deliver on the group's radical promises in its most radical expression. "Jamaat-ud-Dawa (JuD) is silently controlling its activists for any possible defection and falling in the hands of anti-state elements particularly organizations like Islamic State of Iraq and Syria (ISIS) commonly known as Daesh which is ideologically most suitable place for the defected elements of JuD," says an investigative report published in The News International.
The timing of Saeed's detention may point toward the external pressures, but certainly the rising threat level from inside appears to be the primary motive behind the action. It remains to be seen, however, how Pakistan contains JuD's vast infrastructure, for an action against the group is likely to open a new range of security risks and challenges, and that too at a time when militant attacks in the country are on the rise again.