Russia's Asian Trade Game
With the Trans-Pacific Partnership on pause, the Asian free trade landscape has changed. What does that mean for Russia?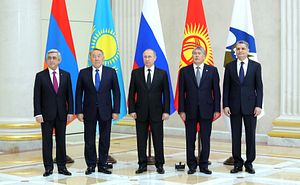 Since Donald Trump fulfilled his campaign promise to scrap the Trans-Pacific Partnership (TPP), trade-hungry Asia Pacific states have started to contemplate the alternatives. These were few and not nearly as appetizing. The Regional Comprehensive Economic Partnership (RCEP), essentially an ASEAN+6 free trade agreement, does not cut as deep as the TPP beyond trade itself and has India as a party, an impossible partner for trade negotiations. The Free Trade Area of the Asia Pacific (FTAAP), an APEC project, is as grand as it is unrealistic.
Russian scholars and pundits readily joined the speculations, looking for a place for Russia's own economic integration initiatives in the Asia Pacific trade equation. The first instinctive reaction to the downfall of a U.S.-led trade megabloc was to herald new opportunities for China- and Russia-led projects.
Why the sigh of relief? The reasons are mostly political. With the current level of mistrust between Russia and the United States, the TPP was seen by semi-official pundits as another American shot at global domination, a project meant to isolate China similar to the way Western sanctions were meant to isolate Russia. This kind of ideological approach dominated Russian media coverage of the TPP. However, estimates showed that the economic impact was not going to be significant. And with an FTA with Vietnam in force, Russia could actually have gained some value (a $5 billion growth in exports by 2030) by exporting goods produced in Vietnam to the TPP market.
The fact that China and ASEAN are central to RCEP negotiations does create a favorable background for Russia to take a closer look at the grouping. But, unfortunately, political trust is the only driver of Russia's hypothetical participation in RCEP. To join the talks, Russia first would have to have an FTA with ASEAN in place. And Russia can no longer do that alone, but can only negotiate trade tariffs as a part of the Eurasian Economic Union (EEU), which also includes Kazakhstan, Kyrgyzstan, Belarus, and Armenia. So the only way Russia could become a part of RCEP – or any trade negotiations for that matter – is together with the whole of EEU.
Another suggestion made by Russian experts after Trump put the TPP on pause was that the time has come for the EEU itself to shine. However, the EEU on its own is not enough anymore. At the peak of TPP's hype, a new initiative was announced by President Vladimir Putin – an "economic partnership" between the EEU, the Shanghai Cooperation Organization (SCO), and ASEAN. This later transformed into the "Greater Eurasian partnership," now actively promoted by Russian moderate conservatives supporting the Russian official foreign policy narrative.
It is still unclear what the concept of the Greater Eurasian partnership is all about. It looks like an ideological framework meant to show Russia's ability to proactively produce a global (or at least macroregional) initiative, one that could lure partners into economic cooperation with Russia. However, it seems that the substance of this project will boil down to the EEU's external engagements.
Its first pilot FTA with Vietnam entered into force last October, and the next big thing is an economic partnership agreement with China (though this is unlikely to be an FTA). The Eurasian Economic Commission (the EEU's governing body) is also launching feasibility study for an FTA with Singapore. Policymakers boast a list of 40 states that have applied for some sort of cooperation agreement with the EEU. Most of the work, however, will have to be done in Moscow – states of the Indo-Pacific take up a quarter of Russia's foreign trade, while few Asian countries share more than 1 percent of trade with Russia.
As boring as a set of piecemeal agreements looks against the background of a Greater Eurasian project, the former is likely to be all there is to Russia's current Asian trade agenda. First and foremost, apart from traditional spheres like oil and gas, heavy machinery, nuclear technology, and some agricultural produce, Russian companies still lack the international competitiveness that is crucial if extensive free trade negotiations are to make sense for the Russian economy.
There is also little interest in the hard work of planning and negotiating such agreements, as Russia is preoccupied by its sour relations with the West, an ambiguous power play with the United States, and ongoing engagement in Syria and Ukraine. The nuts and bolts of an Asian trade offensive escape the attention of policymakers focused on the big picture and grand political campaigns like building military connections with China or getting large investment projects out of Japan in exchange for a hint of progress on the territorial issue.
As a result, Russia's (and the EEU's) Asia Pacific trade facilitation strategy currently looks like a creeping set of agreements, one country at a time. China and ASEAN states are first in line for such forms of cooperation. If that goes well, we may see more interest on behalf of the political leadership in Moscow and perhaps only then an actual agenda. But that would only make sense for Russia if it strengthens the competitive power of domestic economic forces. That is the task that lies before the government well before creating economic megablocs.
For Asian states, it is still a challenge to separate the bombastic statements coming from Russian politicians and pundits and the quiet hard work done by the Asia-focused technocrats. It would serve well to pay more attention to the latter and be patient with the former.
Anton Tsvetov is a researcher at the Foreign Policy and Security division of the Center for Strategic Research (CSR), a Moscow-based think tank. He tweets on Southeast Asian affairs and Russian foreign policy at @antsvetov. The views expressed here are the author's own and do not reflect those of CSR.