Taiwan's Cold War Fortresses
Fortifications on Matsu Island were meant to defend against a communist invasion.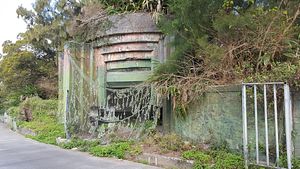 Located just several miles off the coast of mainland China, the tiny Matsu Islands — along with the larger Kinmen group of islands — were destined to become major Nationalist strongholds following the Kuomintang's (KMT's) retreat to Taiwan in 1949.
Throughout the Cold War the Nationalists constructed elaborate tunnel networks and large numbers of various fortifications on Matsu. Their purpose was to aid in defending against a potential communist invasion and to house large quantities of troops, equipment, and supplies as part of Chiang Kai-shek's plan to retake mainland China. To this day, the exact number of military installments remains a closely guarded secret.
The Lienchiang County government (which administers Matsu's 36 islands and islets) estimates that — excluding facilities still in use by Taiwan's military — some 256 underground fortifications, tunnels, air raid shelters, and other related structures were constructed in Matsu's four townships: Nangan, Beigan, Juguang, and Dongyin.
The numerous military fortifications found on the islands once provided overlapping firing arcs both in the direction of mainland China and in the direction of neighboring islands within the Matsu Islands group. Many of these fortifications housed various artillery pieces, including anti-tank and anti-aircraft guns that were adapted for coastal defense. The islands also feature large numbers of abandoned World War II and early Cold War era U.S.-built armored vehicles that were once utilized by Nationalist forces.
Following the abolition of the Matsu Military Administration Committee in 1992 and the subsequent creation of the Matsu National Scenic Area Administration in 1999, many of the tunnels and fortifications were restored and opened to the public. The restoration program was conducted as part of the Taiwan government's initiative to develop tourism on the island and preserve Matsu's rich cultural and military heritage.
Today, the renovated fortifications and tunnels bring Matsu's tense Cold War past to the attention of visitors and serve as monuments to the countless men who lost their lives constructing them, often with little more than the most basic of tools. At the same time, the ongoing (albeit smaller) military presence on the islands — often concealed by Matsu's tranquility and captivating natural beauty — serves as a reminder that, despite the warming of relations following the end of the Cold War, tensions on the Taiwan Strait remain high.
Guy Plopsky holds an MA in International Affairs and Strategic Studies from Tamkang University, Taiwan. He specializes in air power, Russian military affairs and Asia-Pacific security. You can follow him on Twitter.