The Dangers of Pakistan's Tactical Nuclear Weapons
Why Pakistan's tactical nukes are inherently a threat to the country's nuclear security.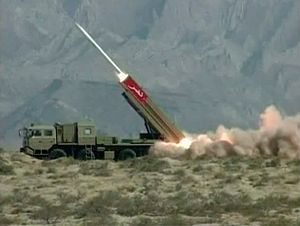 Nuclear weapons today are a part of Pakistan's belief system, having been built up over the years because they seem to have provided a credible deterrent against Indian aggression. Pakistan is convinced, maybe rightly so, that its nuclear capability has been able to deter India from escalating hostilities in the last three decades. Pakistan is now on a journey to strengthen its deterrent.
Pakistan today has the world's fastest growing nuclear stockpile, according to a report published in 2015. Given the rate of its plutonium and highly enriched uranium (HEU) production, it may be able to produce another 200 nuclear warheads in next five to 10 years, taking its arsenal to close to 350 warheads. The production of such a staggering stockpile has been associated with an extremely worrisome trend: a majority of nuclear warheads produced by Pakistan in the last decade are thought to be low-yield tactical weapons. The rapid tacticalization of a strategic asset in a region considered to be a nuclear flashpoint has raised plethora of security and strategic questions.
Pakistan is at the epicenter of global jihadi terrorism. The country has faced some devastating attacks on its defense apparatus by jihadists in the past decade or so; there have been repeated instances, for example, where some of these attacks were mounted with the help of insiders within the Pakistani military establishment. This internal chaos, coupled with perpetual tensions with its eastern neighbor, India, makes Pakistan a bit of nuclear nightmare. Its willingness to use tactical nuclear weapons even against a limited conventional incursion by India further complicates this situation.
The Dynamics of Pakistan's Tactical Nuclear Weapons
Though the Indian Army had long refrained from formally accepting "Cold Start" as a professed strategy of the armed forces, the recent statement of India's army chief acknowledging the existence of Cold Start has generated friction between Islamabad and New Delhi. Cold Start envisages several division-size integrated battle groups to be on a standby alert all the times so that if need be, they can surge deep into Pakistan across several theaters and seize a portion of Pakistan territory, which could be then used to bargain with Pakistan.
In spite of the Indian army's ambiguity toward Cold Start, Pakistan's military leadership seems convinced that it is India's military doctrine. Pakistan as a result has shifted its own doctrine from strategic deterrence to what it calls full spectrum deterrence. In essence, this means Pakistan's willingness to adopt a nuclear first use policy in a tactical environment. Pakistan believes the most credible way to deter a conventional war against a nuclear India is to asymmetrically escalate a conflict by threatening first use of tactical nuclear weapons on advancing Indian forces once they cross the border into Pakistani soil — deterrence by denial. Such a move would, in Pakistan's view, blunt India's conventional assault and give India little justification for a disproportionate nuclear strike on Pakistan's strategic centers, because Pakistan would not have targeted Indian cities. In this scenario, the burden of the Pakistani posture would be on first-strike capabilities in a limited theater setting using tactical battlefield weapons.
TNWs, experts believe, have the ability to end a conflict or at least de-escalate the engagement. However, just because TNWs were an effective deterrent during the Cold War in a European setting does not mean that this can replicated in South Asia. Even a small "kill range" weapon may result in a large number of civilian casualties in a region with one of the highest population densities in the world.
The use of TNWs against an enemy force on its own soil would also have tremendous repercussions for Pakistan. First, it may result in killing large chunks of its own population in the event of sudden crisis, as Pakistan would not have sufficient time to move its population. Second, the entire strategic game plan would fail if India decides to respond by using its own strategic weapons against Pakistan's main cities. Third, the expected destruction of enemy forces as a result of the use of TNWs may not be sufficient to either end the conflict or deescalate the same. One recent report suggests that a TNW attack on Indian advancing forces may end up destroying 20 to 30 tanks and equal number of Armored Personnel Carriers, at the most. It adds that in such a case India would keep advancing into Pakistan and/or give a matching if not bigger response. There have been conflicting views on the extent of destruction a TNW could cause on an advancing army. This combined with absence of actual battlefield information about the TNWs clouds their deterrent value to a large extent.
The Dangers of Tactilization: Command and Control Vulnerabilities
The credible threat of battlefield tactical weapons is predicated on these being in battle-ready mode. As Tim Hoyt writes, "It is apparent that Pakistan's command and control procedures are delegative, lean heavily toward the always side of the always/never divide, and probably include both devolution and possibly pre-delegation in order to ensure the use of weapons."
Pakistan is forced to keep some of its TNWs in a ready state if they are to prove useful in stopping an Indian incursion and, more importantly, make deterrence-by-denial appear a credible instrument. This means that tactical weapons in a ready state would have to be stationed close to the frontline. It would be challenge for the National Command Authority (NCA) to exercise its control on these ready weapons. In a chaotic crisis situation, the decision to launch a tactical nuclear strike may rest with a mid-level theater commander, who would have limited battlefield vision. One retired army general conceded that in a crisis situation a theater commander would probably take matters into his own hands; should a trade-off be required, battle effectiveness of the nuclear force will trump centralized control.
Such command and control procedures, which are a result of Pakistan's heavy tilt toward using TNWs in a crisis situation, makes the entire edifice vulnerable to rogue elements within its armed forces.
Threats to Pakistan's Nuclear Security
The terrorist use of nuclear weapons, with its tsunamic global and regional consequences, is any country's worst security nightmare. Such a situation appears highly unlikely, but even a miniscule probability of it happening should be enough to motivate intense focus on the proper steps to mitigate such a risk. Pakistan claims to have made significant improvement in its nuclear security environment, but there are no independent reports which can sufficiently verify these claims. Pakistan's opacity in sharing any kind of details about its security procedures makes it impossible to ascertain the veracity of its security claims.
In the past five years there have been at least half a dozen attacks on the facilities that reportedly store Pakistan's nuclear weapons. The Kamra Air Base near Islamabad has been attacked three times by terrorists belonging to the Tehreek-e-Taliban Pakistan (TTP).
Meanwhile, the gradual radicalization of the Pakistani army over the past three decades poses a grave danger to Pakistan's nuclear security in terms of insider threats. These insiders have time and again allied with various jihadi organizations to strike at the state at will. The gravest threat to Pakistan's nuclear weapons is posed by this insider-jihadi collaboration. The possibility of these two potentially dangerous elements coming together and acquiring a nuclear weapon is perhaps one of the most underappreciated threats to international peace and security in the region.
The extent of terrorist infiltration in Pakistan's nuclear-armed military was highlighted when a group of terrorists, acting with alleged intelligence assistance from "insiders," mounted an attack on one of Pakistan's biggest naval bases. In 2011, jihadists belonging to the 313 Brigade of Ilyas Kashmiri attacked the Mehran Naval Base near Karachi. Since 2005, the 313 Brigade has acted as an armed extension of al-Qaeda. The unit is manned by former Pakistani army officers who were earlier working with Ilyas Kashmiri; he reportedly had a strong contingent of ISI and Pakistan army alumni as advisors. This alumni contingent was working under the banner of "Jund al-Fida" (Army of Martyrs), a name suggested by Osama bin Laden himself.
Major (Retd.) Abdur Rehman Hashim, once the director of Jund al-Fida operations on behalf of Ilyas Kashmiri, reportedly instructed David Headley, one of the primary figures accused of scouting on behalf of the Lashkar-e-Taiba attackers in Mumbai in 2008, to conduct surveillance on the Bhabha Atomic Center. Another Pakistan Army alum linked to Jund al-Fida, Major Haroon Ashiq, was arrested for the murder of Major General Ameer Alvi in 2009. Haroon's younger brother, Capt. (Retd.) Khurram Shehzad was killed fighting Canadian forces in Afghanistan on behalf of al-Qaeda in 2006.
With such a battery of ex-army officers at his disposal, it was not surprising that Ilyas Kashmiri was able to get vital insider information about Mehran Airbase. These army officers used their past contacts to spot radical elements within the armed forces and then tried to recruit them to join al-Qaeda. These insiders then provided critical information to groups like al-Qaeda and the TTP. The AQIS attack on the Pakistani naval frigate PNS Zulfiqar in September 2014, again with the help of serving and retired Naval officers, revealed the deep rooted nexus between terrorists and radical elements within the Pakistani defense establishment.
The level of infiltration inside the Pakistani military has been growing vertically, with even a middle-ranking officer having been arrested for links to al-Qaeda. It may not be completely impossible for radicalized serving officers to get hold of a tactical nuclear warhead in a crisis situation.
Conclusion
Responding to U.S. concerns about Pakistan's frenzied race to develop battlefield nuclear weapons, Lt. Gen. (retd.) Khalid Kidwai, the former head of Pakistan's Strategic Planning Division, said that TNWs were there to stay and Pakistan was not apologetic about that fact.
Pakistan takes immense pride in its nuclear capability, which is indeed formidable. But it is time Pakistan conveyed its nuclear maturity by talking more about its nuclear security provisions. Such debates would create awareness amongst the Pakistani masses about their individual responsibility toward their country's nuclear arsenal. It would also deter attempts by non-state actors to involve the local population in any sabotage attempts against nuclear facilities.
The innately unstable civilian-military dynamic, the risk of an internal rogue threat, the highly charged domestic jihadi environment, and rapidly multiplying TNW arsenal combine to put Pakistan near the top of the list of global nuclear threats. Unless these adversarial threats are eliminated, Pakistan's nuclear weapons will continue to be a source of high threat perceptions. Pakistan needs to appreciate that a robust and impregnable security system is essential not only for its own nuclear stability, but also for global peace and security.
Sajid Farid Shapoo is a highly decorated Indian Police Service officer at the rank of inspector general (two star general) with 18 years of progressively senior experience in sensitive and high-profile assignments across India. He is currently pursuing his Masters in International Affairs with at Columbia University, New York.