The Great Chennai Oil Spill Clean Up
After the Chennai oil spill of January 28, workers haul buckets of sludge from the ocean.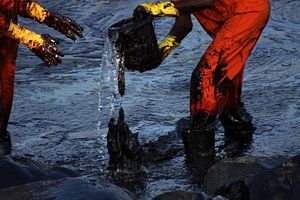 Small ocean waves, brown in color and mixed with thick, deeper brown oil sludge hit the legs of the few men in orange overalls. The men steadied themselves to avoid falling. It was February 2. The sludge was the result of an oil spill that had happened six days earlier off the port of Chennai city.
On January 28, just before dawn, MT BW Maple, an empty vessel leaving Chennai's Kamarajar Port in Ennore, collided with MT Dawn Kanchipuram, a POL (petroleum, oil, and lubricants) tanker bringing in a load of more than 32,000 tonnes. The collision caused a rupture in MT Dawn, leading to an oil spill. The vessel, taken into the port to empty the cargo to prevent further spills, was declared off limits to the media.
As the winds and waves carried the sludge and slick for 25 kilometers along the coast, fishermen could not venture into the sea.
Here, the men were standing in knee-deep sludge, close to a groin wall that jutted into the sea, in Ernavur, a coastal village about 25 km north of Chennai. The sludge had washed ashore between the groin and the riprap of granite boulders. The riprap, separating the coast and the adjoining highway, was meant to prevent coastal erosion.
Most of the sludge reached the shores of Ernavur and had to be cleared manually. The men scooped the slime around their legs in buckets and passed the buckets on to their colleagues standing in line on the riprap. It was a difficult task as they had to balance themselves against the rolling waves and scoop out the extremely thick sludge. It was a difficult job for the men standing on the riprap too, as it is quite steep in Ernavur and the boulders are irregularly placed. The lower, oil-coated boulders were slippery. Up the riprap and down, the buckets passed hands, till the sludge was deposited in big drums, to be carted away later.
A couple of such teams from various government agencies worked tirelessly. A sense of purpose pervaded the atmosphere, punctuated by occasional laughter. The feeling of common purpose in clearing the sludge was palpable. The men took pride that they were working to clear pollution and to help the  fishermen get on with their lives.
Two days later, on February 4, the scene was almost the same, as the sludge was still being washed ashore in Ernavur. Meanwhile, blobs of oil were appearing in Mullikuppam, a coastal village 23 km south of Ernavur. Hard days are ahead for those clearing the sludge and the slime-mixed sand.
Samuel Theodre is a  professional photographer based in India.