The Trouble With Indonesia's Ahok Test
The political future of the Jakarta governor isn't quite the litmus test some are claiming.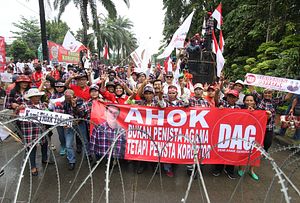 On February 15, Indonesia, the world's most populous Muslim-majority country and its third largest democracy, saw its Christian and ethnically Chinese Jakarta governor, Basuki Tjahaja Purnama, popularly known as Ahok, win the first round of a local election despite being a suspect in an ongoing blasphemy case. For many outside observers, whether or not Ahok can now go on to win an April runoff scheduled against his opponent Anies Baswedan, a former education minister, amid a perceived smear campaign by radical Islamists will be a key litmus test for the evolution of Islam and politics in Indonesia.
The impulse to make this Indonesia's Ahok test is understandable. It is certainly a significant case, since Ahok is a double minority in a Muslim-majority country competing for an office that has become a springboard for national politics since former Jakarta governor Joko "Jokowi" Widodo (Ahok's ex-running mate) won the presidency in 2014. And the fact that hardline Islamists could be able to use a statement Ahok uttered last year to wage a smear campaign against him and turn what was a certain victory for him into potential defeat plays into existing fears about the growing voice of radical Islam in a country largely known for its moderation.
Yet just as it is unwise to understate the significance of the Ahok case for Indonesia, it is equally critical not to overstate it. Most notably, while this is no doubt an important incident, using Ahok's victory or defeat to generalize about Indonesia's future ignores the fact that some of the key factors are unique, including Ahok's own vulnerabilities as a candidate, the polarizing nature of the blasphemy controversy, and the extraordinarily high political stakes in the Jakarta gubernatorial election as well as in nationwide politics.
Ahok the Man
First, when observers frame Ahok's political future as a test case for the performance of minority politicians in Muslim-majority Indonesia, they downplay Ahok's own unique vulnerabilities. The truth is that Indonesians have elected other non-Muslims to office in recent years in spite of nasty campaigns run against them, whether the mixed Jokowi-Ahok ticket in the 2012 Jakarta gubernatorial elections or the Christian FX Hadi Rudyatmo, Jokowi's former deputy when he was mayor in Solo, who clinched the mayoral election in 2015. But there were lingering doubts among some about whether Ahok would be able to win the 2017 Jakarta gubernatorial election, more because of his reputation as a controversial, polarizing political figure rather than his status as a double-minority candidate.
Ahok's tough-talking, no-nonsense style had always been a double-edged sword, and even his fiercest advocates recognized that it fueled his rise but could also lead to his downfall. As of September last year, he was set to win the election comfortably on his record rather than lose it because of his religion or race, despite protests by fringe, hardline Islamist groups and some controversial policies like the banning of headscarves in schools. But then, last September, Ahok finally did shoot himself in the foot — he gifted his critics an opening by provocatively claiming in a speech that his Islamist opponents had tried to undermine his popularity with a misleading reference to a Quranic verse. In doing so, he sowed the seeds of his own demise. His enemies predictably seized on the opportunity, spreading a doctored version of his speech and manipulating the issue to stage protests and press authorities to arrest and eventually try him.
The Blasphemy Controversy
Second, the "Ahok test" frame also understates the uniquely polarizing nature of the blasphemy controversy itself. It is not uncommon for identity politics to be used by fringe Islamist groups against minority politicians in Indonesia, including references to the Quranic verse that Ahok cited, al-Maidah 51, which warns Muslims against taking Jews and Christians as allies (interpreted by a few to mean not having leaders from these religions as well). But by challenging the use of that verse, Ahok inadvertently handed his opponents, most notably the Islamic Defenders Front (FPI) and its founder and firebrand preacher Habib Rizieq Syihab, the opportunity to turn a fringe interpretation of the Quran into a mainstream controversy over blasphemy.
That upped the ante far higher than it would have been for any regular electoral contest. Blasphemy is a serious crime in Indonesia punishable by up to five years in prison. Ahok's opponents were thus no longer just mobilizing against another minority candidate based on identity politics, but were now calling for his trial and imprisonment and intervention by the authorities. The elevation of the issue also increased the odds that Indonesian elite and society would be more divided. Even though Ahok's innocence may be clear for all to see, some religious leaders may nonetheless seize the opportunity to be seen as guardians of Islam for various reasons, while regular Indonesian Muslims could conclude that the suspicions they have either heard or harbored about their religion being under siege by certain non-Muslims may now be confirmed.
Little surprise, then, that we saw a few influential voices even in mainstream, moderate religious organizations like Nadhlatul Ulama (NU) or Muhammadiyah support the blasphemy charge against Ahok. Or that polls indicate that a majority of Indonesians believed Ahok committed blasphemy and that a significant portion did believe that it had damaged his credibility, even though many of them did not know what he actually said and some may have nonetheless ultimately voted for him. For instance, one survey by the Indonesian Survey Circle (LSI) conducted just over a month before the election showed that only 15.2 percent of respondents said Ahok could maintain pluralism in Jakarta, the lowest among all of the three candidates.
The 2017 Jakarta Elections
Third and finally, the extraordinarily high political stakes in this particular Jakarta election arguably makes it less applicable as a test for Indonesia's political future. Apart from the fact that the Jakarta governor position has been seen as a springboard for national office since Jokowi's presidential triumph in 2014, the 2017 gubernatorial election was also even more hotly contested because it was essentially a three-corner proxy fight between the country's most powerful political figures as they position themselves for the 2019 general election. Jokowi supported his former running mate Ahok, who finished first in the first round on February 15 with 43 percent of the vote. The other two candidates were Anies Baswedan, Jokowi's former minister, who was supported by Prabowo Subianto, his chief rival in the 2014 presidential elections and finished second with 40 percent; and Agus Harimurti Yudhoyono, the son of Jokowi's predecessor Susilo Bambang Yudhoyono, who finished a distant third at 17 percent.
That particular context, combined with the Ahok blasphemy case, encouraged Ahok's rivals to seize the election as a chance to get ahead and complicated Jokowi's efforts to defuse the situation while balancing his roles as an Ahok supporter as well as the country's president. Throughout the lead up to the election and amid Ahok's trial, the Yudhoyono camp was dogged by allegations that the former president may have had a hand in issuing the fatwa against Ahok. More surprising was the evolution of Baswedan, who proved willing to tarnish his reputation as a progressive, pluralist candidate by appearing next to Ahok's chief critic Rizieq at FPI headquarters in early January to garner more conservative votes.
If the deeply divisive context for the Jakarta election and the ensuing blasphemy controversy facilitated the opportunism by Ahok's rivals that only further fanned the flames, that same environment has been constraining Jokowi's ability to douse them. Jokowi has struggled throughout the Ahok blasphemy controversy to find the balance between not leaving his friend out to dry while also not appearing to be too biased and keeping the country's broader political stability in mind. His government did not stop the Ahok trial from going through, though he did initially meet with Muslim leaders and some of his political rivals to try to quell rising protests on the one hand while also criticizing certain unspecified actors for manipulating the situation on the other. And in a move that conveyed his desperation to walk that balance irrespective of what was required, he eventually joined a November mass rally and addressed protesters on stage next to Rizieq, which did calm tensions that could have otherwise boiled over.
Few would contest that the Ahok case is a significant event in Indonesian politics. Yet at the same time, the particularities of the 2017 Jakarta gubernatorial election, the Ahok blasphemy controversy, and Ahok himself as a candidate also make it seem more like an exceptional incident rather than a representative bellwether . While it may be tempting to cast this as yet another litmus test for Indonesia's future, that impulse simply does not square with reality. And that above all is the folly of Indonesia's Ahok test, irrespective of whether he triumphs or not in the upcoming April referendum.
Prashanth Parameswaran is Associate Editor at The Diplomat magazine based in Washington, D.C., where he writes extensively about Southeast Asia, Asian security affairs, and U.S. foreign policy in the Asia-Pacific. He tweets @TheAsianist.