What's Next for Japan-Philippines Defense Relations Under Duterte?
A deeper look at what lies ahead for both sides in the security sphere.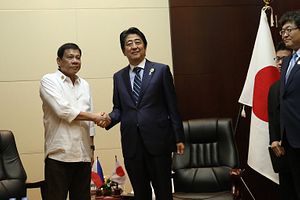 On February 10, Japan and the Philippines held the fifth iteration of their vice ministerial defense meeting in Tokyo. The deliberations offered an interesting window as to what may lie ahead for the two countries in the security sphere.
As I have noted in previous pieces, though relations between Japan and the Philippines date back decades, ties in the defense domain had been strengthening significantly under former Philippine President Benigno Aquino III, in part due to common concerns about China's growing assertiveness in the East China Sea and the South China Sea (See: "Japan, Philippines Declare Strengthened Strategic Partnership"). Japan agreed to provide the Philippines with patrol vessels and maritime surveillance aircraft, and the two sides also signed a landmark agreement on defense equipment and technology transfer back in March, making Manila just the fourth country Tokyo has ever inked such a pact with.
As they looked to strengthen their defense ties, Japan and the Philippines created vice ministerial talks back in 2013 to complement their increasingly regularized defense ministerial meetings as well as annual defense talks at the level of assistant secretary/director general, with the first of these being held in January 2014 (See: "Japan-Philippines Defense Relations Under Duterte: Full Steam Ahead?").
The fifth iteration of those talks last week was headed by Philippine Undersecretary for Defense Policy Ricardo David Jr. and Japanese Vice Minister for International Affairs Ro Manabe. Some of the items discussed by the two sides related to ongoing initiatives such as intelligence exchange and defense equipment transfers. For example, according to a statement by the Philippine defense ministry, David acknowledged Japan's contribution to capability upgrades of the Philippine defense forces, including the lease of five TC-90 aircraft for maritime surveillance, two of which will be delivered in late March (See: "Japan, Philippines to Finalize New Military Aircraft Deal For Five TC-90s").
Others items under discussion related to previously mulled measures that have yet to take off. Perhaps most interestingly, the statement noted that David had "stressed the need for the two countries to conclude a visiting forces agreement" in order to pave the way for exercises between the two countries.
Talks regarding a visiting forces agreement (VFA) between the two countries were first publicly announced during then-President Aquino's visit to Japan in May 2015 (See: "Japan, Philippines Seeking New Pact on Military Bases"). At the time, Philippine defense officials had said that such an agreement was required in order for the two countries to conduct more extensive military exercises in line with the Philippine constitution – which only allows foreign military bases, troops, or facilities in Philippine territory under a treaty with Senate concurrence.
The fact that the VFA was mentioned indicates that it is still in the cards for the future. Its finalization would be no small feat. The Philippines currently only has a VFA with Australia and the United States, and if Japan secures one, use of Philippine bases on a limited and rotational bass would boost Tokyo's capacity to contribute more to regional security. That said, getting there will not be easy; the pact with Australia took seven years before finally being approved back in September 2012.
But the item that has gotten the most attention thus far is Japan's potential contribution to ongoing trilateral cooperation between the Philippines, Indonesia, and Malaysia in curbing piracy and kidnapping in their shared maritime areas, specifically the one million square kilometer tri-border area in the Sulu-Sulawesi Sea (See: "Confronting Threats in the Sulu-Sulawesi Seas: Opportunities and Challenges"). The three Southeast Asian states had agreed earlier this year to undertake trilateral patrols in the Sulu-Sulawesi Seas following a recent spate of kidnappings involving Malaysian and Indonesian nationals by the Abu Sayyaf Group, which is based in the southern Philippines.
The statement itself mentioned that Manabe "expressed Japan's readiness to contribute" to ongoing efforts and noted that he had requested the Philippines "to convey how Japan could best assist" in this regard. No specifics were provided as to what kind of agreement was reached, though a report by Reuters cited a senior Japanese defense ministry official as clarifying that Tokyo had only pledged assistance in capacity-building, rather than direct participation in the patrols themselves. That would seem to be more in line with the kind of assistance Japan has had in mind, both for the Philippines as well as Southeast Asia more generally (See: "Japan Reveals First Ever ASEAN Defense Initiative With 'Vientiane Vision'").