What's the End Game for Xi Jinping's Political Moves?
What political maneuvering does Xi Jinping have planned ahead of the next Party Congress?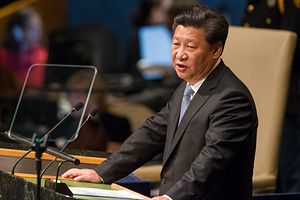 China faces a year of potential political instability in 2017. Not only will Beijing need to deal with the potentially antagonistic U.S. Trump administration, it will also undergo a leadership upheaval later this year, which even President Xi Jinping himself will find it difficult to fully control.
The 19th National Congress of the Communist Party of China in the fall will see a major reshuffle of party leadership, followed by the once-every-five-years government overhaul in early 2018. Five of the seven Politburo Standing Committee members, excluding only Xi and Premier Li Keqiang, are expected to step down, as they will reach the unofficial retirement age of 68. But there is uncertainty regarding Xi's apparent desire for power; some circles believe he may break party rules to try to consolidate his power.
It would not be unprecedented for Xi to break with Communist Party traditions. Prior to his elevation, there was an unspoken rule that no current or former Politburo Standing Committee (PBSC) members would be investigated for corruption or other criminal activity. As members of China's highest decision-making body, they received deference in lines with traditional Confucian values. But Xi daringly disregarded this convention and launched an investigation into former PBSC member Zhou Yongkang, who was subsequently sentenced to life in prison on corruption charges. Xi has also moved to restructure the People' Liberation Army, once thought impossible due to deeply ingrained vested interests. He did this after prosecuting and convicting a number of military officers — most notably Generals Xu Caihou and Guo Boxiong — on graft charges.
Spearheading this anti-corruption crusade is current PBSC member Wang Qishan, who incidentally turns 69 in 2017. Convention dictates that he be required to retire, but given his success in the graft purges, Xi would have good reason to disregard the unwritten rules and extend Wang's tenure. This would inevitably open up the path to extend his own tenure in power.
Of course, this is all on the presumption that Xi wants to remain in power longer than his term, but there is nothing to suggest that is his intention. Rather, it is much more likely that he wishes to consolidate the power of the Communist Party and its legitimacy. The anti-corruption moves under Wang may have helped Xi increase his personal power, but the campaign is also vital to restoring the Party's image with the people.