Why Is Asia Returning to Coal?
The fossil fuel is undergoing an unexpected renaissance in the region.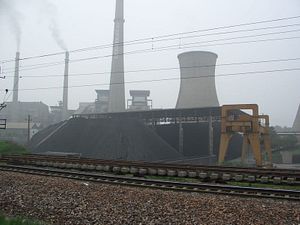 Just a few short years ago, few would have dared to predict that coal could have a future in the energy policies of emerging and developed countries alike. Yet the fossil fuel is undergoing an unexpected renaissance in Asia, buoyed by technical breakthroughs and looming questions about squaring development with energy security.
For Japan, coal has emerged as the best alternative to replacing its 54 nuclear reactors, which are deeply unpopular with the population and seen as symbols of devastation after the Fukushima Daiichi nuclear disaster six years ago. Mindful of the public mood, the government of Shinzo Abe has completely given up on the country's dream of nuclear self-sufficiency, and pulled the plug in December on the $8.5 billion experimental reactor project at Monju. On February 1, the government pledged to decommission all reactors and replace them with 45 new coal-fired power plants equipped with the latest clean coal technology. In this, Tokyo seeks to achieve two overreaching goals: preserve its energy security and stay on course to fulfill the obligations set forth by the 2016 Paris Climate Agreement.
But why did Abe go with coal and not renewables or, say, natural gas? After Fukushima, Japan initially ramped up its imports of liquefied natural gas, but realized that LNG would be prohibitively expensive in the long-term. Cost-conscious, the government has instead opted for high-efficiency low-emissions (HELE) coal plants and plans to market its clean coal technologies abroad in addition to implementing them at home. Coal power already made up 31 percent of Japan's energy mix in 2015 but under the current plan, the fossil fuel will become the country's primary power source by 2019.
Japan's embrace of coal puts it squarely within the general trend for Asia, where countries are turning to the fossil fuel for a host of different reasons. For India and China, the million-dollar question that any energy strategy has to answer is: "Does it promote or does it hinder the country's economic development?" That question has been at the center of fierce debates and even though both Beijing and New Delhi have been adopting renewable energies, it doesn't seem that coal's position is threatened.
As China deals with a slowing economy and India tries to keep up with the demands of a fast-growing and increasingly affluent population, the only way to reconcile energy demands with public outcry over emissions and pollution is by finding cost-effective ways of integrating low-emissions coal technology into their power infrastructure. And much like in Japan, that task may not be as daunting as it looks.
India's policymakers, for their part, have to deal with rapid development and population growth that make coal indispensable to meeting the expected 3.5 percent increase in year-on-year demand for electricity between now and 2040. At the same time, Prime Minister Narenda Modi and his ministers need to urgently tackle an air pollution crisis that contributes to over a million premature deaths every year. India's deadly smog is not just the result of growing industrial activity, but it also stems from illegal practices like the crop burning and reliance on wood burning for cooking and heating homes.
Speaking on this issue, Energy Minister Piyush Goyal made clear that India's current energy plan calls for reducing India's carbon emissions by replacing aging thermal power plants with energy-efficient "supercritical" ones that will (much like their Japanese counterparts) maximize the energy produced from coal burned, while also curtailing CO2 emissions. This supercritical technology has already had tangible effects on the nation's plan to cut pollution levels as the 51 units currently installed have saved 6 million tons of CO2 — the equivalent of taking 1,267,000 cars off the road for one year. A few Indian companies and entrepreneurs have been even more ambitious, pioneering local carbon-capture solutions that could keep even more emissions out of the air.
The battle over emissions and air quality is even more tense in China, where pollution and smog are provoking outrage among China's growing middle class. Over the past few years, the government has been forced to act after pollution levels reached crisis levels: for 26 out of 31 days in January 2013, pollution levels in Beijing were too dangerous for inhabitants to remain outdoors. It was not just the air, either: 90 percent of groundwater in urban areas and 70 percent of mainland lakes and rivers were considered highly polluted. In response, President Xi Jinping launched a "war on pollution" that hunted down corrupt officials and claimed to rein in polluting industries that were ruining China's air.
Xi's moves are as much an act of political self-preservation as anything else. The upper echelons of the Communist Party are fully aware that, besides guaranteeing economic growth, environmental protection has become a key pillar of their own continued legitimacy. Like India, one of their methods has been to replace outdated coal technology: China opened its first carbon capture and storage plant in 2008, and a significantly larger plant was completed in Shanghai one year later to capture 100,000-120,000 metric tons of carbon annually. Of course, getting individual plants and businesses to implement new emissions rules instead of cutting corners is another battle entirely. The rhetoric from Xi and Premier Li Keqiang remains tough, but the public's patience is limited.
Although beset by different challenges and endowed with different means to tackle their energy problems, it seems that Asia's three largest economies have found one answer: HELE coal plants and carbon capture technologies. It's becoming clear that, much like renewables have greatly progressed in terms of potential and costs, the coal plants being deployed in 2017 (and beyond) have little in common with the proverbial smokestacks of the 1950s and 1960s.
Grace Guo is a Vienna-based researcher and a program associate for a small NGO focused on Asian politics.