How Single Mothers Could Help Singapore
Extending IVF access to single women could be the answer to Singapore's population woes.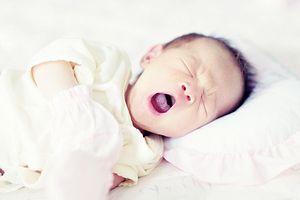 To ease population woes in Singapore, childbearing options such as in-vitro fertilization (IVF) should be extended to single women. Some successful and financially able women who have the means and resources to raise a child may have not yet found the right person to marry, as demonstrated by the relatively high singlehood numbers in Singapore.
A report on population trends by the Singapore Department of Statistics explains that "singlehood was generally more prevalent among… resident females with higher educational qualifications." Data show that in 2015, 26.1 percent and 24.1 percent of university-educated men and women, respectively, in the 30–39 age group were unmarried.
An IVF procedure in Singapore is currently permitted only for married couples. Making IVF available to single women not only provides them the right to take control of their familial aspirations despite the absence of a spouse but could also contribute to Singapore's fertility rate, which remains low at 1.2 percent.
Parenthood-Supportive Policies
To help alleviate population woes, the state has rolled out policies that encourage child-rearing. Such measures include the Baby Bonus Scheme assisting families with the costs of raising a child through a cash gift and a special savings account called the "Child Development Account" (CDA) and increasing the parental leave fathers can share from their wives' 16-week maternity leave to 4 weeks starting July 2017.
A step to improve the probability of childbearing for married couples has also been taken by the government. The Ministry of Health has recently approved a three-year trial for Pre-Implantation Genetic Screening (PGS) at the National University Hospital which will commence this year.
PGS examines embryos formed through IVF for chromosomal abnormalities prior to implantation into the uterus. While PGS does not guarantee live births, it increases the chances of successful pregnancy as embryos with the correct number of chromosomes are identified.
In 2014, the possibility of PGS being allowed in Singapore was raised in Parliament and Minister of Health Gan Kim Yong explained that requests to permit PGS were not approved "because the effectiveness of PGS in improving the chance of live births for women with fertility problems, such as advance maternal age, recurrent miscarriages and recurrent IVF failures, is unclear" at the time.
The new decision to conduct a pilot for PGS this year demonstrates the sustained eagerness of the government to consider policy changes that encourage parenthood and thus could be beneficial to Singapore's fertility rate.
However, parenthood-supportive policies for individuals who are willing to start a family without a spouse are meager. While a recent policy adjustment provided unwed mothers the right to a 16-week government-paid maternity leave and access to the CDA for their children, single women who are ready to have a child but have not happened to meet a person whom they want to marry do not have the option to bear a child through IVF in Singapore.
IVF for Single Women
Perhaps after accomplishing their career aspirations or passions in life, some single women have decided to embark on motherhood but are also losing the years when it is most biologically safe and ideal for them to go through pregnancy.
In the U.K., a significant number of single women, keeping in mind that pregnancy becomes riskier with age, have chosen to bear children through IVF. These cases are reported by various media outlets featuring stories of real-life single women who chose to become mothers via IVF.
Single women in the U.K. are able to use donated sperm from fertility clinics. In Singapore, this is restricted to married couples. Both states require stringent medical tests for donors and limit the number of children that can be conceived per donor. The U.K. permits ten families to be established per donor while Singapore allows no more than three children to be conceived per donor.
Previous reports on the low supply in sperm banks in Singapore cite reasons such as low compensation for donors and fear of probable incestuous relationships as donor identity is kept confidential. An increase in the token sum could encourage more men to donate their sperm and sexual relations between genetically related individuals could be prevented by the availability of information for donor-conceived people as per in the U.K. The Human Fertilization and Embryology Authority's website explains that "donor-conceived people over the age of 16 who are considering entering into an intimate physical relationship can apply to find out if they might be genetically related to their intended partner."
The absence of a spouse should not be a barrier to the desire of single women to have a family of their own, in their own time, and in their preferred way. Adoption is an option open to unmarried Singaporeans. However, single women who prefer to have a child through an IVF procedure do not have the opportunity to do so in Singapore.
While it could be suggested that single women can undergo the procedure overseas, the travel and accommodation expenses and the distance from one's support system back home can be rather discouraging and would just add unnecessary inconvenience for such an important life-changing decision.
There are married couples who chose not to have any children, and there are also women who may choose to have children without the intent of marrying. They should not be robbed of the choice to raise a child, just as married couples have the option to not have children. Allowing single women to bear children through their preferred means can help counterbalance the effects of married couples opting for no-children households.
Extending the opportunity to undergo IVF is beneficial to single women wanting to start a family without waiting for anyone. It's also a boon to the population. It is a vital step that could possibly provide single men and unmarried couples an opportunity to start a family through IVF in the future. In this case, not only the family but also the population have got nothing to lose, only members to gain.
Priscilla Cabuyao is Senior Analyst at the Center of Excellence for National Security, S. Rajaratnam School of International Studies, Nanyang Technological University,