Japan Eyes 'Counter-Attack' Capability Against North Korea Missile Threat
Developing retaliatory capabilities will face political and financial headwinds in Japan.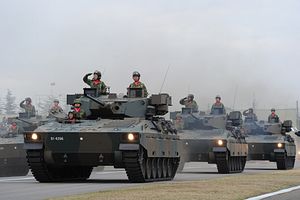 On March 30, Japan's ruling Liberal Democratic Party (LDP) submitted a recommendation for the steps Japan should take to effectively respond to an ever-heightening missile threat from North Korea. The recommendations had three main parts: potential new acquisition of ballistic missile defense (BMD) assets to enhance existing BMD capability; exploration of acquiring "counter-attack" capability; and protection of exclusive economic zones (EEZ).
Out of the three recommendation, the second — exploration of "counter-attack" capability — attracted the biggest attention for its controversial nature. While the members of the study group — comprised mostly of former defense ministers, former deputy defense ministers, and former parliamentary vice ministers — emphasized that they do not intend to recommend Japan acquire "pre-emptive strike" capability, the senior members of Komeito, LDP's ruling coalition partner, are already voicing concern that Japan's move to acquire such "offensive" capability may contradict with "exclusively defense-oriented defense posture (senshu bouei)," one of the fundamental principles of Japan's post-war defense policy.
Given how politically divisive the parliamentary debate was over a set of defense reform bills that Prime Minister Shinzo Abe put forward in 2015, the discussion of whether Japan should pursue "counter-attack" capability on its own will be just as politically divisive and controversial — if not more so.
However, from the point of view of defense planning, the recommendations made by the LDP study group, including the one on "counter-attack" capability, are reasonable, especially given North Korea's increasingly provocative and unpredictable behavior, not to mention the two missile tests within the past couple of months with less than a month in between, and persisting speculation about yet another nuclear test in the near future. As long as Japan acquires the capabilities recommended by the study group with close consultation with the United States, so that whatever the new capability Japan acquires will benefit overall deterrence of the U.S.-Japan alliance, it will ultimately work to counter urgent security challenges presented by North Korea.
However, if Japan seriously wants to pursue these capabilities, navigating through a divisive political debate is only a part of the problem. In fact, the acceleration in North Korean provocation forces another, more pressing question on Japan.
As Japan sets out to revise its National Defense Program Guidelines (NDPG) and the Mid-Term Defense Plan (MTDP), both of which serve to shape Japan's defense posture (and required acquisitions) for a four-to-five year span, the Abe government will have to face the reality that it now has to prepare for two types of security challenges. On the one hand, Japan has to accelerate its investment in the capabilities to counter the North Korean threat, which is a conventional military threat. On the other hand, Japan will also have to continue the investment it began to develop capabilities to counter China's assertive actions in the East China Sea.
The biggest problem for Japan is that the current trajectory of the Japanese defense budget does not give Japan enough resources to make such "two-theater" investments. Despite the headline-grabbing media reporting that Japan's defense budget continues to rise under Abe, it is still in the middle of recovering from a decade-long defense spending cut between FY2003-2012. This has not only led to delay in some of the modernization programs, but also resulted in the Japan Self-Defense Force (JSDF) being hollowed out, due to lack of equipment maintenance and inadequate opportunities for training for its personnel. And because of the emerging need for Japan to develop the capability to counter Chinese assertiveness in the East China Sea in addition to the modernization requirements, whatever increase that Japan's defense budget has seen has been absorbed by the rising cost of acquisition for new capabilities such as F35As, V-22 Osprey,s Amphibious Assault Vehicles (AAVs), and Global Hawks. In short, in a fiscal environment where big increase in defense spending cannot be expected, Japan will continue to face a tough trade-off decision regarding where to spend its defense yen.
Already behind the curve in preparing for these two security concerns, both of which are increasingly more urgent, the next 12-18 months will be a critical period for Japan as it considers how best to shape the JSDF posture to defend Japan from these threats. The LDP study group's recommendation is just one example of the dilemma Japan faces as it plans for its future defense posture.