Kyrgyz President Wants to Talk to Trump About RFE/RL
No visit is planned as of yet, but Atambayev knows what he'd like to discuss.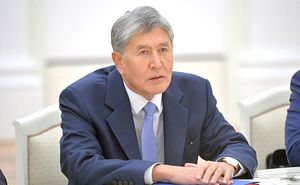 In an area as rife with press restrictions as Central Asia, regional authorities have resorted to all manners of pressure to shut down critical press. Arrests and assault. Detentions and dog carcasses. Kazakhstan has even taken to the American court systems in its attempts to stifle the remnants of the country's independent press. There's a reason only one country, Kyrgyzstan, cracks the top 100 in Reporters Without Borders' Press Freedom Index, with three others — Kazakhstan, Uzbekistan, and Turkmenistan — among the 25 worst regimes globally for press freedoms.
Regional authorities, however, may be opting for a new tactic moving forward in their pursuit against critical press. Last week, Kyrgyzstan's president, Almazbek Atambayev, revealed that he was ready to take Radio Free Europe/Radio Liberty to unspecified "international courts" over coverage of domestic political developments by its Kyrgyz Service, known as Azattyk. "That would be a good lesson for Radio Liberty," Atambayev added.
As RFE/RL noted, "Atambaev said he was slandered by RFE/RL's Kyrgyz Service and Kyrgyzstan's independent Zanoza.kg news website in their reports quoting Kyrgyzstan's opposition Ata-Meken (Fatherland) party after the arrest of the party's leader, Omurbek Tekebaev." The Kyrgyz president's move against the outlet follows post-Soviet autocracies in targeting RFE/RL, ranging from Azeri authorities shuttering the outlet's Baku bureau to Turkmenistan's authorities outright jailing an RFE/RL correspondent.
But Atambayev wasn't content with simply opening a formal case against RFE/RL, wherever the final jurisdiction may be. He announced that he hoped to travel to the United States in September and meet with U.S. President Donald Trump, "because this has to be stopped."
As it is, Atambayev has no formal visit to Washington planned — nor is there any reason to think Trump would prioritize a meeting with the Kyrgyz leader. (Indeed, the closest the Trump administration has come to discussing relations with Bishkek may be a mangled shout-out on Saturday Night Live.) Two months into the new administration, Washington appears to be pursuing the policy of broad regional neglect many anticipated.
Still, Atambayev may at least find a handful of sympathetic ears in Washington. The Trump administration's approach to both RFE/RL and Voice of America has been, at best, concerning, with additional lawmakers pushing for the elimination of editorial independence at both outlets. Atambayev may not be able to consult with Trump about RFE/RL  — but given the current administration's leanings, the Kyrgyz president is likely to find more a sympathetic ear than any recent White House prior.