Malaysia's New Terror Centers in Its Islamic State War
Understanding what new institutions the Southeast Asian state is setting up.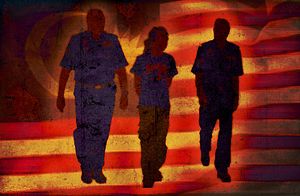 When Saudi Arabia's king visited Malaysia this week, one of the key deliverables was the agreement to establish a new international center designed to counter radical ideologies and promote Islam as a religion of peace and moderation (See: "Malaysia, Saudi Arabia Step Up Terror Fight").
But as I explained previously, this is also just the latest in a string of 'centers' that we have heard about as Malaysia confronts the Islamic State challenge. Given all the buzz around them, it is worth reviewing what these various institutions are as well as where they stand.
The institution that has gotten the most attention is a regional counter-messaging center Malaysia has been trying to set up with assistance from the United States known as the Regional Digital Counter-Messaging Communication Center (RDC3) (See: "US, Malaysia and the War Against the Islamic State"). The RDC3, which Washington suggested be hosted in the Southeast Asia Regional Center for Counterterrorism (SEARCCT) built during the George W. Bush years, was designed to develop counter-radicalization messaging that would help undercut Islamic State propaganda and its overall narrative.
According to Malaysian officials, since May 2015, Malaysia has been working with the United States on the establishment of the Digital Strategic Communications Division (DSCD) under SEARCCT which focuses on crafting a "soft approach" in countering the Islamic State's online narrative. The DSCD was established in late April 2016 and began operating in the middle of June. The DSCD is meant to directly tackle the issue of terrorist messaging from a digital lens. Its operation focuses on four major areas, including analyzing the messages and the strategies behind them; crafting counter-narratives; developing digital end products; and disseminating digital counter-narrative products to various digital platforms.
But Malaysia also has established a separate counter-messaging center of its own. The Counter-Messaging Center (CMC), officially established in May 2016, was intended to be run independently by the Royal Malaysia Police, rather than in collaboration with the United States through SEARCCT. A Malaysian official familiar with the country's efforts repeatedly emphasized to The Diplomat the deliberate separation between these institutions despite the fact that they tend to be conflated and confused with each other in media accounts.
It is still early days for these institutions. And for others, like the new King Salman Center, it will be months before they are set up. But the next time you read or hear about one of Malaysia's centers, be sure to clarify exactly what is being referenced before attaching significance to what is being reported.