We cook with it, wash our hair with it and even smother ourselves in it. Palm oil is all around us, and often in different guises, from food, to soap; make-up to bio-diesel. This diversity has made palm oil a very popular crop — so popular in fact, that our demand for it has made it a destructive crop too. The World Wildlife Fund estimates that around 300 football fields worth of forests are cleared every hour for palm oil production — and we are all to blame.
Malaysia and Indonesia, which account for nearly 90 percent of the world's palm oil, are the biggest culprits. In both countries, farmers have been cultivating palm oil at a phenomenal rate, and with worrying consequences for the environment. Large areas of tropical forests are being cleared to make room for the plantations leading to deforestation and habitat loss for endangered species and displaced indigenous people.
As such, Malaysia has been under pressure to ditch their slash-and-burn techniques and switch to more sustainable practices. CNN's Eco Solutions team traveled to Malaysia to meet Wild Asia, a group that has worked with more than 500 small farmers across the country, teaching them to farm sustainably. Sheila Senathirajah tells us why they specifically target smaller producers.
"Sixty percent of the producers in Malaysia are large companies. Forty percent are actually smaller producers, so they can have anywhere between 50 to 500 hectares. So where large companies are able to move to sustainability because they have the technical know-how and financial stability, smaller producers do not have that access or not aware of how to become more sustainable," she says.
Senathirajah tells us it's not a lesson on how to farm. Instead it's about getting the farmers to "maximize the output from the land, rather than open up new land." Wild Asia teaches how to "use the most organic methods to maintain the soil nutrients rather than putting in pesticides and chemicals that aren't necessary."
We are introduced to Yoke Mooi Chew and her husband in Kampar. They have implemented Wild Asia's lessons, and now instead of blanket spraying with chemicals, they grow a variety of cover plants to attract predator insects such as bagworm.
These may seem like small steps, but they are slowly making a big difference to the palm oil supply chain. Their efforts have been recognized by the RSPO — the Roundtable on Sustainable Palm Oil — which has certified several of their projects. For Wild Asia, this is a badge of honor. But the RSPO knows there is a long way to go. So far only 17 percent of the world's palm oil meets RSPO standards and that has consumers worried — with some even boycotting palm oil products.
Cosmetics giants L'Oréal is hoping their commitment to sustainable palm oil in all their products will reassure consumers that their goods don't literally cost the earth. Alexandra Palt, Chief Sustainability officer at L'Oréal, tells me they buy 400 tons of sustainably sourced palm oil per year. But it's not just about buying the goods — you have to guarantee the sourcing of suppliers, Palt tells me: "We purchase derivatives that come from palm oil and that's about 60,000 tons, so we must guarantee that these 60,000 tons used in the raw materials that our suppliers sell are also sustainably sourced."
Palt agrees consumers are now demanding more from companies — they must be socially responsible. There are "expectations of stakeholders. They expect companies to be respectful of the environment and of society. It's about what company we want to be in the future."
For Malaysia this is a path and responsibility it is taking seriously. As I write this, the Malaysian Palm Oil Certification Council has announced that the entire Malaysian supply of palm oil must be certified by June 30, 2019. That's a tight deadline that will hopefully put an end to aggressive palm oil practices in the country.
Click here to learn more about using sustainable palm oil.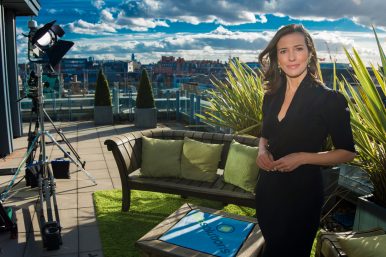 Isa Soares, international correspondent and host of "Eco Solutions" on CNN International.
Each month CNN's Eco Solutions takes an issue from the green agenda and looks at what people are doing to address the issue. From the cities improving the air they breathe to the countries running on renewables, the program talks to people the world over who are taking steps to solve and improve our environmental challenges.