On Taiwan, the Honeymoon Is Over
Tsai Ing-wen's popularity is falling amid pressure from Beijing and economic uncertainty.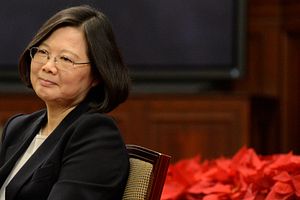 On the eve of the last campaign rally before Taiwan's 2016 presidential election, supporters thronged an illuminated stage, chanting the name "Tsai Ing-wen" into the night sky. The next day, Tsai would capture 56 percent of the vote, a decisive 25 percentage points above the next runner up, to become the first female president of Taiwan.
Her victory marked a significant transition – the handover of political power from the Kuomintang (KMT) Party to the Democratic Progressive Party (DPP). The two parties, Taiwan's largest, are split along a major fault line: relations with mainland China. Former KMT President Ma Ying-jeou sought to deepen cross-strait ties; during his term he opened new channels for tourism through the first Beijing-Taipei direct flight, signed an economic cooperation agreement, and engaged in the first meeting between Taiwan and mainland China's presidents since the war between the parties ended in 1949. Support for the DPP and Tsai, who triggered anger from Beijing by refusing to acknowledge a consensus maintained by the KMT that Taiwan and mainland China are part of the same China, was an indication that the people of Taiwan were ready for a new direction.
But since assuming office last May, public approval of Tsai has plummeted. After a post-inaugural high of 69.9 percent, Tsai's approval ratings last month dropped to new lows of 38 and 27 percent, according to two different polling stations. At the same time, Beijing has ramped up displays of military aggression and utilized its economic leverage to hit Taiwan's already lackluster economy. Is Tsai's lack of popularity an indication that Taiwanese are ready for warmer relations with Beijing? Will Tsai seek to bolster flagging numbers by courting her base, including more radical party voices calling for independence? And how might the Trump administration tip the cross-strait balancing act?
Taiwan maintains an Economic and Cultural Representative Office in D.C. rather than an embassy and currently has no free trade agreement with the United States. Trump's phone call with Tsai last December, the first such leader-to-leader communication since Washington ended official diplomatic relations with Taipei in 1979, gave the impression of a potential for closer relations not bound by a "one China policy" officially recognizing the People's Republic of China and not Taiwan.
However, Trump later affirmed the 44-year-old political precedent during a phone call with mainland China's President Xi Jinping in early February. Though the call was more in line with past administrations, concerns over the overlap of political and business interests were raised when Trump's application to trademark his name in China, previously held up for more than a decade, was approved the following week.
A change in tone on Taiwan has also been voiced by Trump's political advisers. National Trade Council Director Peter Navarro, who wrote the book Death by China, has urged a more pro-Taiwan stance, calling the island a "beacon for democracy" in his article "America Can't Dump Taiwan." But the potential for a closer U.S.-Taiwan relationship also serves as a double-edged sword.
"Trump is more likely to play the Taiwan card," said Roy Lee, deputy director of Taiwan's Chung Hua Institute for Economic Research, adding that how this may benefit or hurt Taiwan remains to be seen.
"As U.S.-Taiwan relations get better this might decrease relations with mainland China," said Lee. "We don't know Beijing's response." Since the U.S.-Taiwan phone call, Beijing has ramped up military exercises, sending its Liaoning aircraft carrier through the Taiwan Strait and exercising greater pressure on Taiwan through indirect diplomatic channels.
The west African State of Sao Tome and Principe, previously one of a dwindling number of countries that diplomatically recognize Taiwan, switched sides to observing Beijing's one China three weeks after the Trump-Tsai call. The following month, in January, the Nigerian government requested that Taiwan move its representative office out of capitol city, Abuja, a day after China announced plans to invest an additional $40 billion in the African country. In February, Cambodia's prime minister banned the Taiwan flag from being raised in a reaffirmation of ties with mainland China.
Unable to officially attend global forums like the United Nations or engage in international trade agreements due to pressure from Beijing, Taiwan's isolation has had grave economic costs. Domestically Taiwan has suffered from stagnant wages and a brain drain. A study conducted by Taiwan magazine Business Weekly showed that 62 percent of Taiwanese aged 20 to 35 plan to work abroad, with 89 percent of young adults saying it is because of grim economic prospects and low salaries.
Meanwhile, jobs and work-force talent have been drawn to opportunities in mainland China, Taiwan's number one trading partner and destination for outward investment. "Now all our factories have moved to China but we have not found a new viable industry," said Arthur Ding, professor at National Chengchi University in Taipei. With Taiwan's major IT brand names, like iPhone maker Foxconn and computer electronics company Asus, doing most manufacturing in mainland China, the island is also vulnerable to trade frictions between the U.S. and China.
But that dependence on China may be changing. The trade volume between mainland China and Taiwan dropped 4.5 percent in 2016, according to China's Ministry of Commerce. Taiwan's 2016 planned investments in China also fell for the third consecutive year, with Taiwan's Investment Commission recording a decline of 21 percent. While this trend is part of a larger exodus of low-cost manufacturing moving out to countries like Vietnam and Bangladesh, a new Taiwanese diplomatic strategy is also at play.
Tsai is pursuing a New Southbound Policy lowering visa restrictions, encouraging trade and investment, and supporting new immigration policies, particularly with Southeast Asia. Though since Tsai took office the number of tourists from mainland Chinese has dropped by 27 percent, tourism from Thailand, Vietnam, and the Philippines grew by an average of 30 percent while visitors from Japan and Korea grew by 16 and 34 percent respectively, according to statistics from Taiwan's tourism bureau.
Competing under the shadow of mainland China's economy, Taiwan is looking to a new kind of immigration diplomacy to engage Southeast Asia, now Taiwan's second largest export and investment destination. The population of the "new immigrants" group, including foreign spouses and their children, is now the fifth largest group in Taiwan, numbering about 500,000. About 40 percent of children with immigrant backgrounds attending Taiwan middle and elementary schools come from Vietnam according to Taiwan's Ministry of Education.
"We will use this opportunity to give new immigrants better treatment," said Yang Daching, a senior Executive Yuan officer of the DPP who has been working on the Southbound Policy since planning began last September. "The next generation of immigrants can help Taiwan create [a] greater connection to Southeast Asia."
Implementation of this policy will be key for Tsai, whose low popularity ratings are connected to disillusionment over policy implementation including labor laws regulating overtime pay and agricultural trade with Japan. With the New Southbound Policy expected to be implemented this year, results remain to be seen.
However, despite disgruntlement over how Tsai's agenda has rolled out so far, she faces little challenge from the opposing KMT. According to a study by National Chengchi University, the KMT approval rating is 10 percent lower than the DPP's own slumped ratings, hovering just below 30 percent. With the opposition weakened, the political pressure on Tsai is not as high as one might expect given her poll numbers.
Thus, despite DPP "deep greens" urging Tsai to take a stronger stance on independence, Yang expects Tsai to follow popular opinion. According to another National Chengchi University poll, over 70 percent of Taiwanese are in favor of maintaining the current status quo, with little change given the added pressure from Beijing.
But for all the support of the status quo, Taiwan may be headed towards another split. While Taiwan's youth are particularly affected by bleak economic prospects, with wages for Taiwan's new graduates on the decline, still 78 percent of Taiwanese 29 or younger hold to an exclusive Taiwanese identity and show opposition to cross-strait reunification. "To me and my generation that grew up in Taiwan, China is like a foreign land," explained Ye Xianru, a senior studying at Taipei Normal University.
"Do you pick money or independence?" she asked, posing the question she sees her peers grappling with. "You can't expect both independence and good economic ties with China."
Ye, who voted for Tsai in the election last January, stands by her vote. "Maybe in China whatever the leader says goes, but here in Taiwan we chose democracy. That means policy decisions can take a longer time. Not enough time has passed to say some of the good effects of Tsai's policies won't emerge."
Michelle Winglee writes freelance articles while working at the University of Maryland's Office of China Affairs. She previously worked as a Research Assistant at the Carnegie Endowment for International Peace before a year-long Mandarin fellowship in Taipei and Beijing. You can follow her @MichelleWinglee.