Pakistan Super League: Sports Vs. Extremism
The enthusiasm for the return of cricket to Pakistan can be harnessed to improve the country's future.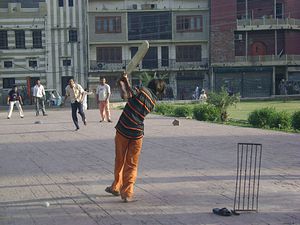 It was a different Pakistan on March 5 as thousands gathered in Lahore and other major cities of the country to watch the final match of the second annual cricket gala called Pakistan Super League (PSL).
Gaddafi Stadium, renamed after the then-Libyan leader Colonel Muammar Gaddafi in 1974, hosted over 30,000 people cheering, singing, and dancing to celebrate the return of international cricket to Pakistan.
Nearly eight years ago, on March 3, 2009, around a dozen gunmen attacked the Sri Lankan cricket team in Lahore. Before the PSL final on Sunday, that was the last time Pakistan saw the presence of international cricket players on its soil.
Since then, Pakistan has been on the target of jihadist terrorists with some formerly linked to the country's security establishment and others being the offshoots and splinters of violent extremists with their eyes fixed on converting the nuclear-armed country into a puritanical Islamic state.
Security concerns continue to keep international players from visiting Pakistan. Last month, Lahore, seen as the safest city from a security point of view, witnessed a suicide attack that killed and injured dozens of people. That was followed by bomb blast at a Sufi shrine in Sehwan, Sindh province, and similar attacks in the cities of Peshawar and Quetta, sending shock waves across the country.
The attacks forced Pakistan to raise the threat level by closing all its land entry and exit points with Afghanistan and launch a countrywide combing operation, "Radd ul Fasad," which roughly means "elimination of discord."
Still, thousands turned up to watch the cricket match in Lahore while others gathered in front of mega screens in open or secured areas in Peshawar, Quetta, Karachi, and other major cities disregarding the terror besetting the country's struggle to attain normalcy.
With the March 5 event trending as #VictoryAgainstTerrorism and #CricketComesHome on social media, the cricket-crazed Pakistan also conveyed a message to its leadership and the outside world: Sports could be the best antidote to the country's unrelenting problems.
Sports vs. Religiosity
Roughly 40 kilometers from Gaddafi Stadium, the venue where girls and boys were dancing, singing, and cheering to support their favorite players, is Pakistan's largest evangelical center, the Tablighee Markaz, or Preaching Center, at Raiwand.
Thousands from all corners of Pakistan gather at the Tablighee Markaz every Thursday night to volunteer their time and money. The next morning, groups of evangelists, young and old, go out on three, 10, and 40-day missions to invite fellow Muslims to the ways of puritanical Islam. Celebrities, bureaucrats, retired generals, and even former top officers of Pakistan's intelligence services are among the hundreds of thousands who have joined this rapidly expanding group so far.
While sports, music, and cultural activities suffered in face of increasing insecurity in Pakistan over the past decade and half, religiosity had made inroads into the country's private and public life during that same period. The revival of sports activities can keep tabs on spread of religiosity, particularly among youth.
Sports vs. Militancy
Besides the Tablighee Markaz, Lahore also houses the headquarters of the now banned Jamat-ud-Dawa (JuD) of Hafiz Muhammad Saeed, the firebrand cleric blacklisted by the United Nations and with a bounty on his head from the United States.
Weeks before the March 5 cricket match in Lahore, several Pakistani cities were targeted by Taliban bombers, killing more than 100 people. The wave of terrorist attacks spread fear among the people visiting public places and concerts.
However, thousands thronged the venue in Lahore and other public places in the cities of Peshawar and Quetta to watch the cricket match, disregarding threats from jihadist terrorists, who believe sports and cultural activities against the spirit of Islam.
Sports vs. Politics
Shaikh Rashid Ahmad, a bitter foe of Pakistan's Prime Minister Nawaz Sharif and his brother, Shahbaz Sharif, was the first political leader to reach Lahore for the PSL final. Rashid, who never lets go of a chance to criticize the Sharif brothers, said that only cricket could attract him to Lahore, the power base of his rivals.
Another Sharif's political adversary, former cricket star Imran Khan, although did not attend the match himself, his party government in Khyber Pakhtunkhwa dispatched three cabinet ministers to represent that province at the Gaddafi Stadium.
Sirajul Haq, chief of the hardliner Jamat-e-Islami (JI), the party known for its pro-jihad standing, declared that he is going to watch a cricket match in a stadium for the first time in his life.
Sports vs. Ethnic Divisions
Pakistan is a diverse country both ethnically and linguistically. The four major ethnic groups are Punjabis, Sindhis, Pashtuns, and Balochs. Being minorities, the latter three have serious grudges against Punjab, the largest (population-wise) and most prosperous province with a majority of ethnic Punjabis.
Days before the March 5 sports event, law-enforcement agencies in Punjab launched a crackdown on militants. Raids were also carried out on Pashtuns living and running businesses in that province, angering Pashtun leadership. Later, a police memo asking locals to keep vigilance on Pashtuns in their respective areas added fuel to the fire and Pashtun leadership and civil society representatives were up in arms within no time.
However, that anger was soon replaced by cheers and applause as the two opposing cricket teams moved from Dubai to play their final contest in Lahore. Most of Punjabi cricket fans were either supporting Quetta or Peshawar, disregarding provincialism or ethnicity.
Sports vs. Regional Conflicts
Nothing else has as much unifying power as cricket when it comes to Pakistan, India, and Afghanistan, three close neighbors sharing long, disputed borders. Just a year ago, Afghan cricket player Muhammad Nabi was part of the Quetta team and was one of the favorites among Pakistani fans.
Earlier, Afghanistan had engaged top Pakistani cricket players, namely Arshad Khan, Rashid Latif, and Inzamamul Haq, from time to time to enable its fledgling team to make its way to the ranks of world-class cricket.
Although no Indian player was part of the Pakistan Super League, thanks to the ever-increasing tension between the two countries in recent months, many Pakistanis still choose their favorite among players from across the border. By the same token, Indian cricket fans love to watch the Pakistani side in the field.
The Way Forward
The Taliban may have a tiny segment of Pakistani society on their side as sympathizers. Even fewer would prefer taking up arms or sending their children to fight alongside the jihadists. As the excitement around the PSL final showed, the majority of Pakistanis favor peace, progress, and prosperity. Now it's up to their government to make that dream a reality.
"#PSL was a great show of resilience. But the state needs to do more by cleaning up the militant infrastructure including hosting 'good' guys," suggested U.S.-based Pakistani journalist Raza Rumi in a tweet.
After braving the threats of being blown up by suicide bombers to cheer on Pakistan cricket, the people of Pakistan have spoken. It is time for the state to lead.
Daud Khattak is Senior Editor for Radio Free Europe Radio Liberty's Pashto language Mashaal Radio. Before joining RFE/RL, Khattak worked for The News International and London's Sunday Times in Peshawar, Pakistan. He has also worked for Pajhwok Afghan News in Kabul. The views expressed here are the author's own and do not represent those of RFE/RL.