Pakistan's Pashtun Profiling
Pakistan's government is labeling Pashtuns as terror suspects based solely on ethnicity.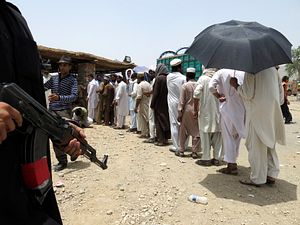 When Donald Trump recently announced a partial ban on the entry of Muslims from certain countries, the Pakistani mainstream media, as well as political elites, engaged in scathing critiques of the Trump administration.
Yet within a matter of days, Pakistan has gone one step ahead of Trump. It is not only profiling its own citizens belonging to the Pashtun ethnic group, but also incarcerating them merely on the basis of their dress, eating habits, and physical attributes.
Pashtuns — also known as Pathans, Pakhtoon, or Pukhtoon — are an ethnic group based in Afghanistan and Pakistan's northwest. They are also the second largest ethnic group in Pakistan. Historically, the Pashtuns have been associated with negative stereotypes, with the most common being the perception that they are war-loving, barbaric individuals.
These stereotypes came in handy for the bureaucracy of the Punjab government. After a recent spate of terrorist attacks in the country, especially in Lahore, there was a widespread crackdown against anyone who merely "looked Pashtun or Afghan." Official and unofficial circulars and notices were distributed by the police specifically targeting the Pashtuns and portraying all of them as "suspected terrorists." And thus, a campaign of profiling and crackdowns started against the Pakistan Pashtuns and Afghan refugees in Punjab.
The picture below, doing the rounds on Twitter in Pakistan, shows a notice from a traders' association, posted in a market in Lahore, asking for all Pashtun traders to submit their National Identity Card copies, photos, as well as business details to the nearest police station or else face legal action from the government.
In another unofficial notification — issued by a local police station in Punjab province — people were asked to inform the police immediately if they see a street vendor in "Pashtun attire, and having Pashtun looks." The notification implied that anyone who "looked Pashtun" might be a potential terrorist.
Scapegoating Pashtuns isn't new in Pakistan. The Federally Administered Tribal Areas (FATA) in the country, dominated by Pashtun tribes, have constantly been targeted for providing sanctuaries to local and transnational militant organizations. Pashtuns have always wondered why they alone are the targets, even though militant camps exist both in Punjab and Balochistan.
In the aftermath of these military operations, both in FATA and the Swat region in Khyber Pakhtunkhwa, hundreds of thousands of Pashtun families were displaced and forced to live in makeshift camps for months. In 2014, both the Sindh and Punjab governments implicitly barred any Internally Displaced People (IDPs) from FATA from entering into either of these provinces, fearing they might engage in terrorist activities.
With such actions, policymakers in Punjab, especially Lahore and Islamabad, are playing into the hands of pro-Afghanistan Pashtun nationalists, who have always argued that Pashtuns were never given their due rights and status as first-class citizens. Pashtuns, especially those from FATA, still ask whether Pakistan considers them an "unwanted child," and thus shuns them in their time of need.
Officials in Punjab have made another geographical mistake by tagging Pashtuns and Afghan refugees together. Most of the Pashtun nationalists in Pakistan have always used the term "Afghan" to define themselves, as both Pashtun and Afghan are synonyms used interchangeably. By using similar rhetoric, the Punjab government is further fanning the sentiments of anger among the anti-establishment and anti-Punjab Pashtun nationalists.
Many tribal Pashtuns, even today, are unable to go back to their villages in FATA. The ones who are already there require a special permit, which they have to wear on occasions, to go in and out of their villages. Adding to this the situation faced by Pashtuns in Punjab, things could only go from bad to worse for the government if not tackled with political maturity.
The governments in Islamabad and Lahore – both led by the Pakistan Muslim League (Nawaz) – have already come under heavy criticism from civil society on the matter of Pashtun profiling. Unfortunately, this critique is limited mainly to social media, as the mainstream media has towed the ruling party line.
Pashtuns have suffered the most, since 2001, at the hands of the Taliban and its splinter groups. Not only that, they have also suffered through drone strikes and Pakistani military operations. Blaming Pashtuns, or for that matter Afghan refugees, will do more harm than good. Rather than scapegoating Pashtuns, the government needs to effectively implement the National Action Plan (NAP), which was devised for the very purpose of countering militancy in the country.
Farooq Yousaf is a Ph.D. Politics Candidate from Peshawar, Pakistan, currently pursuing studies in Australia. His research focuses on the role of indigenous conflict resolution methods in countering Insurgency in the tribal areas of Pakistan. Prior to his PhD studies, Yousaf completed his Masters in Public Policy, with concentration in Conflict Studies, from the Willy Brandt School of Public Policy, University of Erfurt, Germany.