Saudi Arabia Pivots to Asia (For Now)
The Kingdom is looking east, but don't count out relations with the US.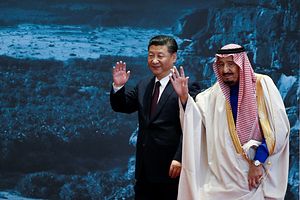 The Obama administration's much vaunted pivot to Asia was supposed to signal a U.S. strategic shift away from Middle East security issues toward commerce and diplomacy further east. Although the success of the Obama team's ability to shift diplomatic and military focus is up for debate, recent diplomatic trips suggest that Saudi Arabia is attempting to flip the script and perform an Asia pivot of its own.
In March, King Salman concluded a three-week Asian tour spanning China, Japan, Indonesia, Brunei, and Malaysia, while his son, Deputy Crown Prince Mohammed bin Salman (MBS), met for the first time with President Donald Trump in Washington, DC. Broadly, both trips aimed to drum up investment for the Kingdom's ambitious economic reform plan, Vision 2030, and to shore up security partnerships. But while the trips touched on similar themes, each provided distinct takeaways. In the near term, the Kingdom will turn to Asian partners for their relatively stable economic and political relations. However, shared security concerns over Iran and desire for American investment will ensure the Saudis do not drift far from the United States.
The length of King Salman's Asia tour and time devoted to meeting with various heads of state indicated the seriousness with which the Kingdom assesses Asia's investment potential. Though the Kingdom's attempts to boost its Asian trade date to 2006 and have seen Salman travel to the region before, Vision 2030 has given Riyadh new impetus to grow its relationships and downstream assets in particular. China and Japan, the world's second- and third-largest economies, are in the top five export markets for Saudi Arabia, and the Saudis are the largest supplier of petroleum imports for both countries. China's chart-topping demand for energy and oil, paired with Japan's lack of domestic energy resources, give these states a vested interest in steady Saudi production. With the success of Vision 2030 and the Kingdom's ultimate stability tied to foreign investment and diversified revenue sources, China and Japan are two of the most natural markets in which to aggressively pursue Vision 2030's goals.
In China, Salman and President Xi Jinping signed a memorandum of understanding to explore $65 billion worth of joint ventures between Chinese and Saudi firms in sectors ranging from energy to renewables to space. Energy deals featured prominently on the agenda, with Saudi firms Aramco and SABIC agreeing to develop joint oil and petrochemical ventures in both countries. Beyond the memorandum, they brokered agreements to establish 21 new joint partnerships. As China already constitutes Saudi Arabia's foremost non-oil export destination, the prospects for deeper cooperation appear promising.
Meanwhile, Salman and Japanese Prime Minister Shinzo Abe discussed their own ambitious list of 31 potential joint ventures, as well as the creation of an economic zone in Saudi Arabia with reduced trade barriers and tax incentives to attract Japanese firms, including Toyota. Japan has already embarked on over 80 joint ventures with the Kingdom, a strong base upon which the Saudis hope to build. Cooperation in nine areas ranging from energy to healthcare even resulted in the launch of an auxiliary plan called Japan-Saudi Vision 2030. As Tokyo aspires to play a large role in the initial public offering and listing of Saudi Aramco, its engagement with Riyadh in the coming months will remain high.
Salman also concluded deals in Southeast Asia with the added goal of warding off Iranian economic encroachment in Muslim states the Saudis see as natural partners. With the Saudi-Iran rivalry spilling over into the economic arena since the removal of nuclear sanctions, most evident in OPEC's recent struggles to agree to a production freeze, the King will hope $13 billion worth of joint downstream ventures with Indonesia and Malaysia will help tip the scales in favor of Saudi trade prioritization for Asian partners.
All of this is not to say that the Saudis will not be pushing hard for U.S. buy-in to Vision 2030. Despite the emergence of shale oil in the United States, the Saudis remain among the United States' top Middle East trading partners, and Washington is a leading destination and source for the Kingdom's imports (nearly $19 billion worth of goods) and exports (roughly $21 billion). Deputy Crown Prince MBS and his retinue duly trumpeted Vision 2030 in their "reset" meetings with the Trump team. According to the Trump administration's official readout, both sides discussed the mutual benefits and potential "millions" of jobs created in both the United States and Saudi Arabia produced by economic cooperation, including a potential $200 billion-worth of new joint ventures.
But politics are dampening the attractiveness of the United States for the Saudis. The Justice Against Sponsors of Terrorism Act (JASTA), which allows 9/11 first responders and families of victims to sue the Saudi government for complicity in the attacks, is a sore point for bilateral relations. Eight hundred victims' families and 1,500 first responders filed suit shortly after MBS's visit with Trump, and though Oil Minister Khalid al-Falih publicly expressed optimism that Congress and the new administration would take "corrective measures" to amend the bill, he also suggested it could chill Saudi investment in the United States and impact the Kingdom's willingness to list Aramco shares there. The Saudi Principal Investment Fund's $45 million investment in Japanese telecoms company SoftBank in October 2016 is evidence that Asian firms stand to benefit from tensions caused by JASTA, which Trump, who previously called Obama's veto of the bill "shameful," seems to see little reason to amend.
It is then telling that the Saudi readout, in comparison to the White House's, focused heavily on security cooperation. Given the mercurial nature of the new administration and the United States' current low dependence on Saudi energy imports and amid political uncertainty, converging threat perceptions of Iran helps hold bilateral ties together. Despite the tensions caused by Obama's secret nuclear negotiations with Iran, U.S. relations with the Islamic Republic have never approached the level of Beijing's ties to Tehran which, matters of force projection aside, would preclude the Saudis from welcoming a larger Chinese security role in the Gulf. MBS was even willing to tip his hat to wall-building and the travel ban as a "sovereignty issue" in order to advance the goal of rolling back Iran's influence.
The Trump administration's rush to adopt a more aggressive military posture seems to be helping. The State Department recently approved the resumption of a sale of roughly $350 million worth of precision guided munitions for the Saudis' campaign in Yemen that had been suspended in the final months of the Obama administration. It remains to be seen whether the Trump administration will actively support the war against the Houthis, but it does not appear to share the Obama team's late-breaking concerns over civilian casualties. Even if the administration chooses not to deepen its involvement in the Yemeni civil war, both the United States' willingness to continue weapons sales and intensify the fight against al-Qaeda in the Arabian Peninsula (AQAP) advance important Saudi security goals. The Saudis still hope to see similarly convergent assessments of challenges in Syria and Iraq. And, as new CIA Director Mike Pompeo's presentation of the Tenet Award to Crown Prince Mohammed bin Nayef illustrated, counterterrorism cooperation remains one of the strongest ties between the two countries.
Asian states do offer smaller competitive advantages of their own in the security realm, though they do not approach the weight of U.S. commitments. Salman received pledges from Indonesia, Malaysia, and Brunei (he postponed his Maldives trip) to deepen security cooperation, especially on counterterrorism, and received some support for the Islamic Military Alliance, a Saudi-led, predominantly Sunni prestige piece. Malaysia even went so far as to condemn Iran's meddling in the affairs of its neighbors, surely a delightful statement to Saudi ears.
And although China's Iran ties suppress prospects for cooperation on the security issues most meaningful to the Saudis, Beijing's willingness to sell drones and other technologies that the United States will not does help the Kingdom send a prodding message to Washington. The recent announcement of a partnership agreement with China Aerospace Science and Technology Corporation to jointly manufacture unmanned aerial vehicles advances Vision 2030 goals for building indigenous defense industry capabilities, and promises to grow the Saudi Chinese-made drone fleet.
All told, the Kingdom's prioritization of its economic reform agenda, its interdependence with regional trade partners, and political uncertainty in the United States point to a period of heightened focus on Asia ties in the immediate future. However, Vision 2030's dizzying ambition of overhauling subsidies and public sector reliance, coupled with channeling a massive, increasingly well-educated youth population into a fledgling knowledge economy, will necessitate that the Saudis cast a wide net to capture as much foreign investment and diversified revenue as possible. The United States is too large an economic player not to attract significant Saudi attention, and jointly containing threats from Iran and cooperating on counterterrorism will save diplomatic muscles from atrophy.
Talk of pivots to Asia makes for familiar noise to American observers, but if the Obama administration's rebalance is anything to go off of, final judgment on a long-term strategic shift for Saudi Arabia will have to be deferred.
Owen Daniels is assistant director of the Middle East Peace and Security Initiative in the Atlantic Council's Brent Scowcroft Center on International Security. Follow him on Twitter @OJDaniels.