What's Next For Malaysia's China Warships Deal?
Some additional details were disclosed this week in a closely-watched defense agreement.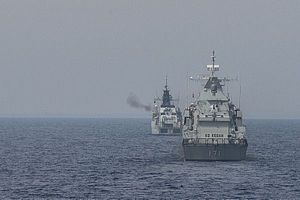 Malaysia's biennial defense exhibition, the Langkawi International Maritime and Aerospace Exhibition (LIMA), typically places the spotlight on the Southeast Asian state's military modernization along with other potential defense transfers in the Asian defense space (See: "Where Are Malaysia's New Warships in its Military Modernization?"). The 14th iteration, which kicked off this week and will run till Friday, has been no different so far.
Even ahead of LIMA 2017, the focus in particular had been on the first major defense deal between China and Malaysia, inked last November during Prime Minister Najib Razak's six-day visit to China, where he had agreed to buy four littoral mission ships (LMS) (See: "Malaysia's New China Warships Deal: Promises and Prospects"). Though sensationalist media accounts have been playing up the China dimension of the deal, as I have stressed before, the LMS deal is also important from the perspective of Malaysia's ongoing defense modernization since it is a crucial component of the 15-to-5 Armada Transformation Program proposed by the Malaysian Navy.
With the Chinese partner in the deal, China Shipbuilding and Offshore International Co (CSOC), set to display a model of the LMS for the first time at LIMA 2017 in Langkawi this week, observers were staying tuned to see if there might be any additional details disclosed to assess its future prospects.
Sure enough, on Monday, IHS Jane's reported that an official from CSOC, which is partnering with the Malaysian firm Boustead Naval Shipyard Sdn Bhd in a joint venture, had revealed a bit more about the LMS configuration it was proposing for the Royal Malaysian Navy (RMN). Pengfei Ren, a deputy general manager from the firm's No 2 Military Product Department, said that the LMS would have a length of 68.8 meters, displace about 680 tons at full load, run at a top speed of 22 knots, and have a standard range of about 2,000 nautical miles.
Though these details tell us a bit more about what the LMS might eventually look like once built, they do not depart significantly from what most close observers had expected. In addition, equally important was the fact that the official also did not disclose anything about whether the platform's main weapon system would be sourced from China or not. That has been a key aspect to watch, because for all the alarm about China's involvement in Malaysia's defense modernization, Malaysia could potentially equip the vessels with weapons from other Western partners as well, in line with the hybrid approach that other regional states have also adopted previously (See: "Malaysia Is Not Pivoting to China With Najib's Visit").
Interestingly, IHS Jane's also reported that CSOC may consider setting up an office in Malaysia to support the LMS program for the RMN. Though the move is yet to materialize, if it does would be yet another indicator of China's growing involvement in Malaysia's shipbuilding industry and further evidence of a deepening Malaysia-China defense relationship that still remains quite basic for now. While the past history of potential Sino-Malaysian defense deals may lead one to be cautious about the speedy realization of the LMS agreement and officials admit that some specific details have yet to be ironed out, developments so far, including this week, indicate that prospects might be better skeptics might believe.