Where Are India-Myanmar Naval Ties?
A visit by a Myanmar Navy delegation to India is just the latest sign of deepening defense cooperation between both sides.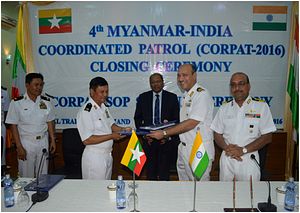 Last week, a Myanmar Navy delegation paid a four-day official visit to India's Southern Naval Command. Although the development made some headlines for its own sake, it is in fact just the latest sign of the deepening defense cooperation that both sides have been trying to pursue.
As I have written previously, both India and Myanmar have been trying to strengthen their defense collaboration over the past few years, with a focus on the maritime domain (See: "Why is India's Navy Chief Visiting Myanmar?"). In a general sense, this is part of Indian Prime Minister Narendra Modi's Act East Policy – a more action-oriented variation on the "Look East" policy first formulated under then-premier Narasimha Rao in the 1990s, which seeks to strengthen relationships with ASEAN specifically and East Asia more generally.
But more specifically, it is an acknowledgment of the increasing prospects for Indo-Myanmar cooperation in the maritime domain. In addition to a land border, both countries also share a long maritime boundary in the strategically significant Andaman Sea and Bay of Bengal where they face common challenges, which include not just a rising China but illegal fishing and smuggling. India is also in a position to assist a less developed but growing Myanmar Navy with some capacity-building.
Little surprise, then, that maritime issues have become a growing part of bilateral defense discussions, even if tangible progress has been quite slow in some aspects (See: "India, Myanmar Eye Future Defense Cooperation"). India has been providing training, assistance, and even equipment sales to Myanmar, even if some of the more ambitious initiatives have yet to materialize. There have also been some notable firsts. Last February, both sides inked a formal pact for coordinated patrols which made Myanmar just the third country with which India had such an agreement (the other two being Indonesia and Thailand) (See: "India, Myanmar Ink New Naval Pact on Coordinated Patrols"). And in November, during Indian navy chief Admiral Sunil Lanba's visit to the country, a port call of Indian naval ships saw Myanmar Navy officers embark on them for the first time.
This week's visit by the Myanmar delegation is yet another sign that both sides continue to look for avenues to cooperate. In this case, the focus, according to the Indian Navy, was particularly on helping setting up meteorological facilities for the Myanmar Navy. In that vein, the Indian Navy said in a press release that the visiting officers were able to get an understanding of Indian capabilities by visiting meteorological facilities including the Indian Naval Meteorological and Analysis Center (INMAC) and the School of Naval Oceanology (SNOM). They also visited other training and simulator facilities in Kochi including the Flight and Tactical Simulator and the Water Survival Training Facility.
What exactly will come of all of this is unclear. Rear Admiral RJ Nadkarni, the chief of staff of the Southern Naval Command, assured the delegation of "all assistance" in terms of training and setting up meteorological facilities for the Myanmar Navy. But both sides will still need to jump through the usual hoops, with Myanmar sending a proposal to the Southern Naval Command which would then have to be taken up with higher authorities on the Indian side. What is clear, however, is that the India-Myanmar defense relationship will continue to be one to watch in the coming years.