Are India-Pakistan Relations Doomed?
The stubborn realities in the bilateral relationship show few signs of changing anytime soon.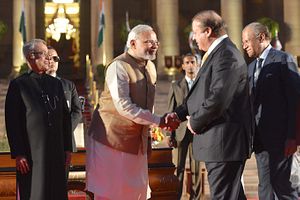 While South Asia has never been so actively engaged with the outside world, it remains woefully disengaged internally. The central relationship of the region, between India and Pakistan, continues to be oppressed by the weight of the past. History, ideology, and domestic politics have fostered divisiveness. And the geopolitics has sharpened the fault lines. Old disputes like Kashmir lurk in the background and overlap with the new ones, raising the ever present potential for conflict.
The problem is India and Pakistan relate to each other but only negatively. They have known no other way. Each has been engaged in weakening the other.  And they have done so by arms competition and use of proxies that has created an enabling environment for forces of destabilization like insurgencies, terrorism, and local and transnational religious extremism.
Following Prime Minister Narendra Modi's rise to power, tensions have risen to new heights.  Modi has pursued a hardline policy designed to put internal and external pressure on Pakistan to force a change in its stance towards the jihadists and support for the Kashmir cause. The policy found kinship in Washington's own priorities in the region: containment of China, the war in Afghanistan, and the broader war on terrorism. India was a natural balancer against China and Pakistan's alliance with China, and what Washington saw as an unhelpful role in Afghanistan placed Pakistan on the wrong side.
Yet Pakistan was also an important ally for Washington, and Modi arguably set about disrupting this relationship by smearing Pakistan as a menace to both the United States and India. He wanted Washington's South Asia policy to rest on the centrality of India. It worked up to a point, but at a cost to the Afghanistan war where Pakistan's support was crucial and would only come in the context of friendly ties between the United States and Pakistan.
Will Modi follow the same line with President Trump? It would depend on Trump's geopolitics and approach to the Afghanistan war of which we know little about as yet. Meanwhile where is Modi's hardline towards Pakistan headed?  That partly depends on where it was coming from. And clearly it had other important objectives, with implications closer to home.
Modi's Priorities
Modi's priorities were strengthening national security and making India a major economic power. And they fused perfectly in his plans for Pakistan that he came to office with. India, he reckoned, could not rise under threat of destabilization by non-state actors from across the border. And this called for a tough approach towards Pakistan that also happened to be in alignment with the RSS ideology, mainstream Indian nationalism, and the mood of the hawkish army, besides being consistent with his anticipated hardline on Kashmir. Policy and politics converged.
But the media had it all wrong. It ran away with the story of Modi's invitation to his Pakistani counterpart, Nawaz Sharif, to his swearing-in. The media convinced itself that something new and exciting was happening that would make a good story.  They were pinning hopes on a new chapter in the relations.
What was the basis of this "hope"? That the Indian Prime Minister would see Pakistan through the prism of his economic agenda? The fact is when it comes to Pakistan, New Delhi has an exceptional policy and the same is true of Pakistan's policy towards India. And neither is not dependent on a single factor.
Did this invitation to Nawaz Sharif have no diplomatic significance then? Actually it did. At the very least, it seems that, in retrospect, Modi did not want to incur the onus of initiating the hard line. He wanted to test Sharif first knowing that his business priorities and unease with the army inclined him to seek peaceful relations with India. If Sharif delivered, that was all well and good. If not, then Modi would have a legitimate excuse to unleash his tough policies, that would serve his purposes equally well, if not better.
It was never going to be easy for the Pakistan premier, squeezed as he was between the reluctant army and out-of-control jihadists. But he was not even given a chance to show his hand.  The Pakistan High Commissioner's meeting with Kashmiri leaders in August 2014 was enough to give Modi what he wanted — an excuse to call off the planned Foreign Secretaries level talks and launch his intended policies that remain in place. In between, he would maintain personal communications with Sharif marked by high visibility gestures like the surprise visit to Lahore to wish Sharif on his birthday in December 2015. The idea may have been to keep the Pakistani leader hopeful about the relationship and contain Pakistan's responses and leave the window of dialogue open if an opportunity came.
But the terrorist attacks in Pathankot in January 2016 and Uri in September 2016 blamed on the jihadists triggered an enormous emotional response of the Indian citizenry and changed everything. Modi got more than an excuse to sustain his Pakistan policy. And it was no use banking on Nawaz Sharif. There was only one way to go.
Dialogue with Pakistan was spurned, and an intense diplomatic campaign to try to isolate Pakistan, in the region and beyond, was rolled out. And India upped the ante by injecting fresh irritants in the relations like Balochistan and the Indus Waters Treaty and taking the fight to Pakistan.
Modi calculated that India was not missing any economic benefits due to strained ties with Pakistan whose real value as an economic partner will not show up until Afghanistan stabilizes and Pakistan becomes a hub for pipelines and trade with Central Asia. Such a prospect is years away, and, meanwhile, the Pakistan policy has its benefits.
Adopting a hardline stance towards Pakistan also helps India in Kashmir. India knows that the success of the Kashmir insurgency depends on two factors – its strength and Pakistan's support to Kashmiris. So the Indian strategy is twofold: crush the insurgency with extreme measures, and put Pakistan on the defensive and off balance. The ultimate aim is to make Pakistan irrelevant to the Kashmiri struggle and force the population to bend to the Indian will.
Pakistan policy also brings votes. The truth is Modi has not been able to bring the promised revolution in the Indian economy so far, and keeping an alternative issue alive where he can gain electoral support is a good political maneuver. He has done that by whipping up nationalism that specifically targets Pakistan, successfully portrayed as the enemy number one, and with his crackdown in Kashmir. That may have played some part in his success to expand his victory at the Center to the states. The BJP as of now looks to be in a good position to win the 2019 elections.
Pakistan Hits Back
Imbued with an overwhelming confidence in the China Pakistan Economic Corridor (CPEC), its geostrategic value, and reliance on its military strength to which has been added tactical nuclear weapons capability, Pakistan has not been unnerved. Its recent border closure with Afghanistan, aimed at hitting India as much as Afghanistan, shows a newfound assertiveness.
On the jihadist front too, Pakistan is unmoved. And India has been no help. Its policies are making it harder for Pakistan to act against the jihadists whose public status among the right-wing elements goes up with the rise in India's hostility. Besides, Pakistan may be reluctant to act to avoid the appearance of having caved in under Indian pressure.
Pakistan is also responding at the strategic level by becoming the focus of an emerging geopolitical alignment in the region, the implications of which both New Delhi and Washington may slowly be waking up to. There is an "alliance" in the making between China, Russia and Pakistan, to which Iran may join if it comes under pressure from Trump. So, geopolitically speaking, Pakistan's value could arguably rise given its relevance to the Taliban, ISIS and Afghanistan, and growing friendship with China.
Hardline Policy on a Pause?
Having emerged stronger at home with some help from this hardline policy towards Pakistan, it may be time for Modi to hit the pause button, especially when his policy may be having a blowback externally. Why not give dialogue a chance? We may thus see resumption of India-Pakistan dialogue yet again sooner than we expect, not unlike the unexpected return to dialogue with a new Comprehensive Bilateral dialogue process in December 2015 that never took off. And Washington may possibly prompt it. But we should not expect any breakthroughs and meaningful normalization as long as basic positions of the two countries remain unchanged.
Ultimately, for peace and prosperity to come to South Asia, geopolitical, regional, and bilateral relations have to be in sync. What is especially required is emergence of strong leaders in both India and Pakistan, and a paradigm shift in the domestic politics and in the mindset of the population. And that is not happening anytime soon.
Touqir Hussain, a former Ambassador of Pakistan and Diplomatic Adviser to the Prime Minister, teaches at Johns Hopkins and Georgetown University.