Deconstructing Uttar Pradesh's Meat Politics
What's driving Yogi Adityanath's crackdown on illegal slaughterhouses?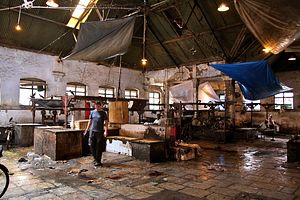 Following the Bharatiya Janata Party's (BJP) resounding victory in the recently held assembly elections in Uttar Pradesh (UP), Yogi Adityanath took over as chief minister of the most populous and politically crucial state in India. One of his first decisions was to implement a crackdown on illegal abattoirs.
UP is the country's largest meat-exporting state, with the industry in the state worth Rs 26 billion ($402 million) and providing direct or indirect employment opportunities for more than 2.5 million people. Out of the 72 government approved slaughterhouses in the country, more than half — 38 — are in UP. However, most of these approved slaughterhouses only cater to exports; local needs are met by the small illegal and individual slaughterhouses operating from the streets and congested residential areas. These illegal abattoirs are often in unsanitary conditions with no proper provisions for disposing of or treating animal waste, causing health and environment hazards.
Adityanath can't be faulted for his action against illegal slaughterhouses. The state government was well within its rights to take action against them. It was also completely in line with the election manifesto of the BJP, which had clearly stated that it would take "stern steps to close down all illegal slaughterhouses, besides banning mechanized slaughterhouses." However, the BJP can certainly be questioned for using wrong data to justify its agenda. The manifesto falsely claimed that due to rampant bovine smuggling during the reign of past state governments, there has not only been a fall in cattle counts but also in milk production. The facts, however, suggest otherwise. The UP livestock census has shown a consistent growth in the buffalo population, from 22.9 million in 2003 to 30.6 million in 2012. Likewise, there has been a 6.5 percent increase in the cow population from the previous census in 2007. Similarly, the national dairy board's figures for UP have also shown an increase in the production of milk from 24,863 tons in 2012 to 29,086 tons last year — a jump of 17 percent.
Notwithstanding the action of the Yogi government being both legally and politically "correct," it raises many questions that need to be discussed dispassionately. Is the BJP deliberately pursuing an agenda that will alienate the Muslim minority, who are believed to be largely involved in the meat industry and thus affected by this decision? Has the government prepared any roadmap to rehabilitate the hundred of thousands of people whose livelihood was adversely hit by this action? Are environmental and health considerations, as stressed by the NGT order, the only considerations behind this drive or religio-cultural issues have anything to do with this move?
While the state government has clarified that the drive is only against illegal slaughterhouses, the heat is being faced by legal abattoirs as well. In frantic searches, even many legal units were also sealed over minor lapses such as non-functional CCTVs or a pending permission for groundwater use. The meat traders have also complained of injustices and harassment in the name of the new policy, both by the police and so-called vigilantes.
The drive against illegal slaughterhouses has been shrouded in controversy amidst allegation of fringe Hindutva groups taking the law into their own hands. There are media reports of meat shops being burned or forced to close by Hindu vigilantes in some parts of the state. In one case, members of the Hindu Jagran Manch tried to enter the top meat exporting unit to conduct their own searches. Bajrang Dal activists have reportedly raided a meat packaging unit on their own, without informing the authorities, and beat up a worker who was later discovered to be a BJP member. The small meat shop owners fear the vigilantes, who have become emboldened with the BJP in power, more than the authorities. Many of them have shut down their shops just to avoid unnecessary harassment as fear grips the entire community in the meat trade.
It's difficult to argue against Adityanath's desire to check unauthorized and illegal abattoirs. He is simply discharging his constitutional duty to implement the orders issued by the Supreme Court and the National Green Tribunal, which the previous SP government did not act upon as it could not muster the required political courage. However, many certainly question the manner in which the whole drive is being hurriedly carried out. Those who were running illegal slaughterhouses or meat shops without proper licenses should have been first given an opportunity to secure legal permissions after fulfilling all requirements. The government should have also made its own slaughterhouses functional, to accommodate the soaring meat demand, before the crackdown on illegal abattoirs. The government should have come out with a detailed road map for transforming existing unauthorized and illegal abattoirs to more compliant and regulated ones before the crackdown. All of them should have been required follow the norms pertaining to pollution control, disposal of animal waste, and health and hygiene.
With these mistakes in mind, many have tried to project the crackdown as a Muslim issue to give it a communal color. It is true that the meat industry is a sector dominated by Muslims but it also provides employment opportunities to a good number of low caste and impoverished Hindus too and also a good source of government revenue. The crackdown will backfire if it creates the impression of being purely political and driven by culture, religion, and faith. The involvement of Hindu vigilantes in raids and issuing warnings to those involved in the meat industry is bound to create such an impression. The government should not forget that beside Muslims and Christians, beef is the dietary choice of a substantial section of Hindus as well.
Dr. Aftab Alam is a professor in the Department of Political Science at Aligarh Muslim University, Uttar Pradesh, India.