Indian Farmers Protest, Seeking Drought Relief
India's farmers have taken to Delhi to seek redress after an unusually bad drought.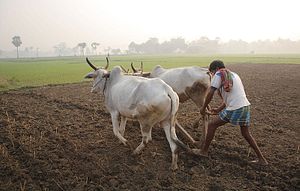 Fueled by one of the worst droughts in decades, farmers in the Indian state of Tamil Nadu, tired of the lack of adequate compensation, severe losses to their livelihoods, and rising rates of suicide took to Delhi to protest. When the National Human Rights Council issued a notice to the state, Chief Minister Edappadi K Palaniswami released relief packages for drought hit farmers with compensation dependent upon whether their work was dependent on irrigation or seasonal rain. However, this proved to be inadequate for farmers who had staked or sold their gold or taken on loans with harsh terms, many of whom ultimately decided to fight for fairer compensation.
The protest has just crossed five weeks after having started on March 14 and is geared towards the goal of making the central government aware of their plight. Carrying skulls symbolizing their brethren who died or committed suicide, they demand a larger drought relief package of approximately $6 billion (similar to a loan waiver that was offered to farmers in the state of Uttar Pradesh) and a better support price.
In Delhi, they escalated their protest symbolically at multiple stages, beginning with skulls and proceeding to hold rodents to their mouth or eat food off the tar road, mixed with mud, indicating that the government was forcing them to eat dirt as food. After being denied permission to meet any high officials in the Prime Minister's Office, some stripped and escalated to a nude protest before being apprehended by the police. As they crossed a month, they began to sing funeral songs and symbolically cut marital threads to allude to the plight of the widows of the farmers who committed suicide. Stopping at nothing, they went onto eat grass, hold mock funerals, beat their chests in mourning, and even strip outside the President's office.
Their tactics and persistence has certainly grabbed attention in certain circles. Other political leaders, including the opposition Indian National Congress' Vice President Rahul Gandhi, have all met the protesters, and Gandhi in particular berated Prime Minister Narendra Modi for not hearing out their plight. In Tamil Nadu, the Dravida Munnetra Kazhagam (DMK) party held an emergency session and called for a state wide 'bandh' or protest on April 25 that will bring services to a halt, in solidarity with the farmers. In a manner similar to the opposition in New Delhi, the DMK has further used this as an opportunity to point to the inability of the state government to fulfill farmers' demands. The Communist Party of India has also expressed solidarity and begun their own protests, declaring that they will not stop until the farmers have been compensated.
The central government has been placed in an extremely precarious position now as both the resolve and the support base of the farmers gets stronger. Recently, the protesters staged a scene where a man wearing a mask of Modi is shown to be flogging the protesters – alleging that by ignoring them, the prime minister was treating them in a manner tantamount to whipping.
The chances of the farmers gaining their entire demand of compensation remains to be seen as the protests carry on, but their chances of gaining an audience get better everyday. As groups in different state with similar agendas take note of this protest, the way New Delhi responds becomes crucial. All eyes are on the Modi government's move.