Keeping Brexit in Perspective for Australia
Going forward, Australia will need to balance its ties with the U.K. and the EU.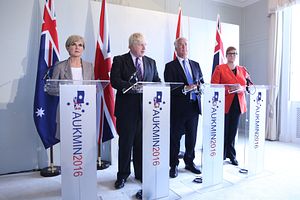 At a time when the United Kingdom (U.K.) is negotiating its exit from the European Union (EU), dealing with a general election, attempting to carve out its own place outside of the EU under the banner of "Global Britain," and seeking to maintain national unity, Brexit represents a significant challenge for Australia. Australia will need to maintain its support for multilateralism, trade liberalization and a rules-based order through its support for, and intensified relationship with the EU, and at the same time develop a strategy to engage with the U.K. post-Brexit. But Canberra should also keep things in perspective.
Overemphasizing the Commonwealth heritage shared by Australia and the U.K. is fraught with uncertainty. Rather than an economic bloc, it has been proposed that the Commonwealth can act as a "network of nations." Yet the idea of revitalizing Commonwealth relationships is contested and should, therefore, be met with measured enthusiasm. Whilst there are strong arguments for Australia to finalize trade agreements with the U.K., Australia has diversified its trade links both within and outside of Europe and beyond traditional ties with Britain. Australia should keep in mind that trade with the U.K. only accounts for 4.1 percent of Australia's total trade, and trade with the EU27 outweighs trade with Britain by almost three to one. Meanwhile, Australia and New Zealand together amount to less than 2 percent of the U.K.'s exports. The pre-1973 tradition of Imperial Preference for Australian agricultural exports is no longer an option, as the U.K. will not jeopardize its own agricultural market by opening it up to third countries.
Trade is not the only consideration, however. Australia and the U.K. have established strong security and defense ties through bilateral and multilateral partnerships and through formal and informal bonds. In addition, they have a long-standing foreign policy relationship.
London's National Security Strategy and Strategic Defence and Security Review identified the Asia-Pacific as an important region for the U.K.'s economic growth. It specifically stated that the U.K. will "work with like-minded partners in the region" such as Australia "to defend and protect our global shared interests, uphold the rules-based international order and to strengthen cooperation on settling international and regional disputes." At a time when there are concerns as to the Trump administration's commitment to the region, having partners with similar values and interests will be of strategic interest for Australia. The fact that Australia is geographically located and actively engaged in the region makes it an important strategic partner for the U.K. and builds on the strong tradition of foreign policy, security and defense cooperation.
Given the strength of Australia-U.K. ties, there is speculation that Brexit will undermine the Australia-EU relationship. However, this ignores the significant progress made over the past two decades. In 2015 the EU and Australia signed their largest agreement to date – a Framework Agreement. Progress on a Free Trade Agreement (FTA) between Australia and the EU is being made, with a scoping exercise having been completed in April 2017.
Australia will need to work hard to ensure that the predominantly Eurosceptic "U.K. lens" through which it has previously viewed the EU at times is finally put to one side. The Australian government will no doubt work closely with the EU member states and institutions. It is important that strategic considerations and policy preferences should not be influenced only by Brexit.
At the same time, Australia needs to be cognizant of the fact that Brexit is not the only or most important challenge facing the EU. The EU is faced with a series of crises and challenges relating to, for example, refugees, instability along its borders, relations with Russia, terrorism, the Eurozone, austerity, high unemployment, and the surge in nationalist and populist movements. Australia will need to advance and promote its interests and to ensure that it features on the EU radar screen amidst so many other issues competing for the EU's attention.
Brexit will lead to some fundamental changes to the nature of U.K. priorities and international role, which will require Australia to understand how London aims to situate "Global Britain" in world affairs. Australia will need to develop a strategy that takes into consideration how global developments will impact this relationship. The future of free trade and the further opening of global markets are facing pressure on a number of fronts. Populist parties across liberal democratic countries are fueling protectionist rhetoric and policies. The future of some key FTAs, such as the 12-country Trans-Pacific Partnership (TPP) Agreement and the EU-U.S. Transatlantic Trade and Investment Partnership (TTIP), looks doubtful since the election of Donald Trump as U.S. president in November 2016 and the signing of an executive order on January 23 2017 withdrawing the United States from the TPP. Given this trend against large or mega-regional agreements, the conclusion of smaller bilateral agreements has become even more crucial for Australia. The ability to conclude FTAs with like-minded states such as the U.K. will be important.
Although the U.K. has been historically significant, Brexit marks one change in a range of shifting traditional alliances globally that Australia must consider. Australia's new White Paper, to be released later in 2017, will be crucial in establishing Australia's position in reaction to the unpredictability of the current U.S. administration — with the United States being Australia's main security partner and China its largest trading partner. The future of U.S.-China relations, particularly with regard to China's actions in the South China Sea, North Korea's nuclear ambitions, as well as trade, will have an impact on Australia's security and trade interests in its own region. It will require Australia to pursue its relations with the EU and the U.K. with a close eye on other major global geopolitical, as well as trade, developments. Similarly, Australia will need to watch closely how the U.S.-EU relationship plays out, especially in the context of their free trade negotiations, the transatlantic security relationship, and the security threats posed by Russia.
Australia will need to keep a close eye on how the U.K. navigates its exit from the EU, and subsequently its new position in the world. It will need to do so, however, by placing Brexit in the broader context of developments in the EU and its own region.
Dr. Margherita Matera is Lecturer and Honorary Fellow in the School of Social and Political Sciences at the University of Melbourne.
Dr. Laura Allison-Reumann is a Research Fellow at the Public Policy and Global Affairs Programme, Nanyang Technological University, Singapore.
Prof. Philomena Murray is Professor in the School of Social and Political Sciences at the University of Melbourne.