Pakistan's National Security Adviser on Counterterrorism
Lt. Gen. Janjua speaks about his strategy and his views on current progress in Pakistan's fight on terror.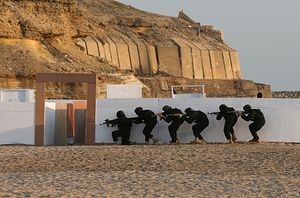 Lt. Gen. (retd.) Nasser Janjua was appointed as Pakistan's National Security Adviser (NSA) on October 26, 2015. His mandate is to oversee the national security of the country and build sustainable policies and mechanisms that render a positive, progressive, peaceful, and secure Pakistan. The following are critical excerpts from several interviews with General Janjua between December 2016 and March 2017, specifically with regard to the National Action Plan (NAP).
The NAP is a comprehensive, 20-point national effort to rid the country of the menace of terrorism and extremism. It was enacted on December 25, 2014, following the atrocious attack on schoolchildren in the city of Peshawar, Pakistan, that left 133 dead.
Zeeshan Salahuddin, The Diplomat: Can you walk us through your new position and role?
Lt. Gen. Janjua: I have been appointed by the government of Pakistan as the National Security Adviser (NSA). In ministerial terms, I have been honored by the PM with the status of minister of state and you can say I am minister-in-charge of the National Security Division. My mandate is to oversee the national security of Pakistan. My job is to support the government in creating an environment that leads to improving the security of people and the state internally and externally. In addition to this, the government of Pakistan has honored me to be the convener for the implementation of the NAP.
What is your view on the current evaluation/execution of NAP?
First, let me briefly explain what NAP is. It is the identification of all those areas which we need to improve to get rid to the menace of extremism, violence, terrorism, and militancy. It was evolved through a national consensus to make Pakistan a secure country for furthering our progress. In many ways, NAP is our national stance and unity to say no to terrorism.  It reflects on our attitude that we as a society reject extremism and the resultant terrorism and I commend our national leadership, both civilian and military, for having evolved such a way forward for a progressive and prosperous terror-free Pakistan.
Now with regards to its evaluation and execution, we virtually need to have 20 plans with clear objectives and goals and assigned responsibilities for all the stakeholders. Everyone needs to know what has to be done and why. In addition to it [NAP], we need to improve our capacity, particularly in law enforcement agencies and intelligence. Equally important is the legislative support, integration, and cooperation of all the institutions to improve our responses. Indeed we need a whole of the nation approach to implement NAP. Common people must become its stakeholders.
Speaking of clarity, can you point to what you feel is the central issue, the root cause of terrorism?
It is simple. In this case extremism is the mother evil. Extreme thought is the most damaging thing for the people of Pakistan. It manifests itself in the form of violence and terrorism. Terrorism is merely an outcome of extreme thought, and by fighting terrorism alone, we will never defeat this menace. We need to mitigate and moderate our extreme thought in the intellectual and ideological domains, with a well-thought-out strategy at the national level while making the people its effective stakeholders. Fighting terrorism is still very important, because it affects us immediately and creates this false sense that Pakistan is constantly under threat. But to mitigate extremism is the bigger goal. I believe it is all about the people. Mainstreaming the fringe, educating the population, and building public ownership of this fight are very important.
What do you think needs to happen, in broad strokes, to address some of these issues?
I think there needs to be unity of thought and unity of action. With immense successes and sacrifices made, we have come a long way in eradicating terrorism, but still we have to go further. This is not a short fight; it is not a skirmish. This will take us some time and collective effort. Wholehearted public support will be one of the deciding factors in winning this conflict. Consolidation is another key thing. Conviction and clarity of purpose in what we are doing and why is a must. Similarly we also need to actively work toward removing some of the polarization that exists in some key areas so that we can rally behind clear and measurable objectives.
The NAP consists of 20 points, a lot of which overlap or have similar objectives. Are you going to review the progress and work on an implementation strategy point-by-point?
As you said, the NAP has a lot of overlapping areas. The way I envision it, I see three broad, thematic areas that we can then address separately.
First, there is the theme of fighting hardcore terrorism. This consists of points such as dealing with armed militias (NAP point #3), sectarian terrorism (#18), proscribed organizations (#7), the Karachi operation (#16), and the situation in Balochistan (#17) as well as is some areas of Punjab (#15).
The second broad theme is terrorism enablers. These are elements which cannot be classified as hardcore terrorism, that may need to be dealt with a combination of kinetic and non-kinetic means, but they facilitate terrorism and must be dismantled. These include hate speech (#5), religious persecution (#9), media glorification of terrorism (#11), choking finances (#6), communications (#13), internet and social media proliferation (#14), madrasas (seminaries) (#10), and preventing terrorist from using the cover of Afghan refugees (#19).
Finally, the third category is that of state enablers. These are steps that, if implemented, could greatly aid the state in combating the menace of terrorism. These include the strengthening of National Counter Terrorism Authority (NACTA) (#4), the formation of the dedicated counterterrorism force (#8), reforms in FATA (#12), the lifting of the moratorium on the death penalty for terrorists (#1), military courts (#2), and the reforms in the criminal justice sector (#20).
How do you view the overall implementation of the NAP thus far?
The NAP is a comprehensive plan with a lot of moving parts. We have seen remarkable successes in some areas, and in certain other areas, we need to work harder. The overall objective of NAP is to rid Pakistan of the menace of terrorism, extremism, insurgency, and militancy in the short and long term.
We must also bear in mind that these 20 points were identified through a consensus at the national level as the prevailing weaknesses of our society which needed to be redressed. Every point virtually needs a specific plan and my objective is to have a clear and well-defined implementation and execution strategy for each of these points.
What is important to remember is that while we collectively agree on most of the points of NAP, there are some points which, if we rush them, can prove to be very divisive for us as a nation since they belong to ideological or religious domains. These divisive points need to be addressed with a lot of care and prudence. These are the same points that have held up implementation in certain areas of the NAP. In order for us to be successful, we need to be on the same page of same book, especially on these divisive points.
The key of implementation lies with the provinces. There are some areas where the federal government has to provide the guidance and direction, but for actual implementation, most of the areas belong to the provincial domain.
Can you give some examples of these divisive points?
There are a range of divisive issues. Hate speech is one of them, as well as religious persecution, re-emergence of proscribed organizations, madrasas, and sectarianism. These areas are divisive because they are highly sensitive. If we approach one of these areas from a divided perspective, or divided platforms, it will only create further cracks and divisions. Therefore it is of critical importance that we approach these areas by evolving consensus and bringing all relevant stakeholders on-board. Creating this united space is a steady, slow process, but it is crucial for Pakistan in the long run.
How about seminary reform: is that another sensitive area?
Madrasas fill a gap, particularly for poor people and their children from certain quarters in Pakistan, and I am cognizant of the good work they do. Students of madrasas are the children of Pakistan, and as such they are equal and important as anyone else. This is certainly a sensitive area, but I think the onus is on the state to provide equal opportunity and treatment, particularly to those considered unequal. The state should, and will, provide certain measures and incentives to madrasas and their students to embrace them in the mainstream of the overall education system of the country. If we can afford them all existing opportunities equally, we can absorb these sons and daughters of Pakistan as the strength of the nation. After due diligence and rigorous deliberations with relevant ministries, particularly with the Ministry of Interior, Ministry of Education, and Ministry of Religious Affairs, and other institutions, my office is preparing a package of incentives for the mainstreaming of madrasas. The final decision will be taken after the necessary consensus is evolved through collective wisdom of wafaqs [an umbrella body for all seminaries from a particular school of thought], scholars, ulemas (clerics), mashaikhs, and national level leadership. On this front, we will soon give you some very good news.
One criticism hurled at the NAP is that the National Counterterrorism Authority (NACTA) remains an underfunded, underutilized resource. What do you plan to do about this?
NACTA is a crucial part of the NAP. There is now immense political will to see it succeed and play the pivotal role we have envisioned for it. They have been spearheading many areas, the result of which will be known soon. We have also allocated over Rs. 200 million [$1.9 million] to ensure they have a centralized, refurbished location to work from. NACTA is a top priority, and we will see it succeed soon.
What about sectarian terrorism?
As I said earlier, sectarianism is a highly divisive point in Pakistan. It is an element that has harmed us immensely and its sensitive nature necessitates a careful approach. Certain groups in the country seem to have abandoned the great, united religion of Islam in favor of their respective, preferred sects. The result is that it has unfortunately pitched us against one another. Part of the problem is external designs that seek to exploit the fault lines in our religion to destabilize and harm Pakistan. However, the other piece of the puzzle lies within our own country and the divisive politics of sects. Sectarianism virtually hits at the hinges of Islam as a religion, and only serves to divide us further. Killing each other in the name of sect is as diametrically opposite to the teachings of Islam as it gets. Pakistan must embrace and nurture religious harmony as sectarianism works against Pakistan, against Islam, and against the well-being of the people of Pakistan. Here I will appeal to the people; let's collectively heal the splits of our religion as that is the most revered act by Almighty Allah. Religious unison, moderate outlook, and patience to accommodate others will serve Muslims the best.
Speaking of kinetics, it is clear that Pakistan has scored critical victories against armed militias. But the bulk of these victories have come from military interventions. Do you feel this is sustainable in the long term?
This is a collective national effort, taken up by civilian law enforcement, the armed forces, the intelligence agencies, and the ordinary citizens of Pakistan. They form the foundation of this great struggle against extremism and terrorism. We have 220,000 troops committed on the Western border. We have successfully completed Operation Zarb-e-Azb and systemically removed their physical hideouts from Pakistan soil. In Karachi, the urban pacification has resulted in remarkable improvement in crime rates and citizen safety. However, in the long term, obviously this is the job of the civilian law enforcement agencies to maintain the peace and prevent any resurgence. To this end, we need to conduct more organized, intelligence-based, terror-combing operations, reconcile with our neighbors, have the National Directorate of Security [Afghanistan's intelligence agency] and [Pakistan's] Inter-Services Intelligence work in close cooperation, allow the Quadrilateral Coordination Group [Afghanistan, Pakistan, the United States, and China] to continue to build confidence in the region, engage in better border management, extend critical intelligence to Afghanistan and vice versa, eradicate Tehrik-e-Taliban Pakistan (TTP) leadership in Afghanistan, improve provincial capacity, form the Joint Intelligence Directorate (JID) under NACTA, and reform both our police and criminal justice sectors.
You spoke about Karachi. Can you tell us a little about Balochistan and Punjab?
Unrest in Karachi is a part of a bigger, external strategy to destabilize Pakistan. That network is being dismantled, and the success of these endeavors speaks for itself. In this regard, the police forces, the Rangers [Pakistan's paramilitary force], and the people of Karachi must be commended for displaying such incredible resilience and conviction.
Balochistan has also been and is still part of external designs. Balochistan and its beautiful people are very close to my heart, as I have served in the province. There again, we have been able to marginalize the insurgency to a great extent. We have been very lucky that this time, the people of Balochistan have become the biggest stakeholders of peace. They have rejected the terrorism and insurgency. They have realized that they were being misguided and misused. They love Pakistan and want to embrace education, progress, and prosperity as they have refused to live in the past. We are now endeavoring to bring some misguided individuals into the political and national mainstream. They have a few leaders, in self-exile, who serve the interest of certain foreign powers. Reconciliation and mainstreaming is the only permanent solution to this conflict.
Punjab, with all its law enforcement agencies, particularly the Counterterrorism Department, have done extremely well in implementing NAP. To improve the security situation, Rangers have also been provided and soon you will see the situation improve further.
Can you talk a little about some additional ideas that you have about non-kinetic, softer mechanisms you would like to see implemented?
I think both kinetic operations and non-kinetic mechanisms work hand-in-hand. The linchpin is stringent laws that are uncompromisingly implemented and executed, and that is one area where we need to improve. Other mechanisms could include long-term strategies for building social harmony and tolerance in our schools, so our children learn these important lessons early on. I would really like to engage ulemas (clerics) to help turn the tide and assist in a variety of roles to build religious understanding and harmony. Another part of that is to now sincerely implement reforms in the historically neglected Federally Administered Tribal Areas (FATA), the most befitting leap the present government has undertaken to empower the people of FATA. Balochistan is another place. The present focus of civil and military leadership is highly commendable. Peace and development endeavors undertaken by the civil-military [leaders] are very effectively healing the sense of deprivation of people of Balochistan. This must continue with the same impetus.
Finally, can you speak about some areas that need improvement?
Nothing is perfect; we can improve everywhere. But more specifically, we need to speed up the process for NACTA capacity-building. I think we need better national buy-in, both from the common people, as well as all manner of federal, provincial, and institutional bodies. We especially need to put the genie back in the bottle as far as the proscribed organizations are concerned. The 20 areas of the NAP are well-identified, but we need to address them effectively with well-strategized implementation and legislation. All of us need to rise above the existing flaws and fault lines to say no to terrorism and terrorist ideologies. By doing this, we further need to embrace our brighter future, which is well within our grasp. I also think that in due course we need to get rid of the illegal possession and proliferation of weapons in Pakistan. However, we first need to provide a general sense of security to our people so that they believe more in the state than in the weapons.
The NAP is a long fight, one that requires a lot of perseverance and tenacity. I know that Pakistan is up to the challenge, if we organize, dig in, and work together. We are one of the most resilient nations on earth, and I hope that with time, we can prove that we will overcome the menace of terrorism, extremism, militancy and insurgency.
How do you see the future of Pakistan?
I believe Pakistan has a great future, and we are all well on the road to long term success and sustainable peace. We have the most resilient nation, committed people, most intelligent and vibrant youth, bright and beautiful children. What is it that we do not have? We have everything. In addition, Pakistan's pending position in the region as a massive trade corridor will catapult this country to economic prosperity and a symbol of geostrategic integration. Pakistan as the regional trade, industrial, and economic hub will be in a position of strength and the world will endeavor to improve relations with Pakistan. Pakistan believes in cooperation, instead of competition. Pakistan is carving out a trajectory of progress for the region by way of economics, which the world needs to recognize and acknowledge.
Zeeshan Salahuddin is a Pakistan-based journalist.