The Dalai Lama's Tawang Visit: The Aftermath
Perhaps this is New Delhi's way of holding its own against China.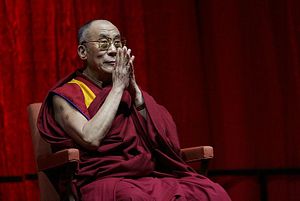 The Dalai Lama's decision to visit Tawang in Arunachal Pradesh earlier this month came after weeks of uproar from China. Chinese media had reported that the visit was engineered to upset China, which sees the region as a controversial zone, reminding India of its political commitments. The state of Arunachal Pradesh is viewed as an extension of Tibet by China. Although this is hardly the Dalai Lama's first visit to either Tawang or the state itself, Beijing has chosen to register its protest once more. The Indian government in return declared that the visit was purely spiritual and not geared toward generating any particular controversy.
The nine-day trip did face some postponement, but was eventually seen through. On the day before his visit to Tawang, the Dalai Lama, at a public address, spoke of his discomfort with rising intolerance and stressed the need for mutual respect and concern and for social well-being. He then began his first visit of this decade to Tawang, where he addressed a colossal gathering as the state's Chief Minister Pema Khandu inaugurated the event by thanking Prime Minister Narendra Modi and the central government in New Delhi for their support in making the visit happen.
The Dalai Lama dismissed the idea that the Indian government was using him as a diplomatic tool, and then set aside concerns over Beijing's attempts at determining his successor. He said further that he would be alright if the relevance of the institution of the Dalai Lama were to be reviewed and that the final decision lay with the people of Tibet. He also made a tentative promise to return next January.
The Chinese foreign ministry has in turn responded by stating that this went well beyond activities of a religious nature. Further, the Chinese foreign ministry has called statements made during the visit provocative and hinted that the disputed border's status has been negatively impacted. In the meanwhile, the visit brought joy to tens of thousands of people across the state as well as the country who traveled to attend the public addresses. The Dalai Lama consecrated a monastery, in addition to talking extensively about Buddhist teachings.
This visit has been in the pipeline since October 2016, when China made similar statements regarding India's political commitments. The Indian government, however, brushed those comments off, and is similarly standing its ground this time too. China has protested each of the Dalai Lama's visits to the state in the past, and no significant political fallout ensued in its wake. Perhaps the government has sensed a pattern toward this and does not believe that the repercussions will be harsh — or perhaps this is New Delhi's way of holding its own.