Trump's Amateur Hour on North Korea
Trump is weakening the United States' ability to deal with the threat.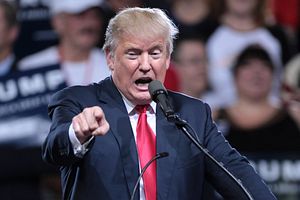 U.S. President Donald Trump is playing a game of nuclear-armed chicken with North Korea. Whatever happens, Trump has weakened America's ability to address the North Korean threat.
North Korea is one of the most dangerous foreign policy challenges facing the United States, and the threat is growing. But Trump's opening gambit is only making things worse. The hyperbolic and assertive rhetoric on North Korea coming out of the Trump administration over the last month is an unnecessary, ineffective, and dangerous approach that will result in one of two outcomes: war, or a new U.S. administration with severely damaged credibility to deal with the very real threat on the Korean peninsula.
As president, Trump's words carry more meaning than those of any other person on earth, and whether he means what he says or not, foreign leaders read his comments closely. On North Korea, Trump's casual disregard for the power of his rhetoric is quickly running up against the reality that war and peace can hinge on his tweets.
Before the much-anticipated April 15 display of North Korea's military might and since, the Trump administration has made a series of dizzying and potentially destabilizing comments seemingly indicating an intention to bring events with North Korea to a head. Trump said, "If China is not going to solve North Korea, we will"; Vice President Mike Pence, while in Asia, said that "the era of strategic patience is over"; and in response to a North Korean missile test in early April, Secretary of State Rex Tillerson ominously said, "The United States has spoken enough about North Korea."
These comments came amidst erroneous statements by the president and U.S. officials that the United States was sending the aircraft carrier Carl Vinson to Northeast Asia and even reports that the Trump administration was prepared to launch preemptive strikes if it believed that North Korea was going to test a nuclear weapon. The continued heated rhetoric from both sides is keeping tensions high on the peninsula.
Trump's assertive rhetoric – including hints at possible unilateral U.S. military action – is dangerous even if it's just an attempt at scaring North Korea to come to the table. While some claim it's necessary to scare North Korea into changing its behavior, it's much more likely that Trump's behavior is raising the risk of a conflict. If Trump actually strikes, it likely starts a war that is impossible to contain; if it's merely bluster aimed at scaring China and North Korea, North Korea may not read it that way and could lash out instead.
Any possible limited military strike would carry significant risks for a broader conflict that would result in the devastation of Seoul (including thousands of Americans), possible missile launches against Japan, and the very real possibility of the United States and China once again finding themselves on opposite sides of the battlefield in Korea. Even one missile strike against North Korea could be perceived as the beginning of a full-scale attack, and the conflict could spread across Northeast Asia quickly.
Meanwhile, the Trump administration's actual policies to date on North Korea look remarkably similar to those of the Obama administration and its predecessors, combining the usual strategies: coordinating with allies South Korea and Japan; pushing China to pressure North Korea; implementing sanctions; and using other tools like the deployment of THAAD missile defense and cyber operations to deter and prevent escalation with North Korea.
If this current phase of heightened tension passes without incident, Trump will have already handed away much of his credibility to deal with North Korea. Trump's empty words will make North Korea think that it can get him to back down easily. China too will take away the lesson that Trump is all talk. Meanwhile, South Korea and Japan will lose faith in Trump as a reliable partner in dealing with North Korea, undermining any future attempts to tackle the challenge. In fact, false U.S. claims about sending an aircraft carrier to Northeast Asia in the midst of the tensions angered South Koreans, and elicited this devastating response from a candidate in South Korea's upcoming presidential election: "If that was a lie, then during Trump's term, South Korea will not trust whatever Trump says."
While U.S. credibility is now damaged, at this point the best thing Trump can do is stop the bluster about threats of unilateral strikes.
This is a bad place to start on a dangerous issue that is likely to plague Trump's presidency like that of his predecessors. While denuclearization is the goal, maintaining peace and stability on the Korean peninsula and keeping Americans and U.S. allies safe need to be Trump's top priorities at the moment. Trump should stop tweeting and begin the hard work of pursuing a credible and effective North Korea policy – he's going to need that credibility to pursue a real strategy that has a chance of success.
Michael H. Fuchs is a Senior Fellow at the Center for American Progress. From 2013 to 2016 he was deputy assistant secretary of state for east Asian and pacific affairs.