US-Singapore Defense Relations in the Spotlight With Ng Visit
Defense minister's visit provided an early opportunity to discuss bilateral ties and get a sense of U.S. Asia policy in Washington.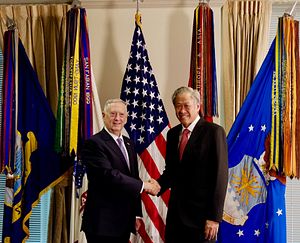 Last week, Singapore's defense minister Ng Eng Hen was in Washington, D.C. for a four-day working visit. Ng's trip provided an opportunity for both governments to discuss the state of an important bilateral relationship as Donald Trump's administration takes shape and for the minister to get a broader sense of the state of U.S. Asia policy in Washington.
As I have written before, the United States and Singapore have long viewed each other as vital security partners (See: "Strengthening U.S.-Singapore Strategic Partnership"). For Singapore, the U.S. regional presence has been critical to its emergence as one of the world's successful economies, and Washington remains a key provider of defense technology and facilities for military training today. For the United States, Singapore has been a key regional anchor and an active global contributor, as evidenced by its recent agreement to host littoral combat ships and P-8 Poseidon aircraft and its growing role in the global fight against the Islamic State.
U.S.-Singapore relations had proceeded well under the Obama administration, with two countries upgrading the relationship to a strategic partnership in 2012, inking a new Enhanced Defense Cooperation Agreement (DCA) in December 2015, and Prime Minister Lee Hsien Loong's visit to the United States in August 2016 as the two sides commemorated the 50th anniversary of their diplomatic relations. But U.S.-Singapore relations have not been immune to the uncertainty that has come with Trump's election. During his brief remarks at the Fourth Reagan National Defense Forum last December shortly after Trump's victory, Ng conveyed some potential concerns about the shape of the U.S. regional presence that can be heard in other regional capitals today as well, from its approach to China to an overmilitarized Asia strategy following the demise of the Trans-Pacific Partnership (TPP) (See: "Trump's Real ASEAN Test").
Ng's visit to Washington, D.C. from April 2 to 5 provided an opportunity for both governments to discuss the state of the bilateral defense relationship as well as broader regional and global issues. On U.S.-Singapore defense relations, Ng's meeting with U.S. officials including U.S. Defense Secretary James Mattis enabled the two sides to update each other on key agenda items, whether it be ongoing developments such as Singapore's contribution of a medical task force to Iraq that begins next month, or opportunities being explored such as more training for Singapore's military in Guam. Ng also told the media outlet Channel NewsAsia in an interview that Mattis had offered "much reassurance and confidence" with respect to U.S. commitment to the region and the potential tensions or problems that could arise.
Ng's trip also enabled him to get a better sense for U.S. Asia policy in Washington more broadly and to discuss wider geopolitical developments with key influencers. During Ng's visit, he also met with lawmakers, including Senate Armed Services Committee Chairman John McCain, as well as key strategic thinkers and academics involved in the shaping of the U.S.-Singapore relationship and U.S. Asia policy more generally, such as former U.S. Ambassador to Singapore Jon Huntsman and former Under Secretary for Defense for Policy Michele Flournoy.
It is still early days in the U.S.-Singapore relationship, and things will likely begin to take off in the coming months with additional bilateral meetings, greater clarity on U.S. Asia policy, and broader regional and global developments as Singapore assumes the chairmanship of ASEAN in 2018. One key event to watch in this respect will be Mattis' attendance at the Shangri-La Dialogue (SLD) in early June, which has traditionally provided an opportunity for U.S. defense officials to lay out Washington's regional approach and advance bilateral relationships. As I noted during my attendance at last year's SLD, former U.S. Defense Secretary Ash Carter had used his last address to outline the vision for a principled security network in the region (See: "US Hits Right Note at Shangri-La With Principled Security Network").