What Does the Surrender of a Pakistani Taliban Spokesperson Really Mean?
Does Ehsanullah Ehsan's surrender portend major changes ahead for the Tehreek-e-Taliban Pakistan?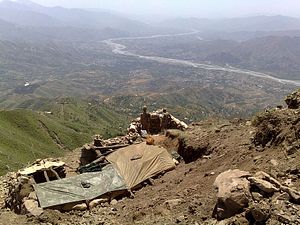 The Pakistani army recently released a confessional statement by Ehsanullah Ehsan, the former spokesperson of the Tehreek-e-Taliban Pakistan (TTP) and its splinter group Jamaat-ul-Ahrar (JuA), revealing that both militant organizations have undermined Pakistan's domestic security and regional interests on India and Afghanistan's behalf. The confession has caused considerable confusion.
While responding to a question of how these militant outfits maintain contacts with the Afghan and Indian security agencies, Ehsan said:
These organizations have formed committees in Afghanistan through which they maintain contact with NDS and RAW. NDS had issued them ID cards through which they could move around with ease. These ID cards in Afghanistan had the same function as the ID cards in Pakistan. Without this document and keeping in mind the security situation in Afghanistan, it would be difficult for them to move in that country.
Moreover, Ehsan, in his confessional statement, can be seen as breaking down details related to his group's militant activities with comfort and without any remorse.
While many have questioned the authenticity of the claims, it comes as a surprise that a cold blooded fanatic like Ehsan, who has claimed responsibility for the deaths of thousands of innocent civilians, had a sudden moral dilemma. One of the things that comes as a shock in the statement is that indirectly in his confession, Ehsan is legitimizing the deaths that his militant organization was responsible for before it started aligning with Indian and Afghan interests, implying that they were or could be acceptable. On the other hand, Ehsan terms the massacres and deaths that were planned with the help of hostile intelligence agencies targeting Pakistan's interests as a cruel and brutal act. "When they started taking help from India and RAW, I told Omer Khalid Khorasani that what we are doing is helping the kuffar (non-believers) by conducting activity in our country with their (India and RAW) money," said Ehsan in his statement.
What one gathers from the confession is that he appears disgruntled, alienated, and perhaps sidelined from the JuA's core and decision-making circle. On multiple occasions, he can be seen as questioning the moral authority of his former group's chief. Ehsan's name has circled in Pakistan's media from last seven or eight years. His only role during all these years has been of a spokesperson. Arguably, one of the reasons that Ehsan quit his association with the Pakistani Taliban before joining the ranks of JuA is due to his own ambition of becoming eventually the leader of the JuA.
As far as Ehsan's claims that Afghanistan and India have jointly been funding and supporting militant activities in Pakistan, there is no plausible way of substantiating that this has actually been the case. However, it doesn't mean that India and Afghanistan have no interest in clandestinely supporting militant activities in Pakistan. Any such policy approach, if indeed it has been implemented, would be a "tit for tat" strategy on New Dehli and Kabul's behalf to respond to Islamabad's alleged similar activities in both countries.
On Islamabad's part, the confession appears as an effort to make public any militant activities that happen in the country with links to Indian intelligence agencies. Perhaps, by making public the confession, the policy makers in Islamabad are trying to further establish an already instituted narrative that Afghan and Indian intelligence agencies are involved in much of the terrorism activities that are afoot in Pakistan. Moreover, the confessional statement also underscores that Pakistan continues to see India's presence in Afghanistan with suspicion, which means the country is not likely to relinquish its own alleged militant links with number of insurgent organizations in Afghanistan.
If the primary purpose behind the confession was to showcase the successes of the country's recent military operations than goal was achieved. However, if the objective was to portray Afghanistan and India as an enemy, then unfortunately such confessions will not help Pakistan in resolving its security problems.
While Ehsan remains in the custody of Pakistan military, he was invited and given prime-time media coverage at one of the country's top rated news channels. Rather than trying him for the heinous crimes which he has committed, the captive was being asked for appearance on T.V shows to share his experiences that resulted in the deaths of thousands of people.
While the fate of Ehsan remains unclear, it is clear that India's fate in Pakistan's national narrative will remain as that of an enemy for the foreseeable future.